Supply Chain – Before the release of the iPhone 6 models, some analysts were very bullish on the use of sapphire in upcoming Apple smartphones. There are advantages in using sapphire on handheld devices as many owners of watches with sapphire glass will tell you, as they do not scratch easily. 
On the negative side there is no infrastructure available to make enough sapphire cover glass for a device like the iPhone and it should be remembered that sapphire is very expensive compared to chemically strengthened glass.
Here is where the saga of two unequal partners starts. Last year GT Advanced Technologies announced that it had entered into "a multi-year supply agreement with Apple Inc. to provide sapphire material. GT will own and operate ASF® furnaces and related equipment to produce the material at an Apple facility in Arizona where GT expects to employ over 700 people ."
In the following quarter, GT Advanced Technologies stated: "Our arrangement to supply sapphire materials to Apple is progressing well and we started to build out the facility in Arizona and staff the operation during the quarter". As can be seen on the graph below, the news was well received by the investors in GT Advanced Technology, a publicly traded company under the ticker symbol GTAT.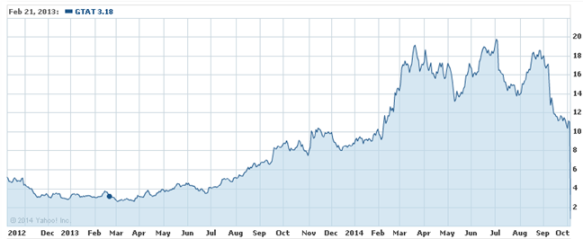 The graph shows that the share price went from around $4 per share all the way up to almost $20 per share. We can also see the drop off after Apple announced that the iPhone 6 models would in fact come with a glass cover instead of sapphire. (Not all analysts were saying that Apple would go with sapphire – I was of the opinion that the Apple investment in GTAT was not enough to provide enough material for the Apple smartphone line.) Some expected that maybe the larger model (iPhone 6 Plus) might come with a sapphire cover (as it turned out this did not happen either). The use in the expected Apple smartwatch was a much more reasonable assumption. This is not only based on the material manufacturing capacity installed by GTAT, but also by the lack of processing capacity to make these fancy sapphire covers.
Nevertheless, investors were not happy and the share prices were sliding to the $10 range when GTAT filed for Chapter 11 bankruptcy protection in the US Bankruptcy court this week. The related press release did not mention Apple at all.
Speculations are now flying high, with most analysts pointing at a falling out between Apple and GTAT in recent weeks, possibly in respect of the significant amount of money ($578 million) Apple loaned to GTAT for setting up a factory to produce sapphire. This money has to be paid back in some form. If Apple does not use sapphire in any significant amount, GTAT will be stuck with an obligation to repay Apple the money it invested into equipment.
MarketWatch reports that while discussions between Apple and GTAT went on even last week, GTAT saw no alternative to a Chapter 11 filing after the talks broke down. MarketWatch also speculates that after the relationship ends, Apple may take over the factory to produce sapphire on its own. This sounds like another legal case that will track out for some time only this time, one side has all the lawyers and the other side is bankrupt.
The report also states that GTAT may survive these events, as it has a diversified basic business that would allow the company to survive. The issue is that this business is small compared to the promise of the Apple sapphire deal.
In case you wondered Apple's share are doing great. As I mentioned in the title, this is the story of unequals. – Norbert Hildebrand