Google is offering an application at the Play store that offers developers a framework and guidelines for virtual reality (VR) design.
Google describes the application, Cardboard Design Lab (screenshot below) saying: "Enjoy an educational and immersive journey through principles for developing virtual reality experiences. Designing great user experiences in virtual reality is considerably different than designing for traditional 2D form factors. Virtual reality introduces a new set of physiological and ergonomic considerations to inform your design work".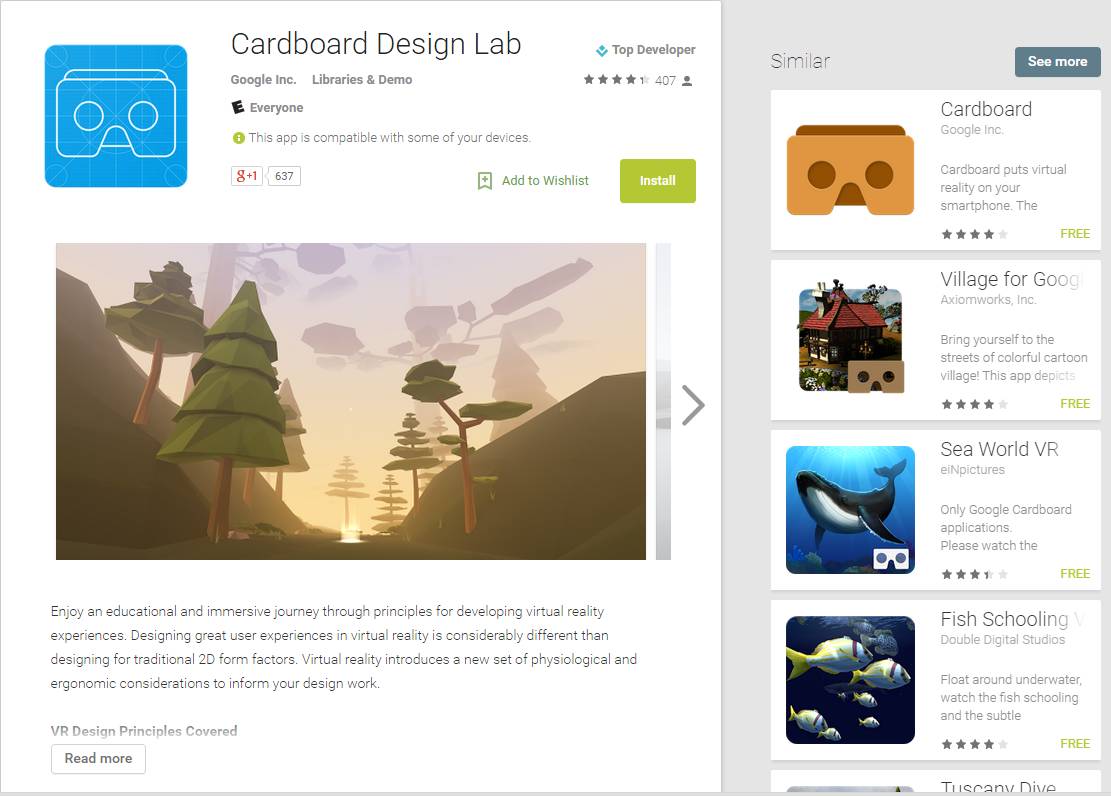 Source: Google
The Cardboard Design Lab app covers a substantial range of VR design principles including: Using a Reticle; UI Depth & Eye Strain; Using Constant Velocity; Keeping the User Grounded; Maintaining Head Tracking; Guiding with Light; Leveraging Scale; Spatial Audio; Gaze Cues; (and finally), Make it Beautiful".
Using Cardboard Design Lab requires a viewer (read smartphone) that works with a Google Cardboard (the low cost enclosure and lens set of which many are now available). Moreover, Google provides instructions for DIYers, as well as for manufacturers, for making your own Cardboard. Judging by the 4.5 star rating (407 total reviews) of Cardboard Design Lab at the Play store, the app is being well received. The ecosystem of Cardboard viewers and Cardboard apps is already reasonably impressive as evidenced by the details available at the Cardboard website. Like some other of the firm's forays in new directions, the future of Google's Cardboard seems hard to predict. But it was hard for me to predict (and understand) that Facebook would acquire Oculus for more than $2 Billion. VR is still a product/business/industry… in progress. However, Google's approach to seeding developers with VR viewers, applications, forums and more, all leveraging the finely honed and highly capable smartphone technology carried by so many users globally, may eventually yield a result. Clearly the nature of that result is yet to be determined.
The Verge recently interviewed Google's Clay Bavor, VP of Product Management, VR and Apps. For my part, the most interesting aspect of the Verge Cardboard interview was a VR project entitled Expedition (the system is illustrated in the photo below). Expedition consists of a cabinet (folded from cardboard of course) holding a classroom's worth of Cardboard viewers using Nexus smartphones, as well as a tablet for use by the teacher (guide). The discussion and footage in the interview video of children in a classroom using Cardboard is very suggestive of how groups can be involved interactively rather than in an isolating fashion. The Verge interviewer goes on to speculate in an interesting direction concerning Google's future intentions with regard to VR. Watch the video if these topics interest you further.
Source: The Verge
On the Play store page for downloading the free Cardboard Design Lab app, it is clear that other app developers are also producing VR apps for use with Cardboard and of course other VR display devices. However, Google felt it was important to remind users that download the Design Lab app, stating, "Do not use this app while driving, walking, or otherwise by being distracted or disoriented from real world situations that prevent you from obeying traffic or safety laws". Clearly there are some real world issues with VR that still need to be worked out. – Phil Wright