Oculus, developer of the Rift virtual reality (VR) head-mounted display system has acquired Pebbles Interfaces (pebblesinterfaces.com – Note: original website taken down) of Kfar Saba, Israel.
The firm's LinkedIn page (below) describes the firm's specialties as gesture interface, optics, computer software and human machine interface. Oculus, owned by Facebook, is of course engaged in gesture control user interface development for use with its Rift VR headset.
Pebbles Interfaces describes its technology and vision stating: "Our technology provides an entirely new meaning to simple and natural human gestures, by unifying the interfaces on any device or platform, be it a smartphone, PC, smart TV, or even a coffee table surface – from any distance. Following our vision – to naturally interface with every object, real or virtual – Pebbles presents a technology that extends human behavior, enabling simple and intuitive interaction with any consumer electronic device."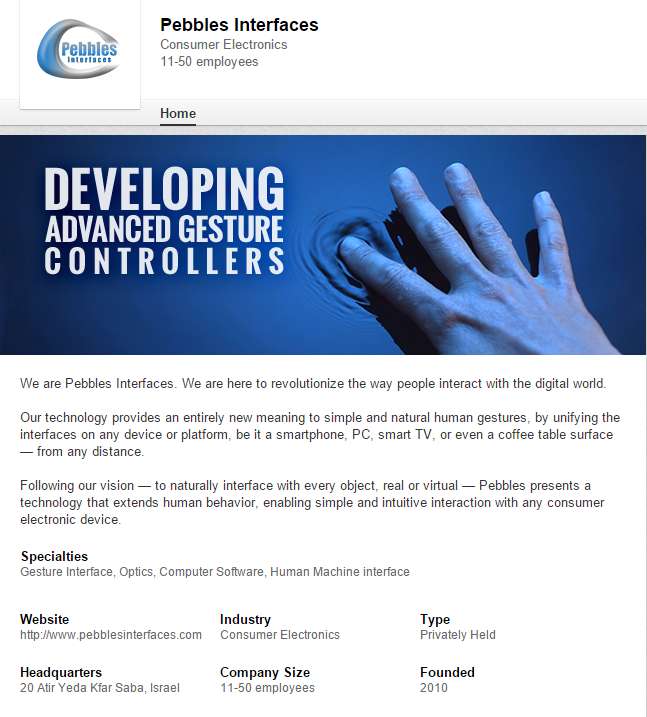 Source: LinkedInAs reported in Display Daily last month, Oculus has revealed their redesigned Rift VR headset and demonstrated their Oculus Touch Half Moon Prototype hand held gesture controller. While Oculus announced that the Rift will ship in the first quarter of 2016, the Touch motion controller will apparently launch as a developer kit some time in 2016.
The Rift will initially ship with a Microsoft Xbox One controller. As user interface devices go, the Xbox controller is a familiar known quantity but initial impressions of the Touch Half Moon Prototype suggest that the gesture-based device will offer users a significant improvement in user input interaction. For example, Gizmodo analyst Sean Hollister reported, "when I picked up a pair of Oculus Touch controllers and stepped into a virtual world, I had hands. And not only did I have hands, but the most natural, intuitive pair of hands I've had in virtual reality".
It's unclear if Pebbles Interfaces was involved with Oculus in the development of the Touch Half Moon Prototype, however, the Pebbles Interfaces technology extends beyond that demonstrated in the Oculus Touch prototype. The video below illustrates Pebbles Interfaces' gesture capture capabilities in operation.
An interview recorded by Geektime in May 2015 provides further details concerning Pebbles Interfaces' technology, developer details, business plans, investors, etc. To date, Oculus has made a number of acquisitions including Nimble VR, a company that developed means to capture skeletal movement, and Surreal Vision, which developed means to capture physical spaces into the VR environment.
Virtual reality hardware and software are still in an early state of commercial development. However, the prototypes shown to date, as well as the progress being made in VR user interface design and capabilities, and the business development moves being made by firms like Facebook taken together suggest that capable and cost effective VR experiences may be just over the horizon. – Phil Wright