In my last Display Daily, I focused on esports as a new opportunity for the professional audio/video industry, including rental and staging, for large venue displays. This Display Daily will also focus on esports and gaming, but from the point of view of monitors for the individual gamer, not from the point of view of the industry as a whole.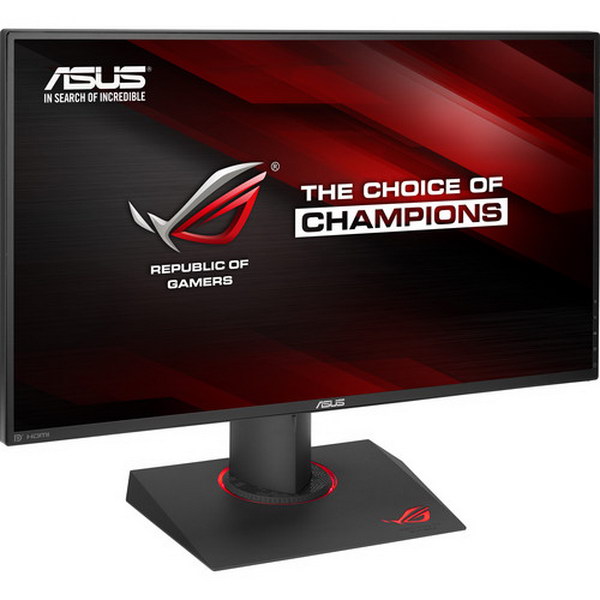 ASUS Republic of Gamers Swift PG279Q 27″ 16:9 G-Sync IPS Gaming Monitor (Credit: ASUS)
B&H, my go-to place for information on products currently for sale, lists 48 different gaming monitors when you search for gaming monitors, including:
ASUS Republic of Gamers Swift PG279Q 27″ 16:9 G-Sync IPS Gaming Monitor ($699)
Dell AW2518H 24.5″ 16:9 LCD Alienware Gaming Monitor ($540)
Acer Predator Z1 Z321QU bmiphzx 31.5″ 16:9 165 Hz G-SYNC LCD Gaming Monitor ($600)
LG 34UC89G-B 34″ 21:9 Curved 144 Hz G-Sync IPS Monitor ($619)
AOC G2590FX 24.5″ 16:9 144 Hz FreeSync LCD Monitor ($200)
ViewSonic XG2760 27″ 16:9 LCD Gaming Monitor ($600)
HP Omen X 35″ 21:9 Curved G-Sync LCD Gaming Monitor ($899)
Acer Predator X27 bmiphzx 27″ 16:9 4K UHD IPS Monitor ($1700)
Except for Acer, I've only taken the first monitor listed for each of the seven brands of gaming monitors sold by B&H. I've added the Acer Predator X27 to the list because, at $1,700, it was the most expensive gaming monitor sold by B&H while the AOC G2590FX at $200 was the least expensive.
Some, but not all, of these monitors have curved screens. Curved TV screens have largely disappeared from the market, in part because a TV is designed to be watched by multiple viewers and even when there is only a single viewer, he is not necessarily at the sweet spot for the curved screen. On the other hand, gaming monitors are always used only by a single gamer and that gamer can position himself into the sweet spot of a curved monitor. When you are sitting at the sweet spot of a curved display, you can, in fact, have a (very) slightly higher image quality than with a flat monitor. The worse the off-axis performance of a display, the more benefit from a curved monitor. Modern displays, however, have very good off-axis performance.
On my list above, only the AOC monitor does not have Nvidia G-Sync technology although there were many others out of the 48 that did not have it. Instead the AOC monitor has AMD FreeSync technology which is similar to the Nvidia G-Sync but is based on a royalty-free system from VESA. G-Sync technology requires both a Nvidia GeForce GPU in the computer and an Nvidia-made module in place of the usual scaler in the monitor. In addition, the computer and the monitor must be connected by DisplayPort 1.2, not HDMI or some other interface. The similar FreeSync technology, as AMD calls it, is a royalty-free option in VESA's DisplayPort 1.2A standard. In gaming laptops, similar technology can be used although it is simpler because there is no need for an external connection and it is (relatively) easy to slave the internal display to the internal GPU.
G-Sync and the VESA technology synchronize the monitor's refresh rate to the GPU in the PC, rather than synchronizing the GPU to a fixed frame rate in the monitor. This eliminates screen tearing and minimizing display stutter and input lag, problems that are clearly visible to any gamer when playing fast-paced first-person shooters, sports, and action-adventure games. To a non-gamer like me, word processing, browsing the Internet, checking e-mail and occasionally streaming a video, this technology is not needed and a 60Hz refresh rate is fine.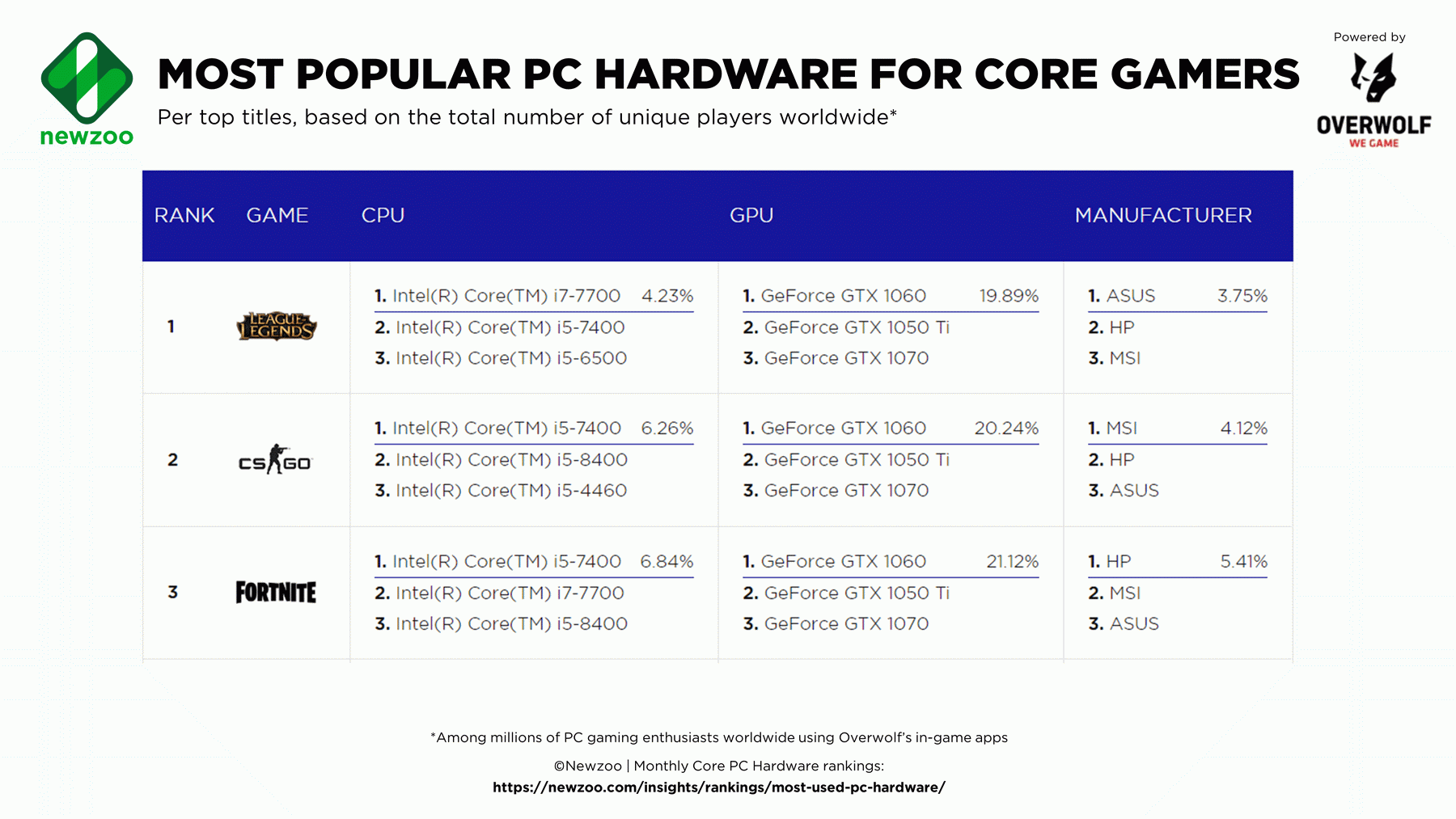 Most Popular PC Hardware for Core Gamers (Credit: Newzoo)
This figure shows data from Newzoo on what PC hardware is used by gamers playing three of the most popular games, League of Legends, Counter Strike: Global Offensive (CSGO) and Fortnite. Note the three most popular GPUs for all three games are the GeForce GTX 1060, 1050TI and 1070, all from Nvidia and all G-Sync enabled: AMD and its FreeSync technology is a no-show on this admittedly abbreviated list. While the G-Sync technology may be higher cost than the FreeSync due to its proprietary nature, it seems to be what high-end gamers want.
Brand

Model number

Resolution

Size

Refresh rate at native resolution

HDR

Panel Technology

Acer

XB272-HDR

3840×2160

27″

144 Hz

Yes

IPS

Acer

X35

3440×1440

35″

200 Hz overclocked

Yes

VA

Acer

Predator BFGD

3840×2160

65″

120 Hz overclocked

Yes

?

AOC

AG273UG

3840×2160

27″

144 Hz

Yes

IPS

AOC

AG273QCG

2560×1440

27″

165 Hz

No

VA

AOC

AG353UCG

3440×1440

35″

200 Hz overclocked

Yes

VA

Asus

PG35VQ

3440×1440

35″

200 Hz

Yes

AMVA?

Asus

PG65

3840×2160

65″

120 Hz overclocked

Yes

?

HP

OMEN X 65

3840×2160

65″

120 Hz overclocked

Yes

?

List of Upcoming G-Sync Enabled Monitors (Credit: Wikipedia, downloaded 4/12/19)
To put it mildly, the gaming monitor market is not static. The table shows a list of upcoming gaming monitors with G-Sync downloaded from Wikipedia on April 12, 2019. As a Wikipedia table related to a fast-changing market, there is no guarantee it is current even as I write this, let alone when you read it. Still, there are several interesting features in the table. First, virtually all upcoming monitors are expected to be higher resolution than FHD (1920 x 1080): 4K/UHD (3840 x 2160), QHD (2560 x 1440) or 21.5:9 (3440 x 1440 and sometimes called UW-QHD). All except one of the monitors are expected to be HDR compatible. Finally, only three of the monitors are "only" 120Hz with the rest being 144Hz or faster. Another interesting thing to note in this list is AOC, the only company offering a FreeSync monitor in my list from B&H, is planning on introducing three G-Sync monitors.List of Upcoming G-Sync Enabled Monitors (Credit: Wikipedia, downloaded 4/12/19)
Worldwide Gaming Tracker Forecast by Product Category, 2019 – 2023 (shipments in millions)

Product Category

2019
Shipments *

2019 Market
Share*

2023
Shipments*

2023 Market
Share*

2019 – 2013
CAGR*

Desktop

15.5

36.9%

19.0

31.2%

5.3%

Monitor

6.4

15.3%

10.6

17.3%

13.2%

Notebook

20.1

47.9%

31.5

51.6%

11.8%

TOTAL

42.1

100.0%

61.1

100.0%

9.8%

Source: IDC Quarterly Gaming Tracker, April 5, 2019

* Note: All figures represent forecast data.
International Data Corporation (IDC) tracks hardware sold specifically as gaming hardware, including desktop computers, gaming monitors and notebook computers. IDC identifies Gaming Monitors as those with a refresh rate of 100 Hz or higher. This is, perhaps, an older cutoff point carried forward by IDC for data compatibility with historical data. In 2019, gamers don't want 100Hz monitors. In 2019, perhaps a better definition of a gaming monitor would include both 144Hz refresh rate and Nvidia G-Sync or similar technology.
For 2019, IDC expects a total of about 6.4 million gaming monitors to be sold world-wide, with the total growing with a CAGR of 13.2% to a total of 10.6 million in 2023. Note that in 2019, for every 2.4 desktop gaming computers sold, only one gaming monitor is sold, according to the IDC data. This is forecast to go down to 1.8 computers per monitor in 2023. Presumably this mismatch occurs because many gamers cannot afford a gaming monitor and buy a lower cost, general purpose monitor not intended for dedicated gaming. Another part of the explanation is monitors have a longer life as state-of-the-art products than do desktop gaming computers. Monitors are important, but high performance processors and GPUs are even more important to a dedicated gamer.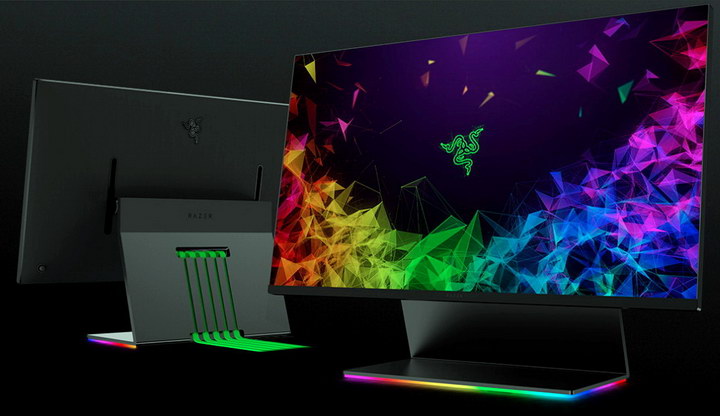 Razer Raptor 27 monitor (Credit: Razer)
One last thing to note about gaming monitors. Gamers' first priority is performance, including not just refresh rate and anti-tearing technology as discussed in this Display Daily but also high contrast, a large color gamut, HDR, etc. Another priority with gamers is style. Everything needs to be black, but that is common on non-gaming monitors as well. Some companies also include LED illumination, such as the upcoming Raptor 27 monitor from Razer. For a monitor, the LEDs cannot be in the gamer's field of view – they might distract him at a critical moment. Other gaming hardware, such as mice, keyboards, laptops and desktop computers are often festooned with color-changing LEDs.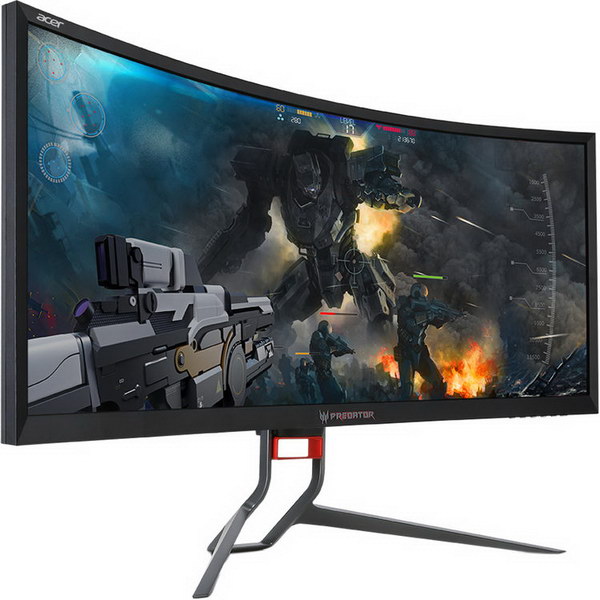 Acer Predator Z35P Gaming Monitor (Credit: Acer)
Another style feature for a gaming monitor is a curved monitor, such as the Acer Z35P 35", 21.5:1 monitor with 100Hz frame rate, G-Sync and 3440 x 1440 resolution. While a curved monitor doesn't add much performance with modern LCD technology, it adds a little and the wider the monitor the more it adds, so in a 21:9 monitor a curved screen can be considered both a style and a performance feature. One final style feature demanded by gamers is a proper name such as Republic of Gamers, Alienware, Omen, Predator or Raptor. No wimpy names like Butterfly in the gaming community. –Matthew Brennesholtz