IHS has called the Galaxy S7 a 'ho-hum refresh' to Samsung's smartphone lineup, with some evolutionary improvements, but 'no ground breakers'. In a teardown, the firm calculated that the 32GB version carries a BOM of about $255 and retails for $670 (the 16GB iPhone 6S has a BOM of $188 and retails for $650). Little has changed in the display side, although the Snapdragon 820 processor is new – and is one of the most expensive components, at $62.
IHS's Wayne Lam praised the 12MP camera, which features large pixels for low light performance, as "arguably the best [smartphone] camera on the market right now".
Other features that the teardown discovered were silicone seals and sealed components throughout the phone, to inhibit water ingress; and a copper heat exchanger for thermal management. Heat exchangers are typically only found in desktop and notebook PCs, and have only been seen in one other smartphone series (the Nokia Lumia).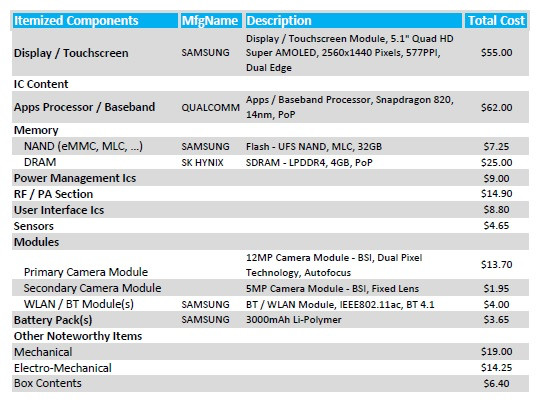 Analyst Comment
A separate teardown from Chipworks identified the camera sensor as the Sony IMX260 sensor which offers a 12MP resolution, 1.4um pixel size and dual pixel AF across the entire sensor. The measured size of the sensor is 6.69 mm x 5.55 mm (37.1 mm²) and at the front of the device there is a 5MP camera that is built around a 1.34um BSI pixel Samsung S5K4E6XP sensor.