The Fraunhofer had a number of demonstrations of interest. First, we heard about the new JPEG XS 'mezzanine' codec designed for contribution applications and optimised for around 6:1 or 8:1 compression. It was developed (according to the Fraunhofer) as a combination of the Tico codec and the Fraunhofer's Lici codec (although Intopix, which created Tico, described it as 'an extension of Tico with some elements from the Fraunhofer'). Anyway, the standard should be signed off by the development committee in October (so is, effectively, technically finalised now) and will be published sometime after.
The codec is both faster (typically 3x) and more efficient than JPEG 2000 and initally, Fraunhofer will supply its software codec (which can be used on a CPU or GPU) through an SDK. Later, it is expected to be implemented in FPGAs and, eventually, ASICs. It has been designed to use no external RAM. At the moment, 4.2.2 10 bit content can be compressed using a PCD. Like all codecs, there are a number of programmable parameters, with, typically, PSNR being optimised for computer graphics while visual quality is usually the priority with video.
Fraunhofer expects systems running the codec to be available soon, perhaps around NAB next year.
The institute continues to develop its lightfield technology and had an impressive demo of the content shown on a VR headset with the light field image visible through a 'window' (the viewer is, apparently in a space ship of some kind). Movement of the user in the virtual space showed different parallax in the image through the window. The design was used because, at the moment, the group has only been using relatively limited camera arrays (just eight cameras). However, it will start to develop bigger images using larger arrays. Content can be used via a plug-in for Nuke or Unreal engine.
Finally, we had a quick look at the latest easyDCP Player (which is now ten years old) and which has been certified by the Post Technology Alliance and is now Netflix-certified. The software allows the creation and quality checking of DCP packages for digital cinema content. Fraunhofer told us that it is one of the first to be certified for IMF packages including Dolby Vision and other HDR content. The software is available as a licensed or 'pay-as-you-go' package.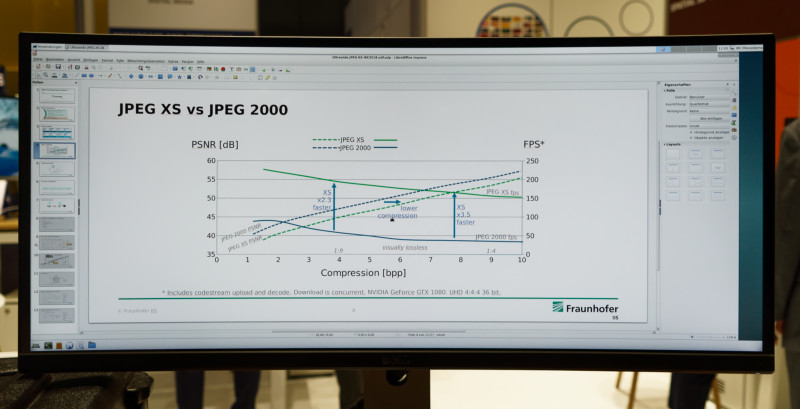 Fraunhofer compared JPEG XS with JPEG 2000, Image:Meko