Smartphones – Forbes Magazine has named the Russian YotaPhone 2 as 2014's "Most Disruptive Smartphone". Really? I would have said it's the iPhone 6, not because the iPhone is particularly interesting on the hardware side but because it may serve to bring the electronic wallet concept back from the land of the living dead.
However, if you just focus on hardware, Forbes has a case. Major manufacturers are not exhibiting much original thinking in their current generation of phones. Samsung's OLED displays and Apple's LCD display are beyond anything we might have imagined three years ago, processors are faster, user interfaces have a few more bells and whistles and everybody has added a yawn-inducing suite of health apps. But every major smartphone is a slim soap-bar design with one large self-luminous or backlit display covering most of the front surface and with the other major pieces in unsurprising places and activated in unsurprising ways. (Yes, gestures and flexibility are coming, but let's focus on the here and now.)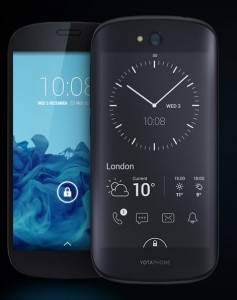 Yota Devices' YotaPhone 2 has an OLED display on the front and an E Ink electrophoretic display on the back. (Photo: Yota Devices)
So, when Yota Devices of Moscow, Russia, introduced its second-generation YotaPhone at Mobile World Congress  (MWC) in Barcelona early this year, its well-integrated two-display design induced several reviewers to call it "the best of MWC" in one category or another.
The original YotaPhone had an LCD display on the front and an E Ink electrophoretic display on the back. That was innovative, but the phone had significant teething problems. Yotaphone 2 has a 4.7″, 960 x 540 E Ink display on its back side, replaces the LCD with a 5″, FHD AMOLED display and integrates everything with panache.
To quote from the latest edition of our sister publication Mobile Display Monitor for more details, "Both screens have touch, with the panels supplied by TPK. Information can be sent from the front screen to the rear, for a low-power way to display information – which will remain on the screen even after the battery dies. The YotaPhone 2 runs Android on a quadcore 2.3GHz Snapdragon 800 processor and has 2GB of RAM and 32GB of storage". The E Ink screen can be used to display a wide variety of content, including ebooks, time, weather, or a photograph (black and white, of course) to customize the case, and you can use it to play games designed especially for the system.
Since Display Daily is now a British-owned publication, I should mention that Yota is currently taking pre-orders for the UK market at £555. Americans are out of luck. The official sales launch is this month, first in Russia and then for European markets. China and Southeast Asia will follow in Q1'15.
The idea of placing a very-low-power secondary display on the phone is a good one but it's not new. Qualcomm's motivation for buying Iridigm's reflective display technology years ago was to have a secondary display to which data could be pushed by a carrier throughout the day without exhausting the phone's battery. That program was grounded despite heroic efforts by Qualcomm to make it fly. But the concept was valid then and it's valid now. Yota Devices is implementing the concept with style, and they deserve to be successful  even at the phone's luxury-level pricing. – Ken Werner