Despite a 9% year-over-year (YoY) drop in smartphone display shipments to 332.3 million in Q1'23, Omdia's latest report suggests an upcoming rebound. Rising from pandemic and geopolitical disruptions, the market eyes a hopeful recovery in 2H23.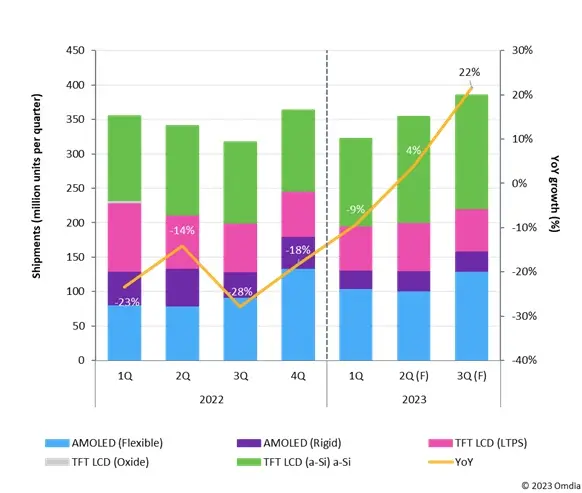 Growth is driven by flexible AMOLEDs and a-Si TFT LCDs, with shipments in Q1'23 reaching 104.2 million (28% YoY growth) and 127.4 million (4% YoY growth) respectively. This surge is in contrast to a continued decline in rigid AMOLED and LTPS TFT LCD shipments.
Forecasts for Q2'23 and Q2'23 project a turnaround. Expected total shipments for Q2'23 are 354.2 million (4% YoY growth), with Q3'23 estimates further rising to 385.6 million (22% YoY growth).
The data suggests a split in 2H23 demand between high-performance AMOLEDs, likely boosted by Apple's iPhone 15 release, and cost-effective a-Si TFT LCDs. However, mid-range smartphones using rigid AMOLED or LTPS TFT LCD displays might see slower demand due to economic factors.
Despite encouraging trends, the 2H23 trajectory is uncertain, with the Russia-Ukraine conflict and other economic factors posing challenges to a full-scale recovery beyond 2023.