In a project co-funded by the seventh Framework Program of the European Union, FlexEnable, Merck and several other partners have now demonstrated the world's first plastic LCD with active-matrix in-plane switching (IPS). It uses FlexEnable's Organic Thin Film Transistor (OTFT) array as well as liquid crystal (LC) and organic semiconductor materials from Merck. While the first demonstrator employs an IPS mode, this concept will be equally attractive for many other LC modes.
Inese Lowenstein, Head of Merck's Display Materials business unit stated that, "It shows that plastic-based bendable or even flexible displays are not a dream, but a true possibility and encourages us to develop new LC modes especially for this application. Now we can also imagine how the size of LC displays can grow even further, by making them lightweight, transportable and unbreakable."
The commercialization of all-plastic large-sized TV or professional displays is likely to come in two stages. The first will feature placing plastic substrates on glass sheets and processing them in conventional LCD fabs. The second phase will mean fabricating the displays using a roll-to-roll (R2R) process. According the FlexEnable Strategy Director, Paul Cain, that second step is still at least 5 years off. "The whole value chain of equipment for R2R stills needs to be developed, which will take time," he said.
In the short term, Cain thinks wearable displays will be a driving force for their technology. But it turns out that FlexEnable OTFTs can be used in many other applications as well. Cain cited bio-sensors, fingerprint sensor, programmable logic controllers and more. "For these areas we are working with partners to help identify and develop these applications."
In an interview with Cain, he explained that the company, formerly known as Plastic Logic, has been working very hard at validating their OTFT manufacturing process and believe they are now there. He said that yields are "now on par with standard LCD fabs" and transistor performance characteristics, including mobility, are now better than amorphous silicon but not quite as good as IGZO. "We expect this to continue to improve," said Cain.
The key to the OTFT process is the ability to do all the processing below 100-degrees C. Flexenable has developed a sheet-based process that uses a mount/dismount technology to attach the PET plastic film to a glass substrate. This is then handled and processed using the same equipment that can be found in a conventional LCD fab. The differences are in the materials and process recipes.
Cain says the company has developed three business models to help develop the supply chain to enable production of more plastic LCDs. The first is called "FabEnable" which is a licensing option to access their materials and processes for implementation on a client's LCD line. This can be a new fab or a retrofit of an existing fab. While Cain thinks smaller displays will draw most attention, there is nothing that prevents a panel maker from adopting this on a Gen 8 or higher fab and making large plastic displays.
The second approach, called "ProductEnable", is offered as a service to customer to help them do rapid prototyping of the plastic display. FlexEnable can support low volume production with its line in Cambridge, UK, as well.
The third approach is called "MaterialEnable" which helps companies qualify organic materials that will be used in the flexible product stack. This means both electrical as well as mechanical property evaluation and qualification. "We have tremendous experience here," claims Cain, "with over 100 semi-conducting materials having been evaluated, plus many more".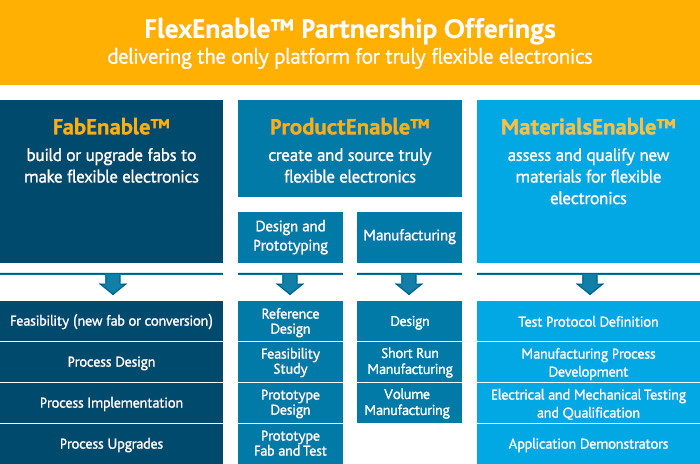 The recent demonstrator LCD panel is meant show what is possible and that now is the time to begin engaging with FlexEnable and its partners. Other project partners who worked on this achievement include display technology experts from the Institute for Large Area Microelectronics at the University of Stuttgart (Germany), plastic film supplier LOFO High Tech Film (Germany), specialized resist supplier Micro Resist Technology (Germany), and backlight supplier Etkes and Sons (Israel).
Cain explained that one of the items the team developed was a new spacer to maintain the cell gap. Conventional spacers used in glass-based LCD are too hard and can damage the plastic LCD when deformed, so new materials needed to be developed and qualified for this.
FlexEnable has also developed what it calls "Chip on Plastic," which allows conventional silicon ICs to be bonded on the plastic display (sensor, etc.). "This can allow the creation of display with a bezel only on one side," said Cain. But a zero bezel display is also possible and they have an architecture for this, although he could not elaborate.
Plastic LCDs have the potential of making products ten times thinner, more than ten times lighter and cheaper than conventional glass-based displays – all while delivering differentiating product benefits of being shatterproof and even conformal.
The new plastic LCD panel is small – about 3.3" in diagonal with 320×240 resolution but operating at 60 fps. Indro Mukerjee, Chairman of FlexEnable, acknowledged that the team achieved this within just months rather than years, an impressive feat.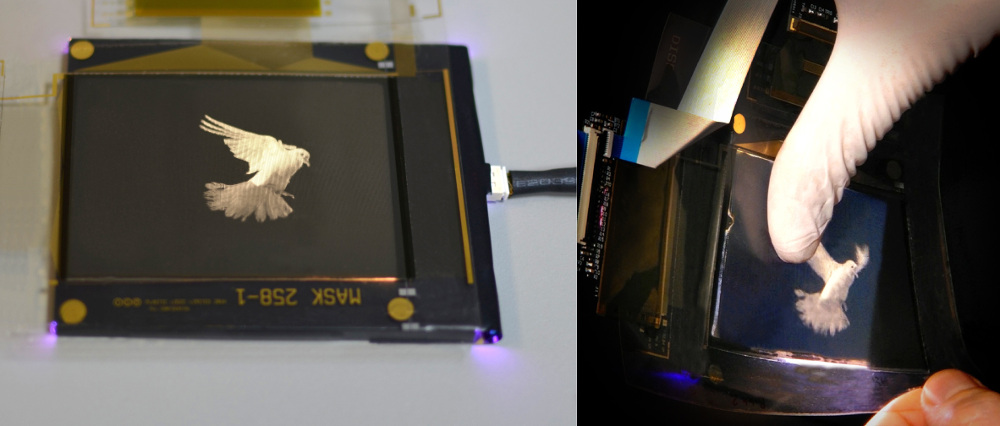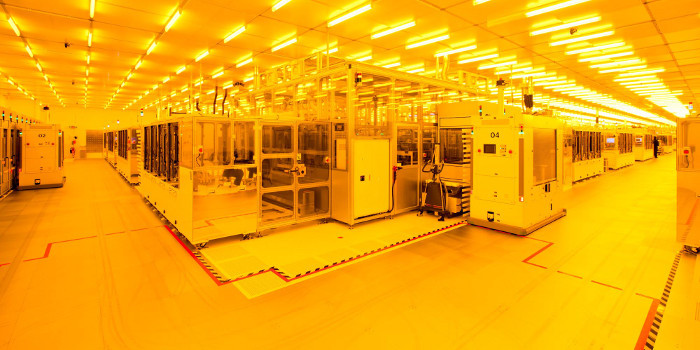 "Plastic LCDs bring clear benefits where weight and thickness is key – including volume consumer and industrial markets. It also offers a route to simpler, lower cost device stacks for display makers," concluded Mukerjee.
Immediately following our interview, UK Prime Minister David Cameron visited FlexEnable where he was given a plant tour and congratulated the team on their achievements.