NanoTech Entertainment (OTCPINK: NTEK), announced today that UltraFlix, home of more than 1,000 Hollywood Movies, Top IMAX Documentaries, Award Winning TV Series and Concerts, is now offering everyone with a 4K TV the opportunity to load up their 4K library this Holiday Season.
UltraFlix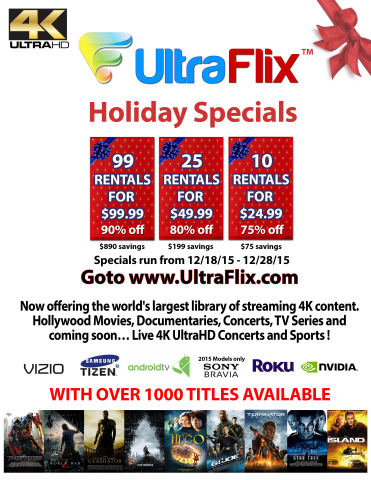 , now available on Samsung, Sony, Vizio, Roku 4 and Android Devices, has been growing in leaps and bounds over the past few months. In the spirit of the season, all new and existing users can take advantage of the following Holiday Specials:
1. 10 rentals for $24.99
2. 25 rentals for $49.99
3. 99 rentals for $99.99
*offer valid from 12/18/15 to 12/28/15
Nanotech has been building its 4K library for nearly two years to deliver an extensive collection of 4K entertainment. With a combination of native 4K digital titles, 4K film scanning, high-quality scaling techniques and a dedicated team of video artists, UltraFlix has successfully amassed a selection of Hollywood hits from major studios such as Paramount, MGM, Millennium, Magnolia and Warner, award-winning documentaries made for IMAX theatres, hot new TV series from A&E Networks and stunning time-lapse motion art from top independent producers from around the globe.
"4K TVs are slated to be one of the hottest consumer electronics purchases this holiday season," said Aaron Taylor, NanoTech's Executive Vice President of Sales & Marketing. "As a special thanks to all the 4K TV early adopters, we're providing them an economical opportunity to fill their UltraFlix stockings with a vast selection of stunning 4K content at a fraction of typical rental fees."
All new and existing registered users can find the UltraFlix Holiday Special at www.UltraFlix.com