At ISE 2017, Epson showed four new laser-phosphor installation projectors (8 SKUs) ranging in brightness from 12,000 to 15,000 lumens. These projectors represent an extension of the company's EB-L1000 series.
Properties of the projectors, as announced at the start of ISE, are given in the table.
| | | | | |
| --- | --- | --- | --- | --- |
| Model | EB-L1755U, L1750U | EB-L1715S, L1710S | EB-L1555U, L1550U | EB-L1515S. L1510S |
| Lumens | 15,000 | 15,000 | 12,000 | 12,000 |
| Native resolution | WUXGA | SXGA+ | WUXGA | SXGA+ |
| Native contrast | 2000:1 | 2000:1 | 2000:1 | 2000:1 |
| 4K Enhancement technology | Yes | | Yes | |
| SDI Input | Yes | | Yes | |
The only difference between the -5U and the -0U version of each projector is the -5U comes in a black case and the -0U comes in a white case. All of the models have HDBaseT, HDMI, DVI and component inputs. Since they are laser-phosphor, they are also suitable for 360° installation. "4K Enhancement Technology" is Epson's version of pixel shift used on many 4K DLP projectors.
All the projectors are, of course, 3LCD and all have a Color Light Output (CLO) lumens the same as ANSI lumens (Epson had Karl Lang explaining CLO on the booth, but we've covered his talks a lot, so won't cover it here – for more check Epson is Serious About Colour Light Output). They all use laser-phosphor light sources and are specified for 20,000 hours of maintenance free operation. Since the projectors have sealed optical engines, "maintenance free" includes no need to change a filter. Epson puts its money where its mouth is and backs the projectors with a 5 year/20,000 hour warranty.
The new EB-L1000 Series projectors will be available from November 2017.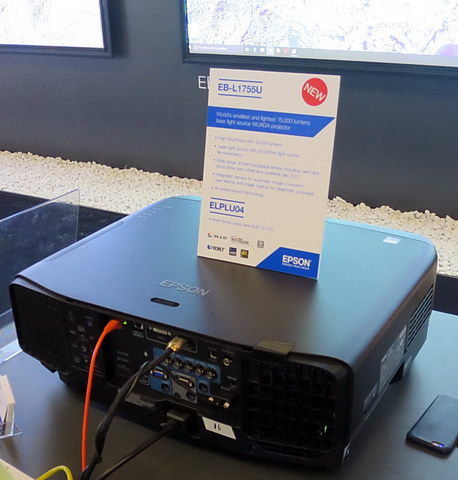 Epson EB-L1755U at ISE
One of the issues with 3LCD projectors in the past was ageing of the LCD panels. Differential ageing because the blue LCD aged fastest which led to a color shift in the projector over time, generally with a yellowing of the image. This is no longer an issue, in part because Epson has introduced inorganic alignment layers that do not age. However, some DLP projector makers still warn customers about this problem with 3LCD projectors.
To show this is no longer a problem, Epson set up two EB-L1200U projectors side-by side. One was a brand new unit (39 hours on its clock when I saw the demo) and the other had about 5,000 hours of use (4946 hours on its clock). The images were virtually identical with no signs of aging, as can be seen in the image. The difference to the eye (i.e. my eye) was considerably less than even this photo shows.
Images produced by new and used (4946 hour) Epson EB-L1200U 3LCD laser-phosphor projectors.
Epson was also showing several other lamp-based new projectors. The EB-5530U was an entry-level installation projector with 5,500 lumen output and WUXGA resolution. It offers up to 10,000 hour life for the lamp, lens shift, HDBaseT connectivity and screen mirroring with Miracast There was also the EB-2265U full HD projector with 5,500 lumens output, 15,000:1 contrast and 5000 hours normal, 10,000 hours eco lifetime. This projector offered both wired and wireless connectivity, including HDBaseT. Then there was the EB-1795F which was a 1080P ultra-mobile business projector. It has 3,200 lumen output, 10,000 contrast and screen mirroring via WiDi and Miracast. The EB1460Ui was a full HD short-throw projector designed as a collaborative meeting space solution. It could make an image up to 100" diagonal. Built in sensors provided both finger touch and dual pen interactivity. The EB-695Ui was similar to the EB-1460Ui except its features were optimized for the education market rather than the corporate collaboration market. This projector was also compatible with SMART notebook collaborative learning software and enables as many as six students to touch, draw select and interact. It had a lamp life of up to 10,000 hours in eco mode.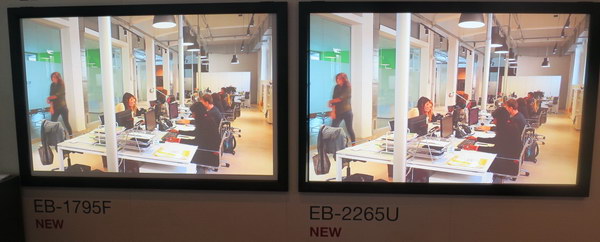 Images produced at ISE by the new EB-1795F and EB-2265U projectors from Epson
Epson had other side-by-side comparisons in its rather large booth at ISE. One was a comparison of a Panasonic PT-RZ970E with a ET-DLE30 ultra-short-throw lens with an Epson EB-L1405U with an ELPLX01 UST lens. Two things are noticeable in the image. First, the image produced by the Panasonic combination is significantly higher than the Epson combination. This means the installer must leave more space between the projector and the image with the Panasonic system than the Epson, which might be a problem if there is a need for compactness, for example, due to a low ceiling. Second, the single panel DLP Panasonic projector used a white segment in its color wheel, so the CLO was considerably less than the ANSI lumens. While the white background in the two images are matched, the icons shown are dimmer with the Panasonic projector than with the Epson. This is noticeable with, for example, the Boss logo (red rectangle on the top left of the screen) or the Qualcomm logo.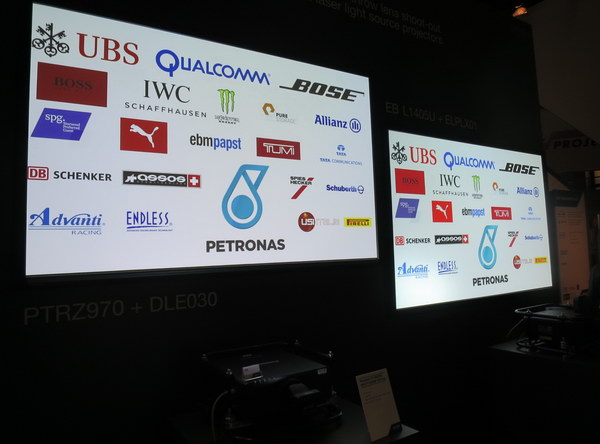 Comparison of a Panasonic single panel DLP projector with a UST lens (left) to an Epson 3LCD projector with a UST lens (right).
Epson was also demonstrating its EB-L25000U high brightness installation projector with 25,000 lumens output and a laser light source with 20,000 hours life with full output or 30,000 hours in Eco mode with 17,500 lumens output. In a constant brightness mode, the projector can provide up to 98,000 hours of life, an astounding 11.2 years of 24/7 operation. While this projector is not new and was introduced at ISE last year, it is still, well, astounding.
When asked about the issue of lamp vs laser-phosphor light sources, the Epson rep said there was a need for both technologies in the current market. He said high brightness, high end projectors will all be laser-phosphor going forward. Lower end projectors will continue to be lamp-based for two reasons. First, it is simply not possible to build a €300 laser-phosphor projector today and there is a steady demand for projectors in this price range. Second, lamps have improved and currently offer lifetimes in the 5,000 – 10,000 hour range. Many customers simply do not need the 20,000 hour lifetime offered by the more expensive laser-phosphor projectors.
Epson also introduced the next generation of their Moverio see-through smart glasses designed specifically for commercial use, the Moverio BT-350. In the photo, I am seeing an image of the jade statue in the lower right of the corner of the poster floating in mid-air and rotating to show all sides. I was surprised at how good the image was, especially when viewed against the black background of the vacant area on the poster. "Commercial," in this case, means in a museum. –Matthew Brennesholtz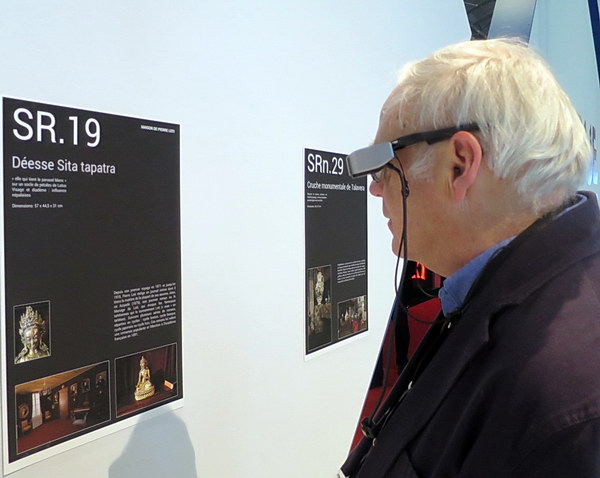 Meko's Matt Brennesholtz tests the new Moverio BT-350 see-through glasses from Epson.