Epson announced an array of new additions to its 3-chip, 3LCD laser projector portfolio at InfoComm 2023. It was Epson's debut of the PowerLite L series with 4K enhancement, its first extreme short-throw projector with 4K enhancement, a new 4K crystal motion technology, and novel cloud-based projection management software.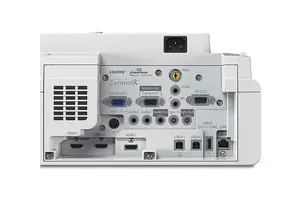 PowerLite 810E Extreme Short Throw with 4K Enhancement: This is Epson's first extreme short-throw fixed lens lamp-free laser display with 4K enhancement. The PowerLite 810E leverages a novel cooling system and a revitalized platform with 3-chip, 3LCD technology, delivering 5,000 lumens of color and white brightness. Its images can scale up to 160-inches, offering various aspect ratios from standard 16:9 to super-wide 21:9.
PowerLite L Series with 4K Enhancement: Lightweight and compact, the new L series combines native WUXGA and 4K enhancement, offering either 5,200 or 7,000 lumens of brightness. Images can be expanded up to 500-inches with support for standard 16:10 to ultra-wide 21:9 aspect ratios.
Pro Series Laser Projectors with 4K Crystal Motion Technology: The new EB-PQ series ranges from 8,000 to 20,000 lumens, providing optimal clarity for diverse environments. The series combines 3-chip, 3LCD color and 4K crystal motion technology, promising bright, vivid color and 4K resolution.
BrightLink 770Fi Interactive Ultra Short Throw Lamp-Free Laser Display: Designed for classroom interactivity, the BrightLink 770Fi offers full HD, 4,100 lumens, and proprietary 3-chip 3LCD technology, displaying up to 100-inches of bright, colorful interactive displays.