Epson was at IFA 2017 to launch the new LS100, an ultra short throw laser phosphor projector, which was then launched in the US the next week at the CEDIA Expo.
Epson seems to be targeting the product both for ProAV applications as well as home cinema applications. It carries an attractive €2,999 Euro (or $3,000) price point in November and has two modes of operation. In bright mode, the projector outputs 4000 lumens and is targeted at commercial applications where short throw projection is desired. For home cinema, the movie mode offers a more cinema-like D65 white point and color gamut. Brightness now drops to 2300 lumens and the color gamut is close to Rec. 709, we were told. Light source life is quoted at 12,000 hours.
The LS100 is based on 3LCD technology, of course and offers a dynamic contrast of 2.5M to one. There are three HDMI ports as well. The throw ratio is 0.27 to 0.37:1. At IFA, the projector was shown in a hooded area with an Elite grey, ambient light rejection screen (that cost nearly as much as the projector).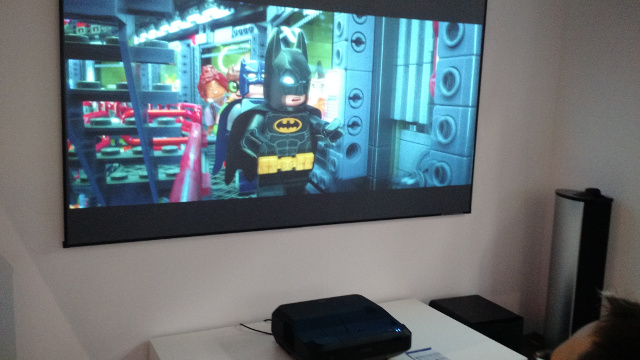 As well as the specialist model, Epson had a range of twelve multi-purpose 3LCD lamp-based projectors for home use. The EH-TW610, EH-TW650, EH-TW5400, EH-TW5600 and EH-TW5650 are aimed at home cinema while the EB-S05, EB-X05, EB-W05, EB-U05, EB-S41, EB-X41 and EB-W41 models are intended also to be good for data. Zoom ratios are 1.2:1 or 1.6:1 for the higher end units.
The range goes up to FullHD from 800 x 600 and outputs from 2,500 to 3,400 Ansi lumens. Contrast goes up to 15,000:1 for the main range and up to 60,000:1 for the cinema range (EH-TW5650). The top two (EH-TW5600 and EH-TW5650) have vertical and horizontal lens shift.
The models are available from October 2017, priced at £599.99/€686.85 (EH-TW610), £599.99/€686.85 (EH-TW650), £699.00/€801.52 (EH-TW5400), £799.99/€917.32 (EH-TW5600), £899.99/€1,031.98 (EH-TW5650), £289.99/ €332.52 (EB-S05), £349.00/€400.18 (EB-X05), £399.99/€458.66 (EB-W05), £549.99/€630.66 (EB-U05), £309.99/€352.69 (EB-S41), £359.99/€403.96 and £499.00/€572.18 (EB-X41)
The 12 new Epson LCD projectors are lamp-based. Image:Meko