AT CE Week in New York on June 22, Epson introduced four new home cinema projectors, all offering 4K and HDR processing. Two of the projectors, the Pro Cinema 6040UB and Pro Cinema 4040, will be available only through CEDIA dealers. Two similar projectors, the Home Cinema 5040UB and wireless Home Cinema 5040UBe will be available at authorized non-CEDIA retail outlets.
These projectors all use a pixel shift technology to achieve 4K resolution from the three 1080P LCD panels used in the optical engines. When I asked the Epson representative at CE Week for details on how the e-shift works, he told me "Google 'e-shift' and you'll see. JVC has a particularly good explanation of how it works on-line." That answer somewhat startled me, but here is the JVC URL for their e-shift web page for Large Display Monitor readers not familiar with how pixel shift works to increase resolution.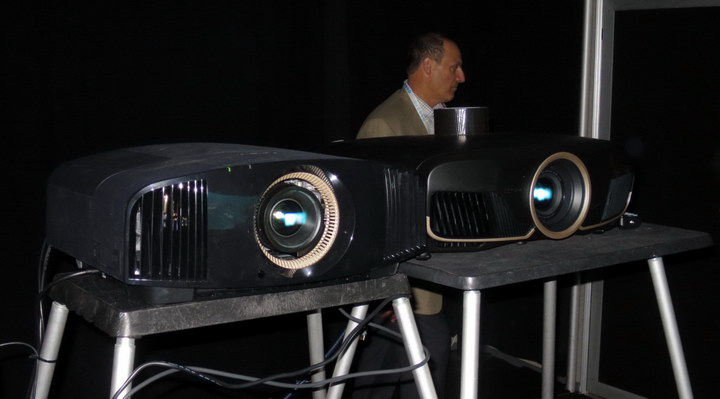 Epson 6040UBE (right) and Sony 4K SXRD (left) home theater projectors in the Epson viewing room at CE Week.
And work it does. In its CE Week demonstration room, Epson had the Pro Cinema 6040UBE with e-shift set up side-by-side with a Sony SXRD home cinema projector with native 4K resolution. The Epson representative told me both projectors had been set up for the best possible image quality by Kevin Miller, owner of ISFTV. ISFTV is a full service display calibration and consulting company providing professional calibration services to the consumer and professional markets, including the post production industry, in the New York Tri-State area. The images from both projectors were overlapping on the same 11' (3.35M) wide 0.9 gain matte screen. The Epson or Sony image could be selected by blocking the lens of the other projector. As is needed for any HDR projection system, the interior walls of the Epson viewing room were completely black.
The two projectors were showing cinema content (Kingsman: The Secret Service), running from a pair of UHD Blu-ray players. The two players were started at the beginning of a chapter simultaneously and they remained pretty much synchronized during demos. A single player couldn't drive both projectors because there is no splitter for HDR UHD Blu Ray outputs, yet.
Two differences were very noticeable between the Epson and the Sony projectors. First, the Epson projector, rated at 2500 lumens, was very noticeably brighter than the Sony, rated at 1800 lumens. Second, the Sony projector at $16,000 was very much more expensive than the Epson projector at $4000. You may not have noticed this at first glance, but the Epson representative made sure you knew it and didn't forget it.
A native 4K/UHD projector such as the Sony has 8.3 M pixels but a projector that uses pixel shift to achieve UHD resolution, like the Epson projectors, has just half that or 4.1 Million effective pixels, after pixel shift. This pixel count difference was simply not visible in the Epson demo. Certainly it wasn't visible at normal viewing distances and when I examined the image close up (about 10" or 25 Cm), I couldn't see the pixel structure in either projector. I also couldn't see a contrast difference in dark scenes or any sign of crushed whites in bright scenes. I'd say Kevin Miller did a very good job of setting up both projectors.
The Epson (left) and Sony (right) projectors from the rear. The manila folder used to block the image from one projector is visible blocking the Epson projector.
The Epson projector is "HDR" because it is capable of properly decoding HDR video signals and displaying them, not through any special HDR magic at the LCD panels. According to the Epson representative, the projectors are capable of decoding any of the variety of flavors of HDR signal except Dolby Vision. Software/firmware updates will allow future changes in HDR signals to be shown as well. Dolby Vision signals cannot be decoded because a special Dolby Vision HDR chip is required and the Epson projectors do not contain this chip. The dynamic contrast of the Pro Cinema 6040UB is said to be 1,000,000:1, so the projectors should be able to do a pretty good job showing HDR content.
Except for brightness, the Epson and Sony projectors had equivalent image quality, in my opinion – they were both very, very good. The higher brightness of the Epson projector made the Epson image easier and more pleasing to watch, however. This extra brightness would also be useful if you didn't have a completely dark, completely black room for you home theater. Sony would have to do a lot of fast talking to sell me a $16,000 projector when a $4,000 projector is brighter and in other respects has the same apparent image quality.
The Pro Cinema 6040UB (MSRP $3,999) and 4040 (MSRP $2,699) will be available in August through authorized CEDIA dealers. The Home Cinema 5040UBe (MSRP $3,299) and 5040UB (MSRP $2,999) will be available in August through authorized resellers. –Matthew Brennesholtz