Epson announced a new ultra-short throw lens at NAB 2018, the ELPLX02. It delivers a 0.35 throw ratio with a negative offset, which means the image can project below the bottom of the projector. It is a strange looking lens with the projector aimed away from the screen with the lens reversing the direction by 180 degrees.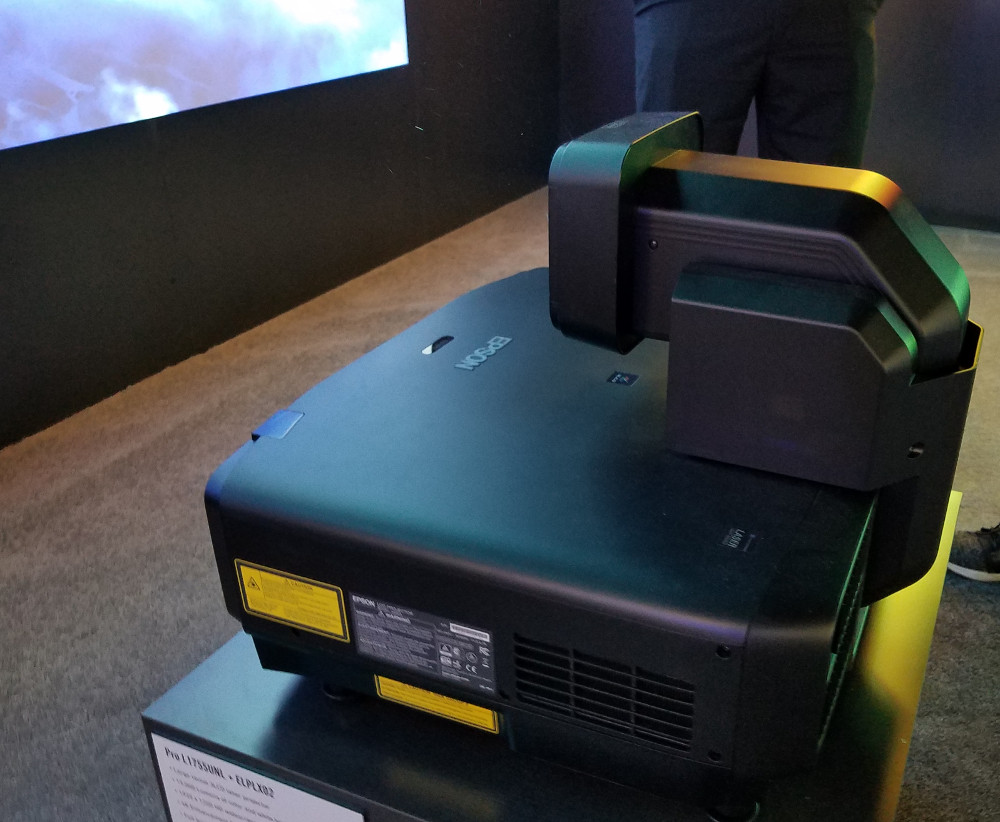 Epson has had an ultra-short throw lens similar to this for laser projectors in the 8K lumen range (ELPLX01). The new one is for bigger projectors in the 12K lumen and up range. While the ELPLX01 lens provides zero offset, the new ELPLX02 provides a negative offset with vertical lens shift from +45% to +70% and horizontal lens shift from -15% to +15%.
One would think that such a lens would be very light inefficient, but Epson says there is only a 20% light loss. The lens retails for $14K.
Epson was showcasing the new lens with its Pro L-Series projectors which include seven new models – six WUXGA projectors with 4K Enhancement1 ranging from 12,000 to 15,000 lumens and one SXGA+ resolution projector with 15,000 lumens. The projectors feature BT.709 color space, flexible connection options, high native contrast ratio, and 360º installation. In addition, the three 15,000 lumen laser projectors operate from a standard 120V power outlet and feature the same compact cabinet as the rest of the line – a breakthrough feature at this high level of brightness. Prices range from $16K to $33K.
The company was also highlighting their new multi-projector software that makes it much easier to access the menus of networked projectors to do edge blending, geometric correction or auto-calibration, for example. It is designed for the Pro L series of projectors.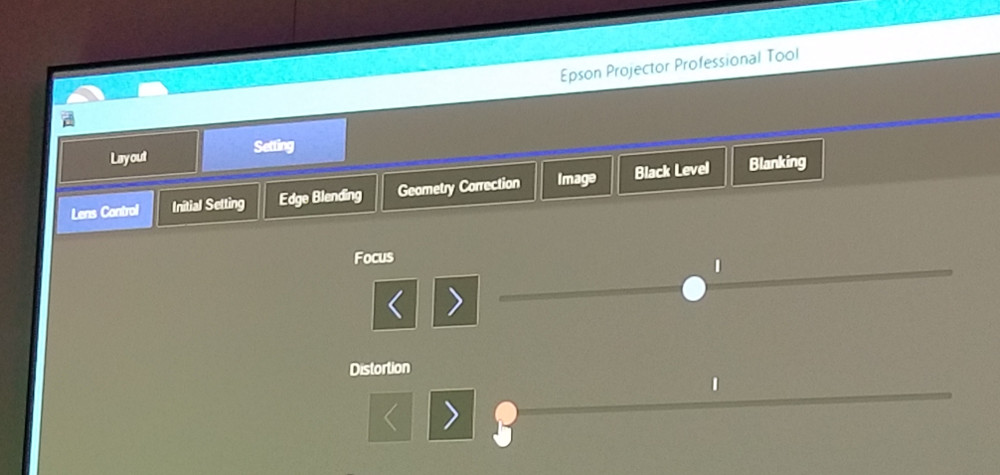 Finally, Epson talked about their new LightScene projector – Epson's answer to the Panasonic LightSpace projector. The idea is to replace a simple spot light in retail with a projector that can show information and illuminate a project. Debuted at DSE just a few weeks ago, LightScene is a laser phosphor projector with 2000 lumens of output and WVGA resolution. It will ship in May for around $2,499 MSRP. – CC