I've been an educational technology director for 25 years, with a significant track record in large educational technology and AV purchases. I just returned from walking every aisle of InfoComm 2016, searching for promising trends, developments, and products that might offer value for the education market.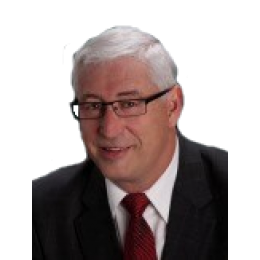 What does an educator see? I look for both memes that make sense in education as well as the practical solution: the product that potentially meet a need or solves a pain somewhere in my organization. Something crisply new and eye-catching can also spark a burgeoning idea in an educator's mind. And at times, we chuckle when we see the emperor's new clothes (vaporware, hype, or solutions in search of a problem to solve).
Frankly, this year's InfoComm hoopla—from an educator's perspective only—left me underwhelmed. There were no blockbusters, killer educational technologies, nor grand entrances as in past years. There was little to get us to jump to our feet and applaud great educational potential. This was a tepid year—a year of stolid incrementalism at best. Nevertheless, here are some of my ed-market observations:
Caught my eye
360° cameras and software. The fresh appearance of a slate of 360° and VR cameras caught my attention. Nokia featured their OZO camera, while Elmo touted their QBiC camera with its free VideoStitch post production software for creating 360°VR videos. Kodak was pushing their PIXPRO 4K editing software for producing spherical videos, while Ricoh showcased their low-cost Theta 360 s. I should mention: I noticed educators in significant numbers trolling the booths dedicated to 360° and VR cameras, with declared interest in having student use such cameras to produce educational content.
New from Panasonic. With the solid commitment of higher education institutions to provide increased accessibility for learning challenged students, Panasonic proudly featured their new interactive display technology that offers "color universal design" aimed and supporting students who are color blind or suffer from visual color deficiencies. See this video in order to hear their pitch, from the horse's mouth:
Document Camera Uptick? This year I noticed far more document camera companies displaying their wares (QOMO, Elmo, Wolf, HoverCam, et. al.) But does this represent an uptick in document camera sales? Not really. Some data suggest that 60% of U.S. classrooms already have document cameras. It seems each of these companies is moving away from their core competency (manufacturing visualizers) and branching out to ancillary markets by retooling or creating alliances. Thus, these companies were all featuring lecture recording devices, sound amplification systems, 360° cameras, collaboration software, or other technologies that leverage their know-how or existing connections within the education market.
Why so quiet?
The Third Dimension. The muted presence of 3D display technologies was no surprise, even though there is still interest in this technology in higher ed. Two booths featuring autostereoscopic displays were underwhelming, and a few other glasses-based 3D stations were forgettable. One large display manufacturer with an impressive floor presence and lots of traffic, Central China Display Laboratories, was the exception. Still, their content on the floor was ineffective, from an educational perspective. This company has a featured LED installation here in Colorado, at the University of Denver. I wish they were showing that content instead.
Virtual Reality. Given the recent hubbub associated with virtual reality, I was surprised to find a subdued presence for VR at InfoComm 2016. Watch for my deep dive on this topic in a later article.
Trends to track
Collaborations Spaces. Huddle spaces were evident throughout the expo, a clear sign that their time has come. This year, however, larger firms have bought into this meme. Take for example Crestron. "We're experiencing incredible growth in the higher education space, powered by the BYOD, ubiquitous wireless access and new methods of teaching," explained Kevin Jordan, of Crestron. He cited that "lecture halls are increasingly replaced with flexible meeting spaces where small groups can problem-solve together" regardless of device or media. Universities are "using these platforms to improve the learning experience," he concluded. I should mention that, throughout the expo, huddle spaces created by vendors to meet with customers were very popular—always busy. See some examples below.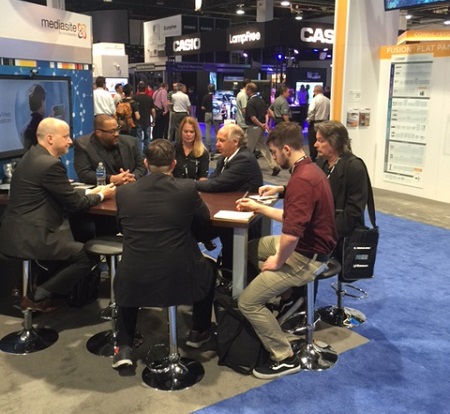 Interactive touch displays. Interactive touch displays have almost completely replaced the venerable smartboard, and were visible everywhere. Still, many educators remain wary. The learning curve on touch interactive display remains formidable and the smartboard doesn't have a good implementation record in schools or universities, on the whole. I keep thinking: training services should clearly be bundled with interactive touch displays.
Again, InfoComm 2016 seemed like a celebration of incrementalism—simultaneously in its best and worst form. But who knows? As they say, sometimes it's the little things that make the biggest difference.
– Len Scrogan