Beacon of Shenzen was at the show with its own booth for the second year. The first product it showed us was a 55″ UltraHD monitor that is designed as a kind of "mini video wall". It has 12 input channels (4 x DVI, 4 x DisplayPort, 3 BNC and VGA) that can accept video and graphics inputs which can then be shown in PIP configurations. The windowing can be set up using a remote control (which looked fiddly) or the OSD (which looked very fiddly) or using a PC connection. The configuration can be saved, so if a particular user wants their video in a certain way, this can probably be accommodated and saved as a group.
The company also had a 21.6″ procap touch display and a 23.6″ AllinOne computer that has a 1920 x 1080 display and dicom setting, although it is a clinical review system rather than a diagnostics unit.
As well as these products, it has 4, 6 and 8 megapixel (4096 x 2160) monitors.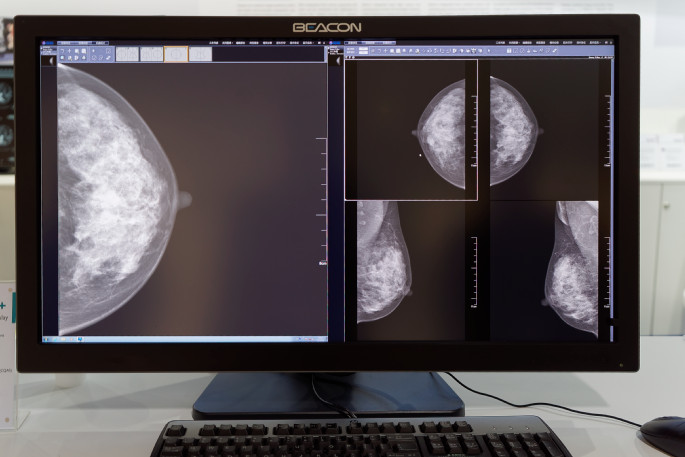 Eizo had a darkened display area at the back of its booth where it was highlighting a new variant on its RX850 8 megapixel (4096 x 2160) IPS monitor. The RX850-AR has an anti-reflection panel and that is said to be preferred by some customers (although I couldn't see much difference!). Also on display was the EX270W, a 27″ FullHD IPS display which is part of the CuratOR displays for operating theatres. The HDBaseT monitor that we reported seeing at last week's Embedded World show was not on display, but there was the LMM802 controller that we reported on last year.
Jusha Display of China was keen to impress us and highlighted an autostereo display for surgical applications that uses lenticular technology. The firm integrates the stereo to 12 view autostereo conversion software into the monitor and the monitor can accept a wide range of inputs which can also be displayed in 2D. Side by side and top/bottom formats are supported.
A second technology demo was of "CGA" – colour greyscale adaptive technology. The monitor analyses the content of images shown on the screen and can automatically detect colour or monochrome DICOM data. When it sees the different types of image, it adjusts accordingly – if the data is monochrome, the monitor adjusts that part of the screen to correctly show with Dicom levels, but if colour it optimises for brightness and contrast. The monitor on display was a prototype and had a glare screen, but the final product will probably have an anti-glare/anti-reflective coating on the front panel, which is not made of glass, but of clear plastic. The monitor used a 30″ 6 megapixel display with 800 cd/m² of brightness.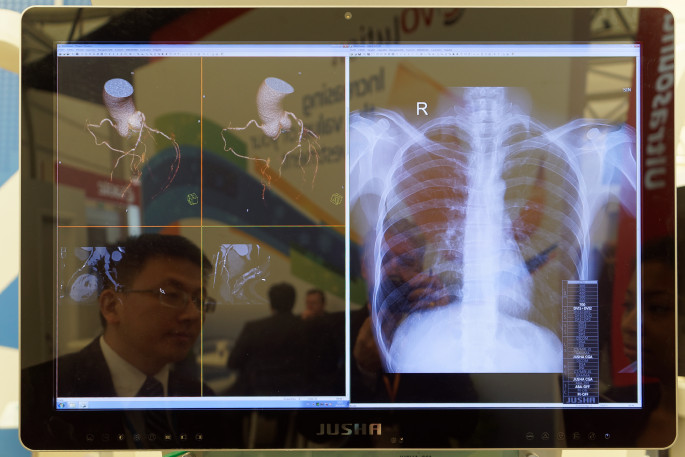 Jusha has an adaptive display that can detect mono or colour content and adjust itself automatically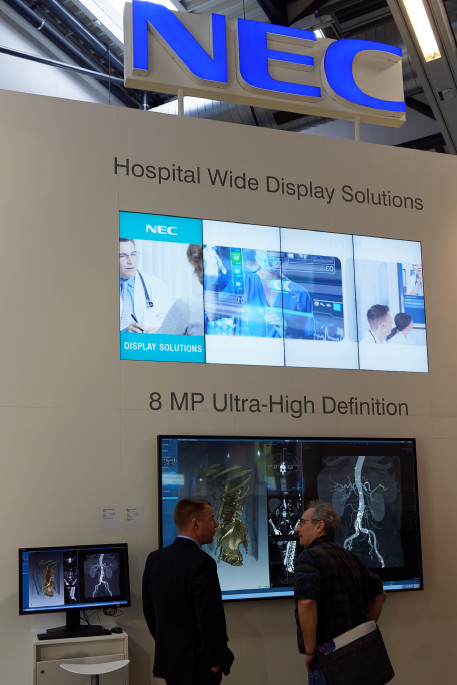 NEC was showing how its X981UHD monitor could be used as a repeater of its MD322C8 medical UltraHD monitor with 1:1 pixel mapping making the pairing ideal for group discussions and training. The X981UHD has a Dicom mode, so can be used for review of radiology images, but not diagnostics.
The MD212G3 is a 21″ 3 megapixel (2048 x 1536) greyscale monitor with a boost to its brightness to 1,700 cd/m² compared to the previous MD211G3, which was just 1,450 cd/m².
Also on display were the existing MD210C2 (21″ 1600 x 1200, 760 cd/m²) and MD210C3 (21″ 2048 x 1536, 800 cd/m²) and the recently launched MD302C6, a 3280 x 2048 (6 megapixel) monitor with 400 cd/m2 of brightness.
Totoku was mainly showing the same displays as last year, but had a new 5 megapixel (3280 x 2048) colour display with 600cd/m² of brightness that is intended to be an "all in one" display that allows any application to be shown. The firm told us that it would ship at some point in 2015, but couldn't say when. The CCL550i2 has a 30″ diagonal and a front sensor as well as adopting a DisplayPort interface. The Totoku-branded medical business is owned by JVC Kenwood which also had an intriguing display of gaze recognition. By tracking the gaze responses of babies, symptoms related to "Autism spectrum disorders" (ASD) can be detected with a simple 2 minute video (the gaze focuses on the nose and mouth of a face on the screen, rather than on the eyes and mouth).
This 5MP display from Totoku is for dual use
Well, we don't often get a "Nothing" response to the question "So what's new since last time we met?", especially when the meetings are a year apart, but we got it from Kostec. After a bit of discussion we found that the company is offering optical bonding for its surgical monitors as well as optional touch functions.
Wide of Korea had two 21.3″ monitors – one mono, the MX50T aimed at tomography applications and the CX50 which is colour. Both are 5 megapixel (2048 x 2560) units and the mono version has 2,000 cd/m² of brightness and digital uniformity correction. The colour version has 1,000 cd/m² of brightness and both use 14 bit look up tables for accurate grey scaling. The firm also had two new 19″ 5:4 displays – the mono MX10P and the colour CX10P. They both have 1,000 cd/m² courtesy of a new LED backlight system. Wide said that it is one of the few suppliers to continue to develop these low resolution displays, but sees reasonable demand. Inputs include DVI-D, D-sub, BNC, CVBS and S-Video and there are D-sub and CVBS outputs for repeater displays. Wide told us that it is looking forward to launching some "very slim" air traffic displays at the ATC show in Madrid.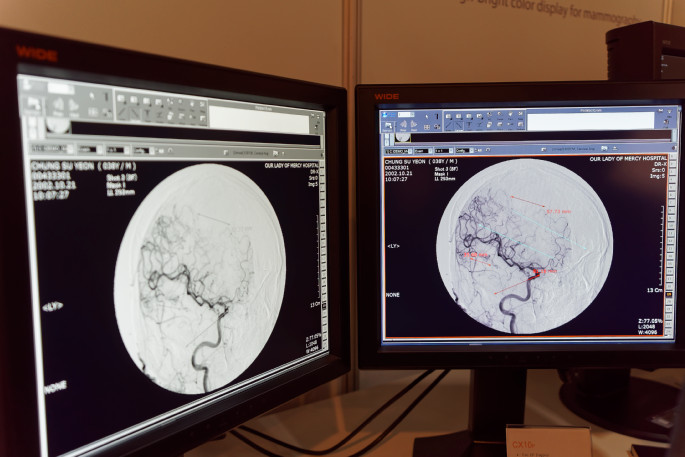 Wide still sees demand for one megapixel displays and introduced new mono and colour LED models