E Ink reported on their third quarter results, which showed an improvement to its balance sheet in basically all categories, as well as higher assets and lower liabilities. Sales, gross profit and net income are all improving not only quarter over quarter but also year over year. This looks good for any investor looking at E Ink.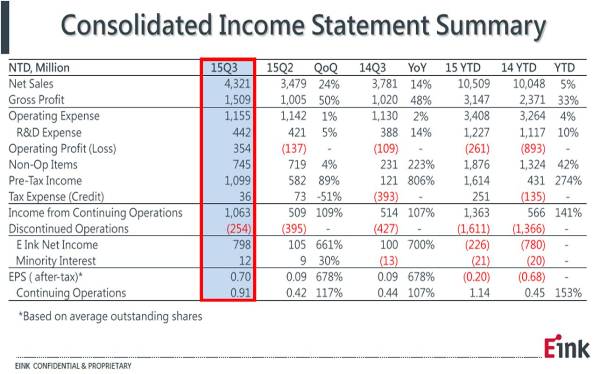 Source: E Ink Q3'2015 Results
Then there is the continued decline of their CAPEX to a 10% level compared to 2011 and 2012. It seems E Ink has changed from a technology development company to a manufacturing entity that has all capacity in place that it needs for now.
However, E Ink expects a much weaker Q4 as the holiday sales for its display components occurred in the third quarter. It has issued a profit warning for Q4, due to 'unfavourable conditions' in the technology industry.
The company also stated that the majority of its revenues (60% – 70%) still stem from eReader, a category that is not enjoying market growth in the age of the multitasking tablet.
E Ink continues to see good development in other applications including luggage tags and pharma packaging, where the no power requirement after uploading the image is most desirable. There are many other applications, like electronic shelf labels for example, that would benefit from the "no power demand while still showing the image" (or bistability) feature. E-readers may have accelerated the growth of E Ink, but the future seems to lie in other applications. (NH)