It's Press Day at the 2015 Digital Signage Expo and while most exhibitors are busy setting up, a select lucky few had the chance to attend the Live Installation Tour that has become a hallmark experience of the Las Vegas based event.
Center Bar at SLS Dazzled with amazing use of negative space in its 910 LED modules with 6mm pixel pitch and 990 sq. feet of total display areaWith the promise of customer-facing views and behind the scenes insights, this 10th annual guided tour event fielded three buses of willing participants and some eye-opening experiences delivering no less than a paradigm shift in conventional thinking on the what, why, how and how much – in the digital signage space.
Tour highlights included the amazing Center Bar LED Cube display with images so lifelike in the use of negative space they've garnered international attention, an MSNBC link on line and some 15M social media hits to date. At the other end of the spectrum, an aging Boulder Station Casino, faced with financial demise over the prospect of moving to digital HD content, particularly in its sports book operation, found new life in its existing coaxial cable and with the help of its creative partners completed the entire upgrade in two days and on a $150k budget that more resembled the cost of project spec phase.
The biggest surprise? That would have to be from Cyrus Baseghi, content manager for OSSI who runs the digital signage network at the LVCC. He insists the company is moving away from big venue flat panel display installations, and back (yes back) to digital projection. In fact it's corporate policy, "Don't do monitors anymore," Baseghi said. Why? Simple economics. it's +$4/ LCD screen/hour versus $1.50 per projector/hour to operate. The company went and designed its own multi-light engine projector that is based on 3-LCD micro display technology. It's proprietary for now, but the company is considering selling a version based on market response.
Baseghi gave us a second dose of economic reality, stating the real money is in static signage for his business that includes managing convention centers and airport digital sign networks. This includes Orange County Orlando Florida, and other top venues nationwide. This group has its own printing operation to service the 150K static signs it sells to exhibitors at convention sites to augment the digital sign content that runs in 8 segment loops throughout the venue. Time per segment varies based on dwell times that differ in airports and convention centers.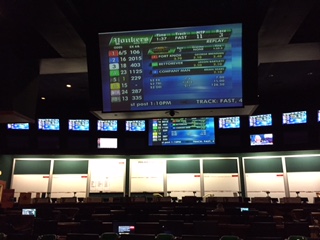 Sports Book at Boulder Station is a text book study in leveraging existing Coax infrastructure to deliver HDTV over IP in aging facilitiesNo less stunning was the low cost installation accomplished by the team at Boulder Station. Engineer for Fertitta Entertainment, Aiden Kemp with the help of NTA (National Technology Associates), performed what seemed to be a miracle in leveraging existing coax cable to deliver IP streaming to some 150 existing displays parsed out via Crestron controllers to Brightsign players over 7 VLANs all connected to the Coax using Readylink hardware handling the QAM modulation demodulation. WOW! When I asked Kemp just how many IT folks get the value of existing Coax on the premises, he retorted "NONE!"
Custom code from Crestron helps the magic along, and Technicolor QAM modulators fed into an IP encoder provide the sports programming that keeps its customers satisfied with DirecTV Sports Ticket programming. Also, every display in the Race Book and Sports Book section, is controlled centrally and can be accessed using handheld remotes and smart devices like iPads. Perhaps even more remarkable, the configuration has been successfully tested running full UHD at 60 fps.
There was plenty to dazzle on the 6.5 hour tour, but the surprises – well, lived up to the term and delivered in spades. And in Las Vegas, that's saying something, baby! – Steve Sechrist