Display Supply Chain Consultants (DSCC) has released the first issue of its newly developed Quarterly Display Capex and Equipment Market Share Report which delivers quarterly equipment supplier market share for all major display segments in a highly sortable pivot table along with fab schedules, display equipment spending and display fab capacity.
According to DSCC CEO Ross Young, "In my 25 years in the display industry, this is the most ambitious and most useful report I have ever produced or seen on display equipment as it:
Segments the market into 76 different and unique market segments.
Provides equipment supplier market share for 66 different segments which can be sorted by quarter, year, units or revenues, bookings or billings, frontplane technology, backplane technology, fab generation, country, manufacturer, application and substrate type. This information is critical for equipment suppliers and their component suppliers to track the health of their businesses. It should also be of interest to VCs, strategic VCs and private equity companies looking to invest in the display equipment companies expected to outperform.
Reveals which equipment companies are gaining and losing share. Design wins are identified for future fabs based on Chinese and Korean filings, revealing accurate forward market share and revenues of at least one year which should be of great interest to investors tracking these companies.
How the change to oxide, LTPO, Y-OCTA or other technology impacts equipment spending and which suppliers they are using for critical steps, etc.
How Chinese equipment suppliers are changing the landscape and where they are taking share."
You can see the complete list of segments covered at: https://www.displaysupplychain.com/quarterly-capexequipment-service.html.
In terms of the latest results in display equipment spending:
Despite starting from scratch, the latest report shows 2016-2018 equipment spending results within 0.9% of DSCC's previous report with some segments rising and some falling as more granularity and actual shipments rather than fab modeling was implemented. More TFT backplane and module tools were found which caused those segments to gain share.
For 2019, DSCC has downgraded the market by 12% to $13.7B as LCD spending was reduced by 15% on cancellations at Infintech and Sharp SIO and downsizing at HKC H2 on excessive supply growth, poor fab utilization and the lack of profitability in LCD TV panels today with commodity panels now priced below cash cost. Despite the reduction in LCD spending, DSCC still sees LCDs accounting for 70% of total display capex in an off year for mobile OLED spending, which has also struggled with fab utilization. TFT backplane equipment accounts for 55% of the 2019 market. Exposure tools are the largest segment of the total display equipment market with a 15% share. BOE is spending the most, accounting for a 27% share, followed by HKC, China Star, LG Display and Sharp SIO. China is accounting for 92% of spending and G10.5 fabs are accounting for a 50% share of all spending. Bookings are expected to be up 2% for the year from $17.4B to $17.7B. Oxide backplane fabs are expected to lead with a 52% share as TVs dominate spending with an 88% share. DSCC shows the top 10 suppliers as Applied Materials (AMAT) leading and gaining share for the 3rd straight year followed by Nikon, Canon, TEL, V Technology, Invenia, ULVAC, SCREEN, Wonik IPS and LG PRI. AMAT also led in just the TFT backplane segment with a 15% share and was the revenue market leader in 4 different display equipment segments and held the #2 spot in 2 other segments.
LCD and OLED Display Equipment Market Share*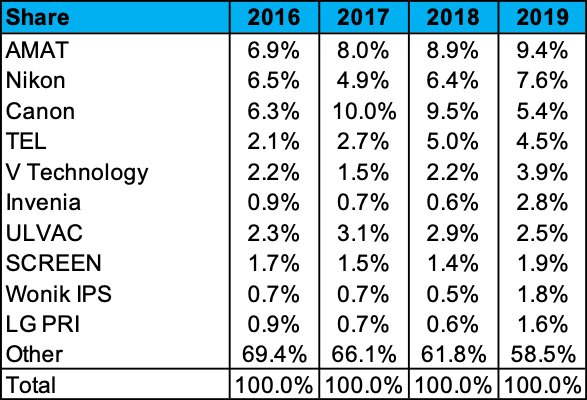 Source: DSCC's Quarterly Display Capex and Equipment Market Share Report
*Excludes service, spares and upgrade revenues. Revenues provided for over 130 different companies for the TFT backplane, OLED frontplane, color filter, cell and module processes covering 76 different market segments.
Source: DSCC's Quarterly Display Capex and Equipment Market Share Report
For 2020, DSCC reduced its forecasts vs. last quarter by 21% to $16.0B due to downsizing and cancellations at HKC H4 and Sharp SIO and delays at BOE B17 and CSOT T7. LCD spending was reduced by 45% while OLED spending was increased by 3%. DSCC now shows OLEDs accounting for 65% of spending at $10.4B with LCDs at 35% and $5.6B. Mobile spending jumps 335% to $6.9B and a 43% share with TV spending falling 25% to $9.1B and a 57% share. HKC and Visionox are expected to lead in spending with a 17% share each followed by China Star at 15% and BOE and Samsung at 14% each. China's share of total display equipment spending is expected to fall from 92% to 84% while Korea's rises from 5% to 16%. LTPS is expected to lead by backplane technology with a 42% share while the flexible substrate share of spending is expected to rise from 12% to 36%. Exposure is expected to maintain the top spot. Canon is expected to reclaim the #1 position followed by AMAT at #2 despite gaining more share, Nikon, TEL, Kateeva (on nearly 1000% growth), LG PRI, YAS, Invenia, ULVAC and AP Systems.
For 2021, spending was cut by 7% vs. DSCC's prior forecast to $9.8B, down 39% Y/Y, on continued LCD fab delays with OLEDs accounting for a 73% to 27% advantage. Mobile will account for a majority of spending with a 56% share, its highest since 2018. BOE is expected to lead in spending with a 40% share followed by China Star at 30%.
In 2022, the delays from prior years lead to a 6% increase vs. last quarter's report and a 1% Y/Y increase to $9.9B with OLEDs accounting for a 94% share. Mobile spending is expected to account for a majority share of 63%. Samsung Display is expected to lead in spending with a 41% share followed by BOE at 27% and LG Display at 12%.
The latest report extends all equipment spending forecasts to 2024 and capacity forecasts to 2025. All of the capacity data will be released the week of December 9th.
SID and DSCC Expand 2020 Business Conference to 2 Days
The 2020 SID/DSCC Business Conference will be expanded to two days, taking place on June 8th and 9th at the Moscone Center in San Francisco. The other SID/DSCC Business Track events such as the Investor Conference, Foldable Conference and Automotive Display Conference, held in 2019 will not be held in 2020.
According to DSCC Ross Young, "The SID Business Conference is traditionally the display industry's largest conference devoted to the display market. By expanding it to 2 days, we believe it will allow for greater depth into key business issues facing the display industry and it will the event to expand into more critical areas. By concentrating all the display business events into two days, we also expect a larger audience for this event which should appeal to the presenters and sponsors."
Potential topics for the 2-day 2020 event include:
Display Analyst Market Outlook
Supply Chain Keynotes
TV Market and Technology Outlook
Smartphone Display Market and Technology Outlook
Automotive Display Market and Technology Outlook
Notebook and Monitor Display Market and Technology Outlook
Foldable Display Challenges, Solutions and Market Outlook
Technologies Enabling Next Generation Displays
MicroLED Market and Technology Outlook
And more
If you or your company are interested in presenting or sponsoring or both, please contact Gerry McGinley at [email protected] or +1 (770) 503-6381. With DSCC organizing one rather than four events at SID in 2020, we expect the agenda to be completed quickly, so be sure to respond quickly if you are interested.