Innovative technology company, DOOGEE Hengtong Technology Co. Ltd, is pleased to announce the launch of its latest phone, the DOOGEE S88 Pro. The DOOGEE S88 Pro is a rugged smartphone that is packed full of features including a 10,000 mAh battery, unique LED lights, a triple camera and has IP68 protection.
The S88 Pro is available in Army Green, Fire Orange and Carbon Black. With a Helio P70 processor, the S88 Pro incorporates a powerful Arm Cortex-A73/A53 octa-core CPU complex with an impressive Arm Mali-G72 class GPU. This makes the phone 13% faster than those with a P60 processor and provides 10-30% more AI processing efficiency. Running on Android 10 OS, it offers more features than ever before and an intuitive and fluid performance.
LED Back Light & Screen
The unique LED back light that is under the black translucent tempered glass is the pioneer design of the DOOGEE S88 Pro. It works and lights up for calls, messages, music and other notifications in different colours dependent on the notification. For example, the LED back light shows as blue for messages and calls, red for other notifications and can be blue/green/red for music.
Rugged Capabilities
Built for intensive outdoor use and to withstand all environments, the rough and rugged DOOGEE S88 Pro has an IP68 rating and has been tested in all conditions to ensure it is resistant to damage from being dropped and water immersion as well as shock and impact. The rugged phone has been tested to be drop-proof up to 1.5 meters height as well as testing to be waterproof up to 2 meters depth and has also had brick pressure and sand immersion tests. Made using top two-colour injection molding techniques, the hard and soft rubber of the phone are integrated to create a protective shield.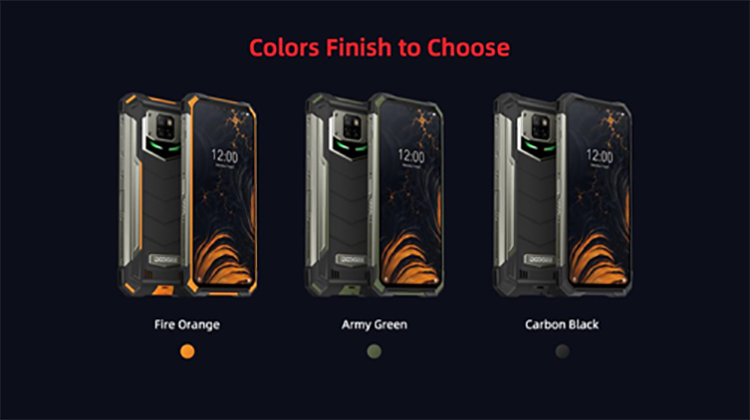 Battery & Reverse Wireless Charging
Featuring a huge 10,000mAh battery, the DOOGEE S88 Pro gives the ultimate solution for smartphone users. Ideal for travelling, the battery can provide 10-15 days of normal use meaning that there is no need for low battery anxiety or to pack an extra power bank. Offering a massive 900 hours of standby and 23/45 hours of talk time, it is ideal for keeping connected whilst on the move. Additionally, the S88 Pro features 5W reverse wireless charging allowing it to charge other devices without cables for ultra-convenience.