At ISE, DNP was highlighting its LaserPanel systems. These systems include an off-axis ambient light rejecting screen, a DNP-branded short throw projector and a cabinet to hold the projector and hide it when not in use. These integrated systems were actually introduced at ISE 2017, although the added a 100" version suited for the rental market or if a company wants to move its LaserPanel system between rooms. "By adding AV furniture to our product range we move from being a screen company to a provider of display solutions. Our goal is to make it as easy as possible for our partners to create and sell stylish AV solutions that match their clients' interior designs," says Soeren Kraemmergaard, VP of Global Sales and Marketing at DNP.
A 120" DNP Supernova XL. The contrast iof the image n this photo is poor because a flash was used to photograph the screen.. (Credit: M. Brennesholtz)
In terms of new screen products, DNP was showing only modest changes. The Supernova ambient light rejecting screen is now available in a 140" diagonal and DNP is working on making them in larger sizes, up to 220". In addition, the Supernova XL is now available on a flexible, rollable base, compared to the previous rigid base.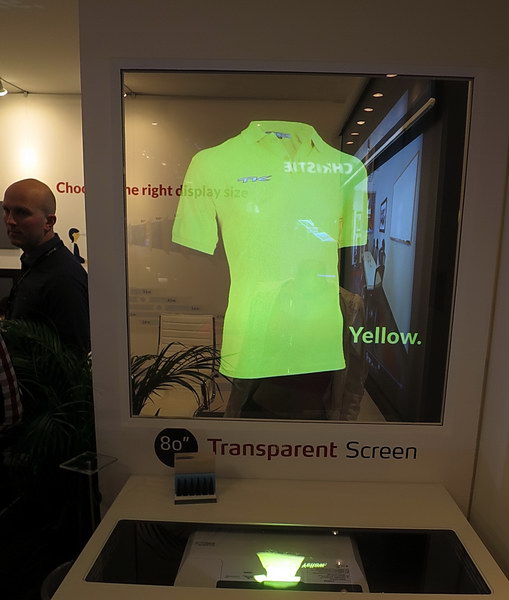 DNP's prototype front projection transparent screen on-axis. The Tee-shirt is the projected image and the DNP meeting room can be seen behind it. (Credit: M. Brennesholtz)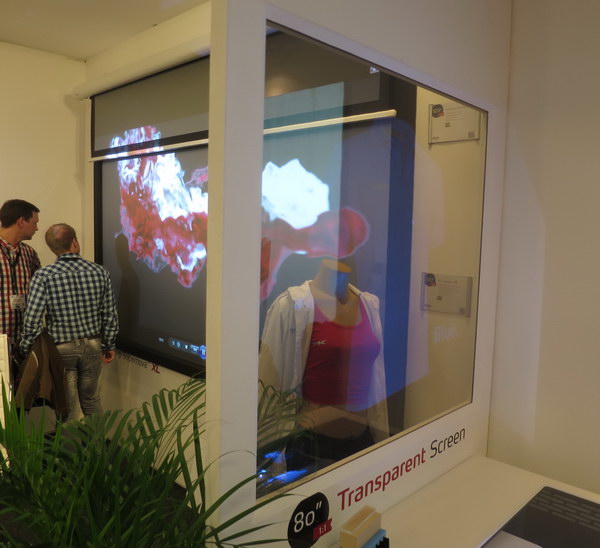 DNP's prototype front projection transparent screen off-axis. (Credit: M. Brennesholtz)
More interesting was the transparent projection screen DNP showed at ISE. This is still under development and has not been launched as a product. Front and rear projection versions of the screen were under development but only the front projection version was shown. While it had good transmission, it has high reflectivity and limited viewing angle. The high reflectivity can bee seen in the reflection of the "Christie" name from the adjacent booth. I was told by Jonas Nilsson, Creative Coordinator and Designer at DNP, the rear projection version had too much haze compared to the front projection version at the moment and DNP decided not to exhibit it. –Matthew Brennesholtz