Pulled by strong demand for large-screen LCD panels, display glass shipments are expected to increase by 4% in the second quarter of 2021 to an all-time high of 165M square meters, according to the latest update to DSCC's Quarterly Display Glass Report, released last week.
Shipments in the first quarter of 2021 have been flat Q/Q compared with Q4 2020, despite the reduced number of working days and the supply constraints stemming from a power outage at NEG's Takatsuki plant. Considering the strong demand and constraints on glass supply by its two Japanese competitors, Corning announced an increase in glass prices for Q2 2021. With Corning's announcement on March 26th that glass prices in Q2 2021 will increase, we expect that revenues will increase by 7% Q/Q and 18% Y/Y in Q2 2021 to ¥186B.
The Display Glass Report tracks glass capacity and shipments for all major glass makers across all LCD and OLED display fabs. The report combines DSCC's comprehensive insight into industry capacity and utilization with an in-depth understanding of display glass and the supply chain. The report outlines capacity by region in each of the four countries of display glass production: Japan, China, Taiwan and Korea, and covers glass shipments in Gen sizes from 1 to 10.5. The report details glass shipments for the three major suppliers to the display industry, Corning, AGC and NEG, along with other glass suppliers. The report includes a supply matrix covering 26 panel makers.
Despite the NEG problems, total industry glass capacity increased in the first quarter of 2021 as Corning took steps to fill the gap by starting glass tanks in Korea and increasing supply at ramping Gen 10.5 fabs in China. This represents a complete reversal from one year ago, when Corning announced the shutdown of its glass plant in Shizuoka, Japan and LG Chem announced that they would exit the display glass business. DSCC estimates that glass capacity in Q1 2021 increased by 9% Y/Y and 3% Q/Q to 174M square meters, with Corning showing the biggest increase.
Display Glass Shipments by Gen Size, 2019-2021
Looking at the glass market by gen size in the first chart here, the market in Q1 2021 has been close to flat Q/Q overall with increases in larger gen sizes, especially Gen 8.6 and Gen 10.5, outweighing a seasonal slowdown in Gen 6 demand related to smartphones. While Gen 8.5 glass represented more than half of the industry in 2018, the share of Gen 8.5 in the industry is declining, and growth is coming from Gen 8.6 and Gen 10.5 glass added in China. Gen 8.5 will represent only 38% of glass demand in Q2 2021, while Gen 10.5 glass will increase its share to 16%. Glass shipments in Q2 2021 are expected to increase by 4% Q/Q and 16% Y/Y, with increases across almost all gen sizes.
A view of the market by region demonstrates the increasing dominance of the display industry by China panel makers. China's share of the display glass market was only 40% in Q1 2018 but will increase to 62% by Q2 2021; Korea's share was 27% at the beginning of 2018 but will decline to only 11% in the second quarter of this year.
Display Glass Market by Region, 2019-2021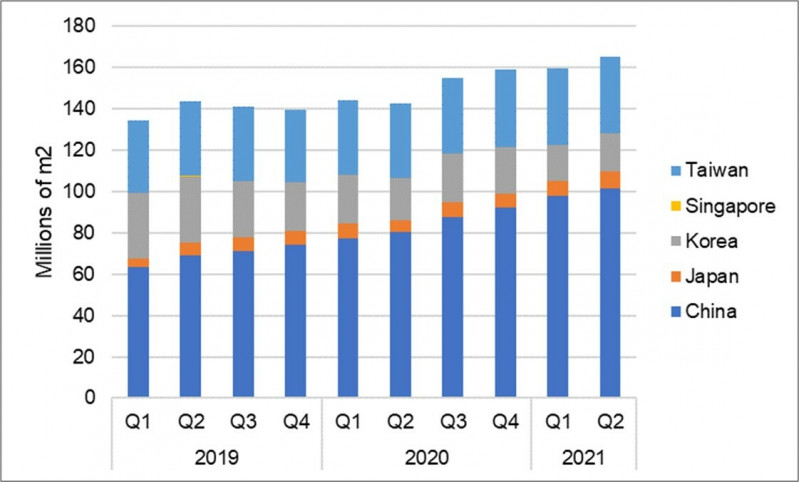 The report gives a split of the glass market by backplane type, showing the importance of more advanced backplanes in the display industry. Both Corning and AGC in 2019 announced new glass products designed for use in oxide TFT fabs, and those two makers plus NEG have special glass products focused on LTPS backplanes. Despite the growth of OLED, the industry workhorse amorphous silicon (a-Si) glass substrates continue to make up about 90% of display glass demand, and this share is holding steady in 1H 2021 because of high fab utilization and continued a-Si additions in Gen 10.5 fabs.
The report provides tables of glass prices by Gen size for a-Si and LTPS glass. Glass is priced in Japanese yen across the industry, and while glass prices in the display industry vary by volume and by customer, the report provides average prices. High volume customers with strategic relationships (NEG: LGD, AGC: CSOT, Corning: Samsung, BOE) get the lowest prices, slightly lower than the average, while lower volume customers get higher prices. Glass prices in Q4 2020 averaged ¥1110 (US$10.67) per square meter, down 4.1% in yen terms Y/Y, but up slightly in US dollar terms as the yen strengthened.
In Q1 2021, the opposite dynamic has been in play. We estimate that glass prices in yen terms increased by 1% Q/Q to ¥1121, as the supply constraints from the NEG power outage led to increased prices on the spot market. This price increase in yen was offset, though, by a similar weakening in the yen, so that the dollar price is unchanged from Q4.
The resulting outlook for industry revenues is shown in the final chart here, with revenues by glass maker. Note that for glass joint ventures, we attribute revenues to the company with melting and forming. NEG has a joint venture with Tunghsu and Corning has a JV with Irico, and we attribute revenues from these JVs to NEG and Corning, respectively.
We estimate that total industry revenues in Q1 2021 will be up 1% Q/Q and 8% Y/Y to ¥174B. With Corning's announcement on March 26th that glass prices in Q2 2021 will increase, we expect that revenues will increase by another 7% Q/Q and 18% Y/Y in Q2 2021 to ¥186B. With NEG and AGC both experiencing supply problems, we expect that this revenue growth flows disproportionately to Corning, but we assume the same 3.5% price increase applies to all glassmakers. We estimate that Corning revenues increased by 4% Q/Q and by 17% Y/Y in Q1 2021, and we expect Corning display glass revenues to increase another 8% Q/Q and by 25% Y/Y in Q2 2021.
Display Glass Revenues by Manufacturer, 2019-2021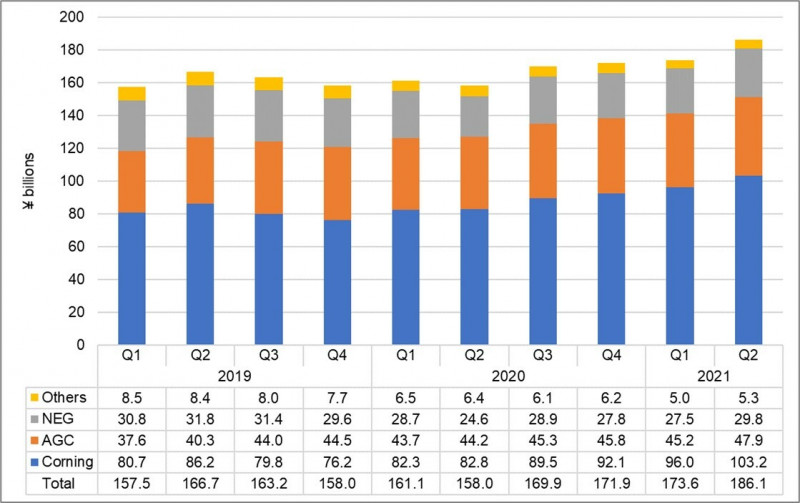 On Friday, March 26th, Corning issued a statement that it would raise prices for display glass in the second quarter of 2021.
Corning is announcing a moderate increase to its display glass substrate prices in the second quarter of 2021.
This price adjustment is a result of increased costs in logistics, energy, raw materials and other operational expenses during the current glass shortage. Additionally, the costs of precious metals required for maintaining reliable glass substrate manufacturing have risen significantly since 2020. While Corning has sought to offset these added costs with productivity enhancements, it can no longer fully absorb them.
Corning expects glass supply to remain short-to-tight in the upcoming quarters and will continue to partner with customers to maximize our glass supply to them.
What is a "moderate" price increase? In discussing pricing, Corning has been fond of using the word "moderate." In every earnings call back to at least 2012, Corning has used this word in connection with glass prices. During most of that time, Corning was describing moderate glass price declines, but over the years, the magnitude of price declines has changed substantially.
DSCC estimates that glass prices in 2012 declined by 25% for the year, or an average of 7% per quarter, and Corning used the word "moderate" as a verb, not an adjective. By 2014, Corning was using "moderate" as an adjective to describe price declines, and DSCC estimates that glass prices declined by 5% per quarter. Glass price declines have been shrinking during each of the last seven years, and DSCC estimates that price declines in 2020 were only about 1%, while Corning continued to use the word "moderate" in its description.
When I asked my contacts at Corning to quantify the price increase, they declined to answer. Based on the recent use of the word in Corning's communications, I would guess that the increase averages 3% to 4%. This may vary from customer to customer, which is another reason that Corning wants to keep it a secret.
This price increase comes at a perfect time for Corning. As we have covered in the DSCC Weekly Review and in this blog, both of Corning's major Japanese competitors have suffered supply disruptions in the last four months. NEG suffered a power outage at its Takatsuki plant, and AGC had an explosion at a tank undergoing refurbishment in Korea. So, both companies will be constrained from supplying more glass in Q2.
While glass supply has been constrained, glass demand is at an all-time high, as described above. My contacts at Corning said that the company has been pursuing all available options to maximize glass supply. While I am sure that Corning's customers are not happy about the price increase, I speculate that the tenor of Corning's discussions with customers has changed such that the primary concern is supply, and everything else comes second including price. In this environment, I suspect that Corning has seen a big appetite for incremental supply beyond contracted amounts, with premium pricing on incremental supply.
Corning's statement describes increased costs, and my contacts there indicated that there are both short- and long-term cost drivers in play. The short-term cost increases are mostly related to logistics, a factor which holds across many industries as transport costs have increased around the globe (Corning can be thankful that they do not need to ship glass through the Suez canal!). The longer-term costs are related to precious metals; prices for platinum have increased 60% and those for rhodium have increased by 200% in the last year, and both of those metals are required for both new investments and refurbishments.
Beyond the glass supply/demand equation, the ability of Corning's customers to absorb an increase in glass prices has perhaps never been better. Panel maker operating margins, which were negative as recently as Q2 2020, averaged 10% in Q4 2020, according to DSCC's Quarterly Display Supply Chain Financial Health Report. LCD TV panel prices have increased by an average of more than 70% from their low point in May 2020, including an average of 12% in Q1 2021, so we expect that panel maker margins will improve even more when these companies report their Q1 results.
Furthermore, the most recent exchange rates suggest that a glass price increase in Q2 2021 will be easy to absorb. For many historical reasons, display glass is priced in Japanese yen, even by Corning. The average exchange rate of the yen during Q1 2021 (up to March 26th) has been ¥105.8 = $1, but this average covers a shift from 103 on January 1st to 109 this week. If the yen would stay at 109 during Q2, it would represent a weakening of 3.2% Q/Q, which would approximately offset Corning's glass price increase (as we estimate it). Since panels are priced in US dollars, panel makers see a weaker yen as a price decrease for glass.
While panel prices have surged in the last 10 months and over the years have seen peaks and troughs according to the Crystal Cycle, glass prices have gone in only one direction (down) for more than ten years. DSCC estimates that in the decade from 2010-2020, glass prices declined more than 80% in $US terms. Corning's statement says that the price increase holds for Q2 2021 and states nothing about the direction of pricing for the second half, but it is another sign that we have entered a new era for the display industry.
It appeared that investors viewed Corning's announcement favorably, judging by the reaction of Corning's stock price. Corning's stock closed at $43.41 on Friday, up 5.3% for the day and adding about $1.7 billion to the company's market capitalization. Corning stock is now up 24% since the beginning of the year.