Vivitek/Delta had plenty of flat panels to go along with its projector displays. The first product we looked at was a 2 x 2 video wall based on the latest 1.4mm SNB LCDs which will be shipping at the end of Q3.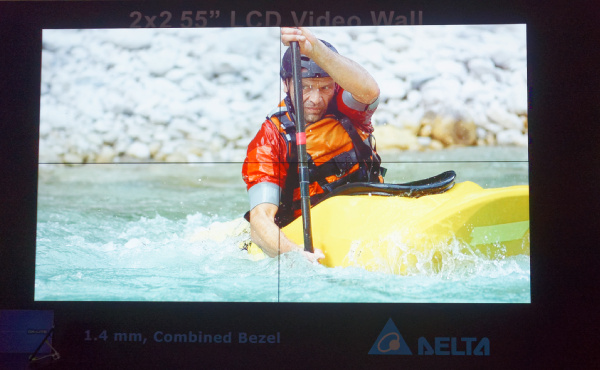 The company is optimistic about its ability to sell LED sets and was showing new IE series small pitch LED at 1.2mm (700 cd/m²), 1.875mm and 2.5mm (both 900 cd/m²) as it' 'best' range – it has a 'good'/'better'/'best' strategy. The module shape is 4:3 aspect ratio but it is also working on new 16:9 cabinets.
In the 'good' class, the company has 3mm and 4mm LEDs with 900 cd/m² and 6mm at 1500 cd/m². The LEDs are very shallow – just 69mm deep and allowing ADA compliance. The aluminium chassis is designed to be light and has a 16:9 format to allow matching to video content. The wall can run from 110V power, which is a big advantage in applications such as House of Worship. Cost is said to be less than $1,000 per sq ft ($10,750 per m²)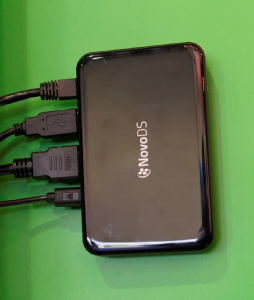 As well as the displays, Delta has developed the NovoDS digital signage player. The software, which includes 1000 pre-prepared templates, runs on top of Android and the boxes can support UltraHD displays. The players list at $499. The company has also developed the Novo Pro which is designed for collaboration including the K-12 education segment. The box can support access to a display from smartphones (iOS and Android) and is designed for up to 64 users. Miracast is supported along with AirPlay. There is no on-going licensing cost, the purchase price includes updates. The list price is $799 and you can buy four 'launchers' (dongles – think Clickshare) for $299 for use in corporate environments.
The company told us that it has now combined its Delta and Vivitek sales forces and it has a new website which includes digital signage content.