Augmented Reality – CrowdOptic is an app developer that has been focusing on Google Glass. Its augmented reality software allows video sharing between Google Glass and other smartglasses users and at the moment, the app is aimed at enterprise markets.
The CrowdOptic solution is aimed at sharing video and image information between wearers of augmented reality glasses. Video and image data is captured and analyzed from various sources and is then combined in a complete data set that is shared between the users. It also looks at areas of interest where several users' line of sight overlaps, which the company call clusters. These clusters are determined by cluster servers that are connected to a user via a video streaming server and an event management dashboard running on a local Wi-Fi network. The architecture is described on the CrowdOptic website.  The technology is pretty sophisticated and protected by patents.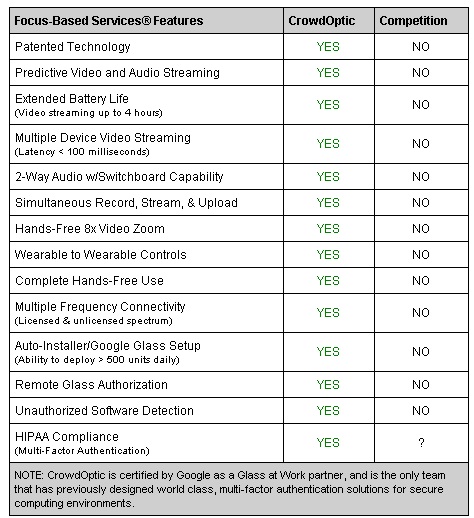 The company currently sees mainly enterprise markets as the potential users and has particularly mentioned healthcare, field service, sports and security as current targets. Since the application goes way beyond just video streaming, this would make perfect sense, as a more complex software solution will also end up costing more, certainly more than typical consumer applications like video calling and gaming would allow.
In the healthcare arena the system allows connection between first responders and doctors even if doctors are not at the scene. CrowdOptic is also aiming at the training of students and surgeons to improve the effectiveness of the training. Another aspect is the remote care or tele-medicine for patients that can come to a doctor.
Field service applications are pretty easy to understand as they allow field deployed people to access specialists in the office to accomplish tasks faster and more accurately. It has to be seen if this will lead to a lower training requirement for field service technicians with more reliance on a central technical specialist.
In sports the company promotes a form of crowd sourced content distribution. Everyone wears a camera and shares the video stream with others, driven by the central control dashboard. This is a very interesting concept that could also provide other views from behind the scenes.
If we extend the same idea of crowd sourced content to the security market, it is easy to see how certain events can be viewed form multiple locations at once to identify potential trouble spots before they emerge. This information could also be used for documentation and verification processes at a later point in time.
Display Daily Comment
Overall I think this software offers an advanced step for the augmented reality world and could help to bring this technology at least to the professional markets. – Norbert Hildebrand