Corning announced its fourth-quarter and full-year 2022 results and provided its outlook for first-quarter 2023.
Financial Performance
Fourth-Quarter 2022
Fourth-quarter GAAP sales were $3.4 billion, and core sales were $3.6 billion.
Fourth-quarter GAAP EPS was $(0.04), and core EPS was $0.47. The primary differences between GAAP and core EPS stemmed from restructuring charges taken in the fourth quarter and from non-cash, mark-to-market adjustments associated with the company's currency-hedging contracts and Japanese-yen-denominated debt.
Free cash flow for the quarter was $377 million.

Full-Year 2022
For the full year, GAAP sales were $14.2 billion, up 1% year over year, and core sales were $14.8 billion, up 5%, versus a strong 2021.

Optical Communications' annual sales surpassed $5 billion, reaching an all-time high.
Display Technologies maintained stable pricing year over year despite a sharp drop in panel maker utilization in the second half.
Specialty Materials and Environmental Technologies delivered consistent sales year over year, outperforming depressed end markets.
Hemlock and Emerging Growth Businesses generated 34% year-over-year growth, driven primarily by solar sales, as well as strong year-over-year growth in Pharmaceutical Technologies and Automotive Glass Solutions.

Full-year GAAP EPS was $1.54, and core EPS was $2.09. The primary differences between GAAP and core EPS stemmed from restructuring charges.
Full-year free cash flow was $1.24 billion.

First-Quarter 2023 Outlook
For the first quarter, management expects core sales in the range of $3.2 billion to $3.4 billion and core EPS in the range of $0.35 to $0.42. Management expects sales to decline more than seasonally due to pandemic-related disruptions in China. Management took actions to increase price and improve productivity in the fourth quarter of 2022. The company expects the benefits of these actions to begin in the first quarter of 2023 and, as a result, profitability to improve despite an anticipated sequential sales decline.

Wendell P. Weeks, chairman and chief executive officer, said:
In 2022, Corning grew core sales to $14.8 billion as we built on our strong positions in optical communications and solar – and our businesses continued outperforming their end markets. I'm pleased with the sales growth we continue to deliver despite recession-level demand in markets constituting about half of our sales. However, our profitability and cash flow have lagged sales growth as a number of pandemic-driven effects continue to ripple across the global economy. In response, we took significant additional price and productivity improvement actions in the fourth quarter that will improve margins and cash generation starting this year.
Weeks continued, "We will continue to focus on operating each of our businesses well in 2023, including adapting to global and market dynamics, while simultaneously advancing long-term growth initiatives and capabilities that will drive our success as the global economy stabilizes. Even though the pandemic-related disruptions in China are currently impacting the television, automotive, smartphone, and IT markets, we'll be ready to capture growth when consumer demand returns. We remain confident in our ability to deliver durable multiyear growth."
Ed Schlesinger, executive vice president and chief financial officer, said:
In 2022, we grew full-year sales and EPS. In the fourth quarter, we took actions to further improve our profitability and cash flow. These actions included raising prices again in Optical Communications and Life Sciences, improving our productivity metrics, and reducing our inventory.
Schlesinger continued, "Looking ahead, we're well positioned to capture growth as our end markets recover. For the first quarter, we anticipate core sales in the range of $3.2 billion to $3.4 billion, and we expect sales to improve from these levels in the second quarter. The benefits of our recent actions will improve profitability despite lower sales, and we expect first-quarter core EPS in the range of $0.35 to $0.42."
Strategy in Action
Corning strives to be a catalyst for positive change and to help move the world forward. The company drives profitable multiyear growth by inventing, making, and selling life-changing products while cultivating deep, trust-based relationships with industry leaders, ultimately incorporating more content into customers' offerings. To do so, Corning takes a long-view approach, investing in a set of vital capabilities that are becoming increasingly relevant to profound transformations that touch many facets of daily life. Today, Corning's markets include optical communications, mobile consumer electronics, display,automotive, solar, semiconductor, and life sciences.
2022 highlights include:
Delivering innovations that offer unprecedented performance to meet the rigorous demands put on smartphone cover materials and allow people to do more right from their mobile devices by developinga new glass composition, Corning Gorilla Glass Victus 2, that delivers improved drop performance on rough surfaces like concrete. Samsung Electronics Co., Ltd. will use the new composition as part of its next generation of Galaxy flagship smartphones. Additionally, Corning's premium cover materials are also on the front and back of the Samsung Galaxy S22 devices, and Corning's DX products are featured on all five rear cameras of the Samsung Galaxy S22 Ultra.

Enabling enhanced experiences for drivers and making vehicles greener by providing sustainable glass solutions for innovative curved interior displays. Corning collaborated with LG Electronics, a global technology and vehicle component solutions innovator, to advance in-car connectivity, and with CarUX, a leading car display company owned by Innolux, to enable the future of automotive displays. Corning also continued expanding its gasoline particulate filter business into new markets as India advanced GPF implementation.

Helping build a more connected world. Corning teamed up with Nokia and Wesco to address operators' labor and supply challenges with products that accelerate and simplify rural broadband deployment. To meet demand in Europe, Corning opened a new optical fiber manufacturing plant in Poland. Additionally, the company was joined by AT&T CEO John Stankey and U.S. Secretary of Commerce Gina Raimondo, whose leadership helped pass infrastructure legislation dedicated to connecting the unconnected, to announce a new optical cable manufacturing facility in Arizona to meet committed customer demand and address industry growth.

Advancing the semiconductors that are fundamental to all of today's technology by strengthening the United States' leadership position in the growing industry. Sen. Charles Schumer and New York Gov. Kathy Hochul joined Corning to announce a government-backed expansion of its Advanced Optics facility in Fairport, New York, to bolster the supply chain. In Michigan, government funding is expected to allow the expansion of operations to meet the increasing global demand for hyperpure polysilicon in the semiconductor industry and address growing solar demand.

Developing sustainable practices across its industries. Corning expanded its supply of critical materials to the solar industry, submitted carbon reduction goals to the Science Based Targets initiative, and extended its leadership in renewable energy use.Corning also pioneered chemical recycling methods with the potential to drastically reduce single-use plastic consumption and waste in the Life Sciences industry.

Driving life-changing discovery – from clean energy to space exploration. Corning's advanced optics technologies played a vital role in the first successful fusion-ignition experiment in history. The company also applied its industry-leading solutions to enable the world's deepest look into the universe by engineering and manufacturing key optical instruments for NASA's James Webb Space Telescope.

Building a more diverse, equitable, and inclusive work environment. Corning became a VETS Indexes Recognized Employer in recognition of the company's many employees who are veterans as well as its work to hire, retain, promote, and support veterans, and the National Business Inclusion Consortium named Corning among its Best-of-the-Best Corporations for Inclusion.
Fourth-Quarter and Full-Year 2022 Results and Comparisons
(In millions, except per-share amounts)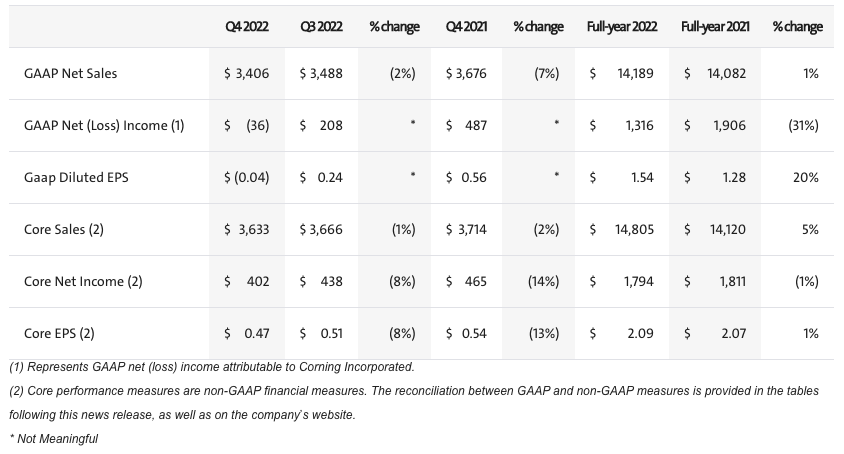 Fourth-Quarter and Full-Year 2022 Segment Results for Display Technologies

In Display Technologies, fourth-quarter sales were $783 million, up 14% sequentially, as panel maker utilization increases drove higher volume, and glass price was consistent with the third quarter. Net income was $171 million, up 28% sequentially, driven by strong execution and additional volume. For the full year, sales were $3.3 billion, down 11% year over year, driven by lower glass volume as a result of the industry correction in the second half of 2022. Glass price was consistent for the full year, and the company expects glass price in the first quarter to remain consistent with the fourth quarter.