According to a recent OLED market tracker published by UBI Research, China's shipments of OLED panels for smartphones, including foldable phones, will surpass those from South Korea by the year 2025. While OLEDs produced by Chinese companies are generally cheaper compared to those made by Korean manufacturers, Korean OLEDs are known for their quality, according to UBI, and this quality advantage should keep Korean OLEDs ahead in terms of sales revenue until around 2027.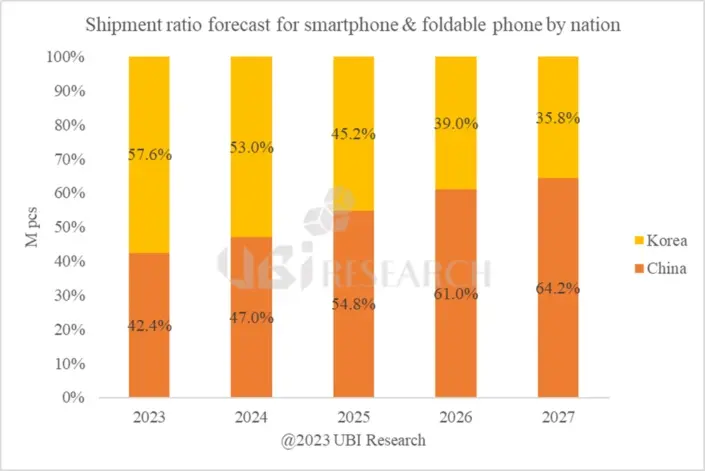 However, Chinese display makers are rapidly improving their OLED panel quality, benefiting from both their large domestic market and support from the Chinese government. As a result, they are becoming more competitive in terms of both quality and cost-effectiveness. The UBI prediction suggests that around 2028, the sales dynamics could change. As Chinese display makers continue to improve their quality and gain cost-effectiveness, they are expected to become more competitive in the market. This could lead to a shift in revenues away from Korean OLEDs in favor of Chinese ones.
In order for Korea to maintain its dominance in the display industry, UBI suggests that Korean companies should focus on expanding their OLED presence in markets where the Chinese are not yet dominant, such as IT and TV displays. Additionally, a shift towards microdisplays, particularly for XR (extended reality) applications, is recommended. This microdisplay industry represents a new emerging market. While China has invested heavily in this area, Korean display companies have an advantage due to their expertise in precision processes, similar to those used in semiconductor manufacturing.