Source: HSBC China PMI Preliminary Report, Final numbers due April 1, 2015Preliminary numbers from the HSBC China Manufacturing Purchasing Managers Index (PMI), a popular industry composite index tool used to track China's manufacturing might, is showing signs of a slowdown in the China manufacturing space. The group recently reported its index fell to an 11 month low for the China market. The PMI tracks eleven key factors including production, new orders, new exports, employment, output and input prices, stocks (both purchases and finished goods), quantity of purchases and suppliers delivery times, and in China, ALL are moving in the wrong direction (decreasing). Only two factors, "Backlog of work" and "Output" are increasing and both at a slower rate, according to the HSBC PMI Flash report published yesterday. The index is based on a 100 point scale where a sub-50 level indicates decline in a given sector. Overall China's Manufacturing PMI is currently set at 49.2 in April, down from the February low of 50.7.
The score is made more significant because it's the first since China's Lunar New Year holiday, which has some "distorting" effects on the numbers. According to the report, the PMI "…signaled a slight deterioration in the health of China's manufacturing sector in March. A renewed fall in total new business contributed to a weaker expansion of output, while companies continued to trim their workforce numbers", and as a response to this "muted client demand" firms are cutting selling prices in part from reductions in oil input costs savings, the group reported.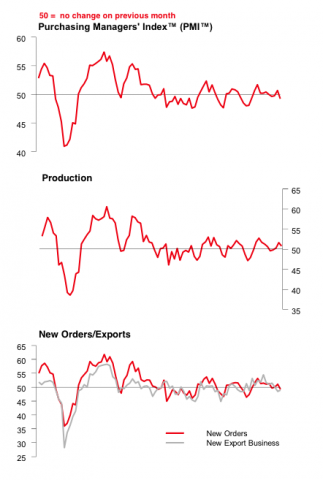 Meanwhile China's efforts to "internationalize" its currency and open new capital markets is finding limited traction. According to Bloomberg the use of the Chinese Yuan as a global trading currency is "losing momentum" with adoption outside the Asia-Pacific region characterized by the group as "limited". The group attributes China's complex rules that "deter companies", according to the group that surveyed 1,610 businesses worldwide Jan 7th, to Feb 12, to companies trading in minimums of $3M annually and above. Overall, use of the Yuan in these transactions is 17% (reported this year down from 22% in the 2014 surveyed results.) Regionally, Germany slid from 23% last year to just 7% this year, and France fell from 26% down to 10%. Countries that top the list in the use of the China Yuan for "trade settlement" include Hong Kong (at 50%) Taiwan (38%) and Mainland China at 35%. Beyond complexity, the group said China's macroeconomic stability and further development of capital markets in China may be affecting overall adoption of the Yuan.
Finally, TaipeiTimes is reporting that "Made in China" has topped the list of "unsafe products" in the European Union. The report from an EU safety watchdog group said in 2014 it issued 2,435 unsafe product notifications (up 3% from 2013) with 64% of the "dangerous" goods coming from China with an additional 7% from "unknown origins." Warnings ranged from harmful heavy metals in jewelry, hexavalent chromium in shoes and other leather articles, and toys with choking hazards for children. The EU Commissioner for Justice, Consumers and Gender Equality issued the Rapid Alert System reports that cover all 28 EU states and three more in the region, including Norway, Liechtenstein, and Iceland.
Bloomberg said China's finance minister Lou Jiwei was reported yesterday (sina.com transcript) saying they are likely not to use "large-scale" fiscal stimulus, but rather focus on quality of growth and issues like improving the quality of the environment, and reducing overcapacity.
Previously, as a result of looming declines in manufacturing, both JPMorgan Chase and Goldman Sachs Group, cut China's growth projections, based on low Jan-Feb fixed-asset investment numbers and reduced exports that hit 2009 numbers.
Analyst Comment
All this follows on the heels of GDP growth down to 7.4% – on par with 2009 numbers for the former "hot" China market. So at least for now, the engine of economic growth that has powered everything from commodities sales into China and cheap imported goods from the mainland, is looking at an economic slowdown with a global ripple effect surely to follow.- Steve Sechrist