3M had several groups at the show. We talked to the automotive group from the display division which was showing how its light control films could be used to control viewing angles and other parameters of automotive applications. The company was also highlighting how OCA could be used in bonded displays to improve the performance. 3M has had privacy filters for some time, but this has been developed to mean thinner filters that can continue to work, even with touch displays. 3M has privacy filters for a range of Apple iPhones including the 5/6/6s/6+ and 6+s. The filters add anti-reflective properties as well as privacy.
3M Touch was showing its metal mesh procap technology. The company told us that it is now moving everything in its procap portfolio to metal mesh technology fron 7″ to 65″ and including both FullHD and UltraHD displays. The firm told us that it has been able to solve the moiré problem that is typical for metal mesh solutions. The company has established a strong supply chain from Asia and can supply the technology on 4mm tempered glass. The company told us that its 65″ metal mesh touch solution is "fast enough for Windows 8".
Access and Telechips (a fabless semiconductor company) were showing a joint solution for TV operators. It is a set-top box reference design that will use HbbTV running on an Android hybrid TV to deliver content without compromising on security. The design uses Telechips' TTCC8970 SoC, which supports HEVC, and Access' NetFront NX Browser.
Amazon had no display news to share.
Analogix was showing a new version of its "Nano Console" which originally used MicroUSB but will also have a version with USB Type C. The company confirmed that it is supplying its chip to support the Type C connector in Microsoft's Lumia phones. It has also been doing well in supplying TCons for high end monitors, especially those from Korea, and has its TCons in the Dell 5K monitor and the Microsoft Surface Pro 4. It is also working with BOE in China. In its Westgate suite it was also showing a new version of the Type C support chip that will reduce the number of chips needed.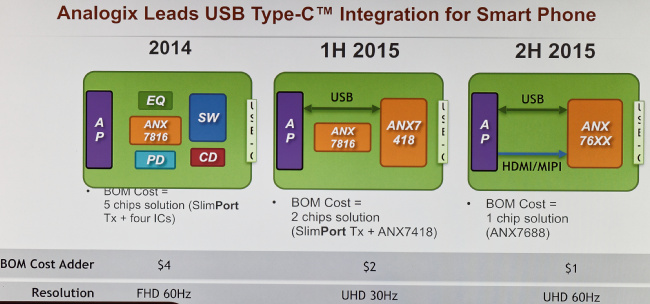 AOC announced the C3583FQ 35″ 2560 x 1080 monitor which uses a curved LCD and can run at up to 160Hz (from 45Hz) using FreeSync. The monitor supports DisplayPort 1.2a and HDMI 2.0 to allow 60p support of images as well as DVI and MHL. Response time is 4ms. The electronics for the monitor are in the base and the unit uses an AMVA panel with native contrast of 2,000:1. The curve radius is 2,000mm and brightness is 300 cd/m². (Sensational Displays at CES)
The focus of the show for Bang & Olufsen was audio products, although there was an area of the company's suite in the Venetian themed around the smart home. Here, the company showed the capabilities of its BeoLink IoT platform. In a demonstration, multiple objects – such as window blinds, lights and a TV – using BeoLink were controlled by Amazon's Alexa console, which in turn was controlled by voice. B&O said that, even though these devices use different 'languages', they are all compatible with BeoLink.
BenQ was in the Westgate rather than on the show floor. It was showing projectors and monitors. The company recently acquired the "Zowie" brand which had developed specialist mice and other peripherals in the gaming market. There were no new projectors, with the 2050/3050 and 4050 having been launched in recent months. Later in 2016, a 6050 will be released with higher output. Following the comments about Rec. 709 by BenQ about Rec. 709, it is positive to see the 3050 being rated as "calibrated for Rec 709" in its Cinema mode.
Canatu of Finland did not have a booth or suite, but was visiting customers and prospects for its flexible ITO replacement. We met up with Bob Senior of Canatu by "Elvis" in the Westgate (a popular meeting spot) and he showed us a number of design wins that the firm has achieved. Sadly, none of the customers has agreed to release the information that Canatu material is being used, so we can't report the details. However, the low reflectance and very limited colour shift were additional reasons, beyond flexibility, for the wins for the carbon nanobud (CNB) technology. Canatu can provide films, made using R2R processing, as well as the CNB| material.
Cassia Networks said that it has extended Bluetooth range by more than 30 times to 1,000′ (300 metres) in open space. The company has a new "router" that costs $99 and will be available in Q1 2016. The router can also support up to 22 devices.
Dolby said that it has support from MGM and Universal Pictures for the delivery of new release and catalogue films that will be supplied in Dolby Vision.
Harmonic, which specialises in video delivery infrastructure, showed off UltraHD HDR-10 content from NASA. The company worked with partners such as LG and Broadcom, to show how using such content makes TV more compelling than the BT.709 format.
HDMI was at the event to promote a new "premium cable" marketing logo and programme which has a special label, with a holographic security feature, that also holds a QR code to connect back to the HDMI website entry for the product. As well as core functionality, the programme makes more stringent tests for EMI.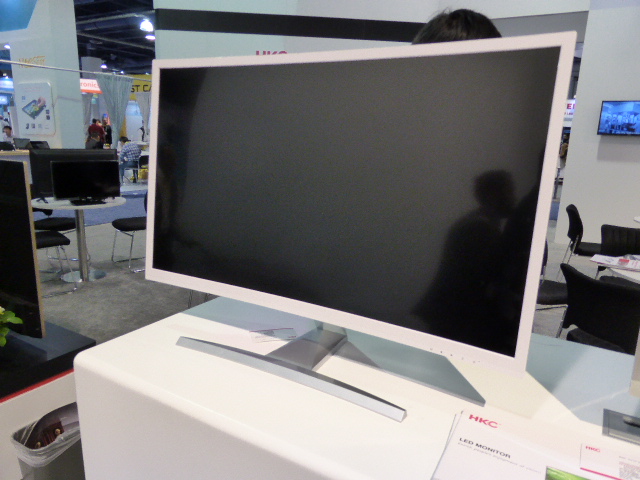 HKC of China was showing a prototype 32″ curved monitor, using an LG panel, as well as curved and flat UltraHD TVs with AUO panels.
Konka had nothing new, only some minor changes to TV design. The company was still showing the UltraHD and OLED TVs, and 8k prototype, that it has demonstrated in the past. A spokesperson blamed this on a lack of innovation from panel and chip makers (although other companies seem to have developed new displays, even without new panels! See: quantum dots, HDR, backlight innovations… – TA).
MStar was in a suite and told us that it had the "same as IBC". However, we found that it was showing support for Verimatrix Forensic Watermarking through its chipsets. The company also told us that it doesn't have support for Dolby Vision on its current SoCs it is "working with Dolby", although it does support HDR10 HDR format. The company is also developing new TVs based on open platforms (at least, that's what the firm will allow us to say!)
An 'all-in-one' TV experience called 'intuiTV' was launched by Nagra. It will be offered to pay-TV operators as a managed cloud-based platform, which can be configured with a line-up of premium content and services including live TV, VoD, SVoD, PVR and more. The platform supports HD and UltraHD programming.
Adult entertainment company Naughty America was showcasing virtual reality pornography, on a Samsung Gear VR headset. The content ('the kind of VR that Americans want most') was formatted for 180° stereoscopic head-tracking. As our friend Ray Wong, of Mashable, noted (http://tinyurl.com/zd6opgv), the field of view is limited for a good reason: why would you want to look in any direction but in front of you?
After a steady rollout across Europe in 2015, Netflix announced – and launched – a global rollout of its service during the CES keynote. More than 130 new countries are now able to access Netflix programming. The only countries in the world that do not have Netflix now are China (although options are being explored), North Korea, Syria and Crimea.
Osterhout Design Group was celebrating the rising adoption of its R7 smartglasses, which were launched last year. The company also showed a prototype wide field of view device, which delivered 1920 x 1080 content to each eye for 3D.
PCT Brands said that it was showing an up-scaling UltraHD cable based on the Marseille upscaling chip that has been certified by Technicolor for image quality.
Canadian WiGig chip specialisxt, Peraso, was in the Westgate promoting the backhaul products that we reported on in our MWC coverage (Peraso Demos 60 GHz USB 3.0 Adaptor and LAN at CES 2015). The main news at CES was the demonstration of a WiGig USB dongle, which the company believes can be made, eventually, for just $5.00. Low cost is a big aim of Peraso and it sees dongles as a way to help WiGig to ramp volume.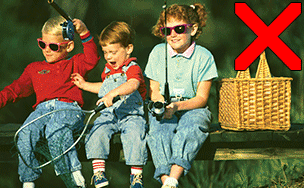 Portrait Displays has seen a big increase in interest since WCG started to arrivePortrait Displays was sharing the Technicolor Suite. Although it did not have any specific announcements to make, the release of a lot more WCG displays at the event has meant that the company's work in help to ensure that WCG displays, whether based on QDs or OLEDs, can correctly display content is becoming more appreciated by monitor and system suppliers. New Co-CEO, Martin Fishman said that he is optimistic that the changes in the environment will allow the company to develop significantly.
QD Vision was in the Westgate and we had an extended discussion with them about the further developments of its QD technology. As we have reported, the company's target market has been limited by the fact that its implementation in tubes is only appropriate for edge-lit displays, which limits its addressable market. You can imagine that it is developing solutions that are useful in direct-lit displays. However, we could not get any publishable news on this topic. One news item that is public is that Sigma has developed an SoC that can support eight segment per side (16 total) edge-lit systems that can offer HDR operation, which can be used alongside the current QD Vision technology. The chip was shown in a Hisense TV set.
Although most QDs have been used in TV so far, companies in vertical markets where the wider colour gamut can be exploited, are now looking at the technology, we heard. Philips launched a QD monitor at IFA, using QD Vision components, and more are expected. The main competition for QD in monitors is GB/R LED and we heard that these use substantially more power than the Philips QD monitor.
Qualcomm was showing a range of products, including routers, that support the 802.11ad WiGig wireless technology. It was showing the technology in a smartphone reference platform.
Realtek was highlighting its RTD2999 SoC for TV applications that can support 4KP120 or 4KP60 sets and can be used in OLED- or LCD-based sets using V-by-one, EPI and mini-LVDS interfaces. The chip can support Dolby Vision and HDR10 with up to 512 blocks of backlight zoning in a single chip solution. The ic is built around a 64 bit Arm CPU and 3D GPU. It supports Android 5.1 and HEVC and VP9 codecs. MP starts in Q1.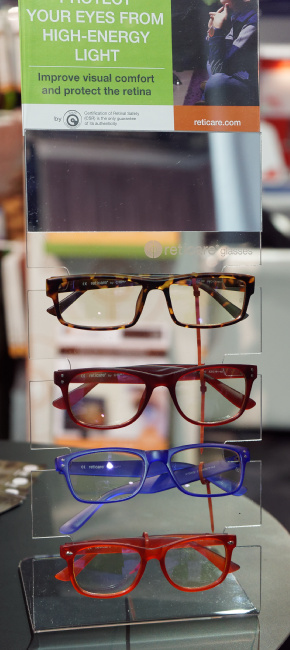 Reticare is a Spanish company that has been working on developing solutions for health concerns about the blue light coming from displays. Initially, it was working on film-based products. At CES, the firm showed a new system using "plain" glasses that have a filter to block some of the blue light. The company has also developed a glass-based solution for mobile devices which uses a 0.2mm thick tempered glass substrate to block the light. The glass, as well as being more robust and less susceptible to bubbles when being fitted, the effect on visual colours is less distorted than with film and still allows Z Axis "pressure" input in the touch system.
As well as the support of up to 16 zones for edge-backlit TVs, Sigma said that it is shipping its STV7701 UltraHD and HDR chip which supports Dolby Vision. The chip includes FRC technology and can support 120Hz UltraHD TVs.
SISVEL of Italy held a press event to introduce a new "platform". Sisvel is an IP company that manages IP portfolio licensing – for example it controls the patents needed for MP3 devices and LTE mobiles. The company has often acted as a broker, helping companies to sell portfolios, but now it has set up a group that it focusing on this kind of business. Sisvel said that this kind of transaction can be done for defensive reasons or for monetisation. A defensive portfolio might be bought by one company so that it has something to trade when it wants access to the patents owned by another company. Sisvel said that has 20 engineers that can review patents and portfolios and has 1,500 licensee customers around the world.
Skyworth is giving up curved TVs to focus on OLED. This year, the company will introduce a 65″ UltraHD OLED TV. Although only a few hundred sets were sold worldwide in 2015, Skyworth has high hopes for 2016. It will cost around $4,000. A 98″ 8k LCD prototype, using an LG Display panel, was also being shown.
Skyworth was also showing a 4 x 4 video wall based on 55″ narrow bezel LCDs, the first time we have seen this kind of product from Skyworth.