Chris Bartram, MD of Crystal Display Solutions (,CDS) was happy to see Samsung's exhibit of a square display at ISE.
"It draws attention to our own square product", Bartram told us: an 'almost-square' 27.3″ unit called the MO-270-001-LM-SQ. Intended for use in store windows and similar, it has 1,000 cd/m² of brightness and a VA panel with 945 x 1080 resolution (8:9), a 3,000:1 contrast ratio, 6.5ms response time and 178° viewing angles.
According to Bartram, the almost-square screen has had a very strong reception, as has another new unit: a 38″ stretched display with 1,000 cd/m². CDS already produced this model in 400 cd/m² and 700 cd/m² versions, but this was found to be too low for some customers. Airports, which use it above their check-in desks, have been particularly receptive.
Just as Samsung's UD22B raised awareness of CDS' square display, the transparent OLED screen that was being exhibited by Planar Displays also sent more people to CDS' stand. "We're known for transparent displays", said Bartram. "When people heard that Planar didn't have any release details yet, and only one size, they came to us".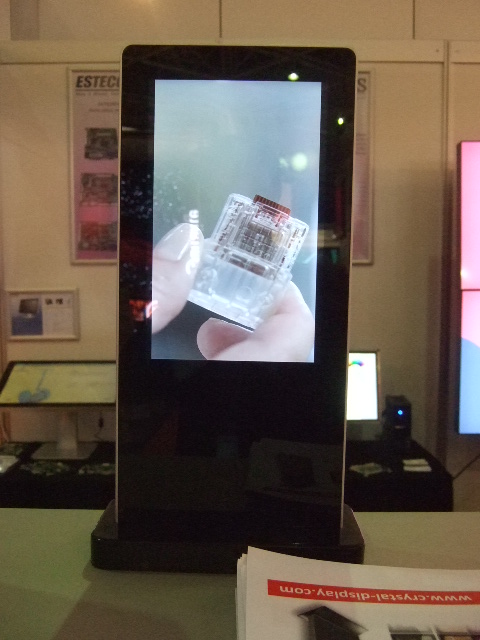 While there were no new transparent screens (CDS already has a wide range), the company has now added procap and IR touch options to its 32″ units.
Another interesting product was a small totem – just 10.1″! While it uses a standard tablet display, the totem has been built with professional components and is able to be used for between eight and 12 hours each day. It is intended for space-limited applications such as point-of-sale and exhibition stands.