At InfoComm, Canon was showing a 4K projector but with no information available for the media. At the Canon Expo, it was in plain sight and powering several demos. In fact, according to Canon B2B Marketing manager, Scott Burkhardt, there are only 5 working units and they were all in New York being put to use.
The projector uses Canon's own LCOS panels and will be part of the REALiS line. It has a greater than DCI-4K resolution of 4096×2400 and offers 5000 lumens. It is lamp-based and has contrast typical of its other projectors at 2000-3000:1. Therefore, this projector will not support high dynamic range or wide color gamut content.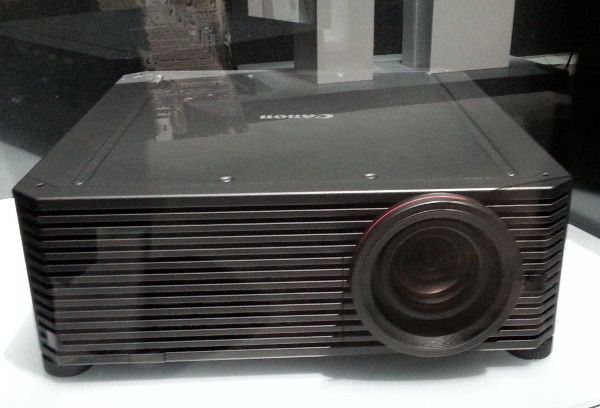 That should be OK as it is not really aimed at the home theater market, but rather at simulation, museums, medical and other high value applications (Canon is big in the medical industry with great penetration of projectors).
The unit also includes internal blending for multi-projector applications.
Currently, the unit has DVI and HDMI 1.4 ports and an Ethernet port, but only for control. (They may want to rethink the ports to be more future-proof – CC)
The projector is set to ship in Q2'16 and pricing is still TBD.
It was shown on a very large (perhaps 200") screen in one of the demo rooms as well as in a 2×2 blended application to create an 8K demo. Both looked good, with nice colors but just average contrast.