In case you missed it… IDC's recent personal computing device tracker reckons traditional PCs and tablets to drop 3% in 2019 (shipments) and revenue will remain flat. ($237B). And, yes, you are exercising very good judgement if your next thought was that prices are going up… (ASP's up about 2.6%) in 2019 to compensate (or could perhaps even be one of the reasons for the market decline…) Full-marks guys…

IDC data tracker shows that the consumer side of the market will remain challenged with shipments expected to decline 6% year over year in 2019. The CAGR for the five years forecast in this category is a less than rosey -2.7%. This is both the clamshell side of the market, including traditional notebooks and slate (iPad-like) tablets that's pulling the segment down. It seems, …"consumers have migrated to newer, thinner form factors that often include some sort of 2-in-1 option," according to Jitesh Ubrani research manager for IDC, mobile device tracker group.
On the enterprise sales side of the house, Ubrani commented,
"Many enterprises are also looking to modernize their workforce by deploying ultraslim notebooks and 2-in-1 form factors, as ultra-slims mobilize the workforce,"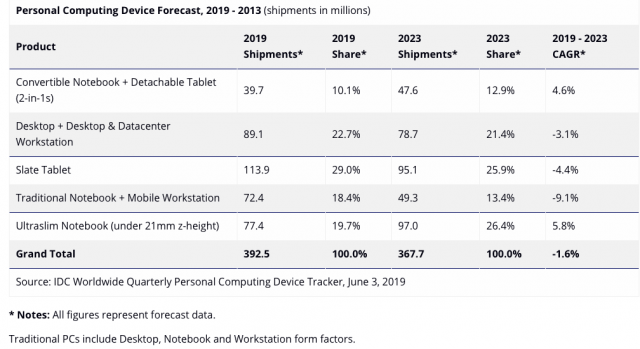 PCD personal computer device IDC Tracker 2019, Source IDC 2019Meanwhile, Apple is giving the iPad a shot in the arm with an entirely new update to its iPad operating system. Not just a larger format smartphone iOS this time but taking full advantage of the size, connectivity and functionality that are traditional requirements in its notebook PC line. Focus includes improved efficiency with the ability to see more data on the larger display, and improved multitasking way beyond the previous iPad OS.
Mouse comes to iPad – YES!
iPad OS is featuring some cool new options. Top of the list that makes this OS a strong contender for my next laptop replacement is the humble mouse… Don't get me wrong I am a touch interface / tablet guy (literally) from the early (OK, ancient) days of the technology. But doing serious work, like writing this article (…hey first time I ever thought of this as serious–but i digress) requires desktop navigation, (mouse, not on-screen touch) and lean forward, vertical viewing of the display in a monitor like mode. This is a big change from how I mostly consume data on the iPad today, lounging and multitasking during TV viewing, for instance.
Other improvement include a more robust file management scheme, and access (finally) to USB jump (flash) drive and other off-line data. The Safari browser also boasts a business up-grade, that sends out it's ID as a full fledged Mac (not appearing as a smart device to other web sites.)
And while a keyboard has always been available for the iPad, I have never personally found them of much use – again primarily due to the lean-back style interface.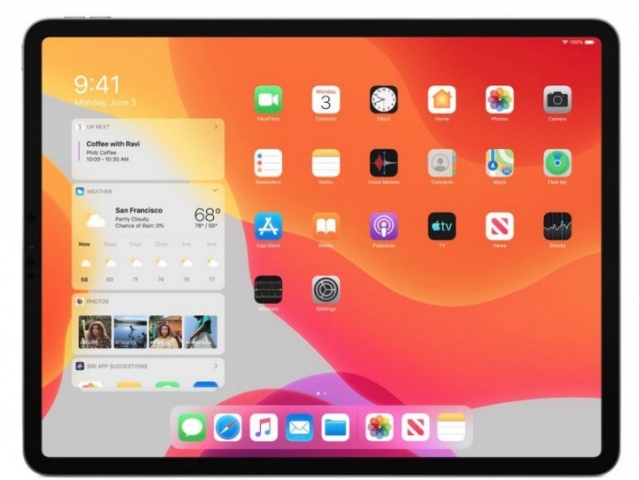 Apple finally upgrade the iPad to give it functionality of a full-fledged notebook computer (including mouse support) with all the fun of a tablet too…, Source: Apple Inc.
Some innovations that won't make much difference include the new aniemojies, take a look…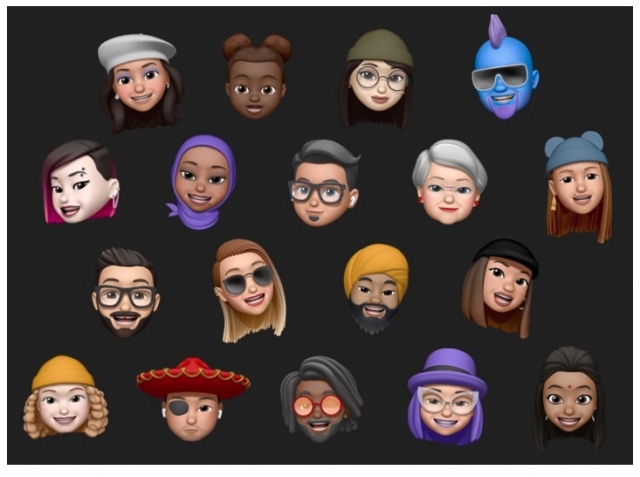 Is this a millennial thing? Is anyone seriously using these on a regular basis (in short, can an eternal and limitless humanity have reduced itself to such a low self-image? Just wondering… Source, Apple
Bottom line, as sales for "slate tablets" like the iPad continue to tank, Apple is betting its new iPad OS may be just the ticket for kickstarting iPad sales. They may be right, the prospect of a new tablet (mine is rather old and can't even use the latest iOS), rather than plopping down another +$1K for a new MacBook, is rather compelling.
Apple may have limited past functionality on its iPad for fear of cannibalizing notebook sales, but that's clearly old thinking as the company is now stepping up to the plate with what it hopes is a home-run OS for the tablet market. Stephen Sechrist
While Desktops, Traditional Notebooks, and Slate Tablets Continue to Decline, Newer Form Factors Show Signs of Growth, According to IDC
Apple Climbs to Number 1 in Constrained Tablet Market, Says IDC
Strong iPad Sales Combined With Preparation for Seasonal Promotions Sustain Tablet Volumes in Western Europe, Says IDC
Tablet Market Sees Modest Decline of 8.6% as Slate and Detachable Categories Continue to Struggle, According to IDC