Broadcom wearable platform has gone into generation 2Broadcom was mainly talking about radio chips at the show and we started by looking at 60GHz technology. The company told us that it doesn't expect to see 802.11ad in mobile handsets in production until 2016 or 2017 partly because there are real challenges in developing the beam forming anntenas. Critical to making the experience of 60GHz technology popular and useful is the implementation of Fast Session Transfer (FST) which allows quick switching between different wavebands according to differences in reception.
The company was also highlighting wireless charging and the company has a multi-standard chip. Samsung announced support at MWC for the two main standards for inductive charging (Wireless Power Consortium [WPC] Qi and the Power Matters Alliance [PMA]). Broadcom also supports resonant coupling which has a couple of advantages. First, the coils do not have to be in the same plane. This is particularly helpful in smartwatches and other wearables as these would typically be left on their sides over night. Resonant technology allows charging even where the coils are at right angles to each other and also allows multiple devices to be charged by a single station. The control of this charging is managed using Bluetooth. The key standard for resonant power is the Alliance for Wireless Power (A4WP), system known as Rezence. In January, the A4WP said that it has agreed to merge with the PMA this year.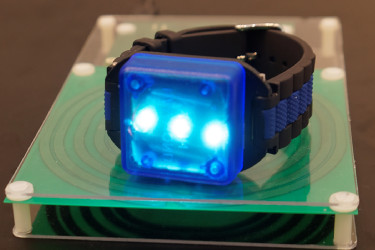 Broadcom resonant charging technology allows charging at right angles
Next we had a quick look at the Broadcom Wiced Wi-Fi technology for embedded devices. Sony's SmartWatch 3 used the first generation of this technology and now Broadcom has a fully developed second generation development kit that includes Wi-Fi, Bluetooth, NFC and GPS radios and is said to be ideal for wearables. Increased battery life is one of the key improvements and the company said that, depending on usage, up to three days can be left between charging sessions – about double the previous generation. The kit is already sampling to designers.