DSSC revealed a lot of details in their blog after BOE announced plans to raise CNY 20 Billion ($3.1B) to fund ongoing fab projects after its stock reached a new high of CNY 7.49.
According to BOE's announcement, it plans to use the funds for the following projects:
BOE B17: Purchasing an extra 24.1% share in Wuhan BOE Optical from other shareholders with CNY 6.5 Billion ($1B). After the purchase, BOE will be the 2nd largest shareholder at B17 after the government. Given the recent panel price increases and improved profitability of the large-area panel market, BOE will likely get a quick return on this investment.
BOE B12: Using CNY 6 Billion ($923M) for B12 construction.
BMOT 12" Micro OLED: BOE Kunming 12" Micro OLED will use CNY 1 Billion or $154M.
B10: BOE intends to pay the local government CNY 3 Billion ($462M) to boost its share.
Chengdu BOE hospital: This project will get CNY 1 Billion or $154M.
The remaining CNY 3 Billion will be used to replenish current cash/improve liquidity.
BOE 5-Year Stock Price Chart
Use of Raised Funds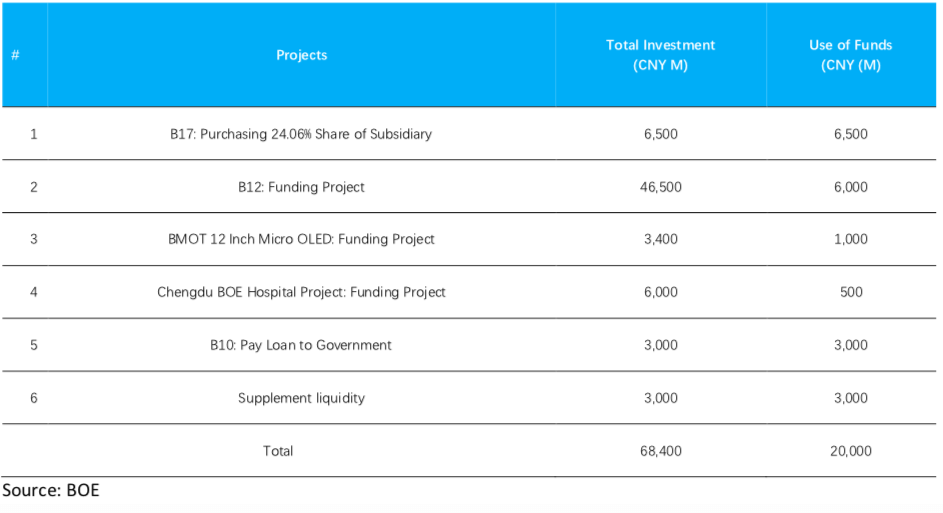 The CNY 20B secondary offering is being raised through specific fund management companies rather than retail investors. Of the fund management companies, Beijing JingGuorui, which has close ties to the Beijing government, will purchase CNY 4B worth of stock with at least an 18-month holding period. Other fund management companies have to hold BOE's stock for at least 6 months.
More on B12
B12 was announced in 2018 with a total investment of CNY 46.5B ($7.2B). Phase 1 is expected to begin mass production from November/December 2021 with all 3 phases in production by the end of 2022. The investment internal rate of return (IRR) after income tax target is 11% over 8 years including 4-years of construction. Each phase including Y-OCTA and LTPO phases are in our Quarterly Display Capex and Equipment Market Share Report.
BOE B12 Layout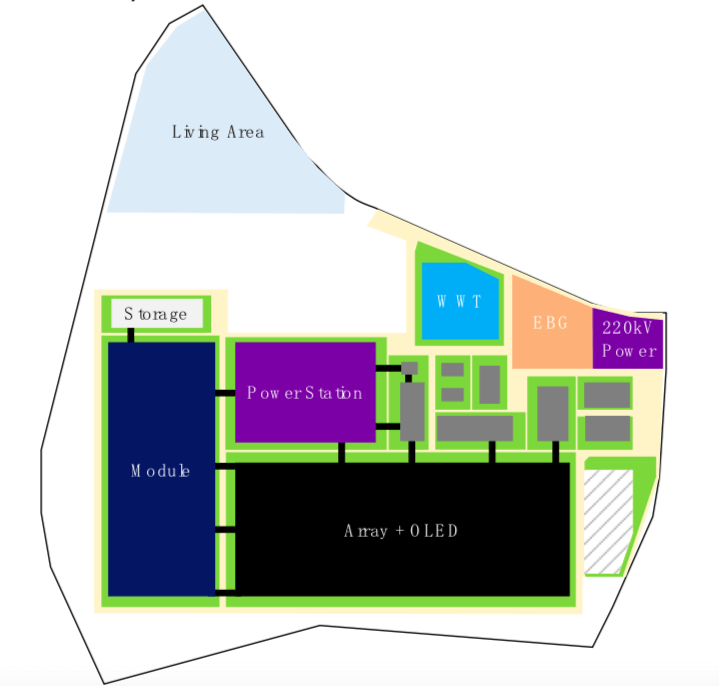 BOE B12 Funding Profile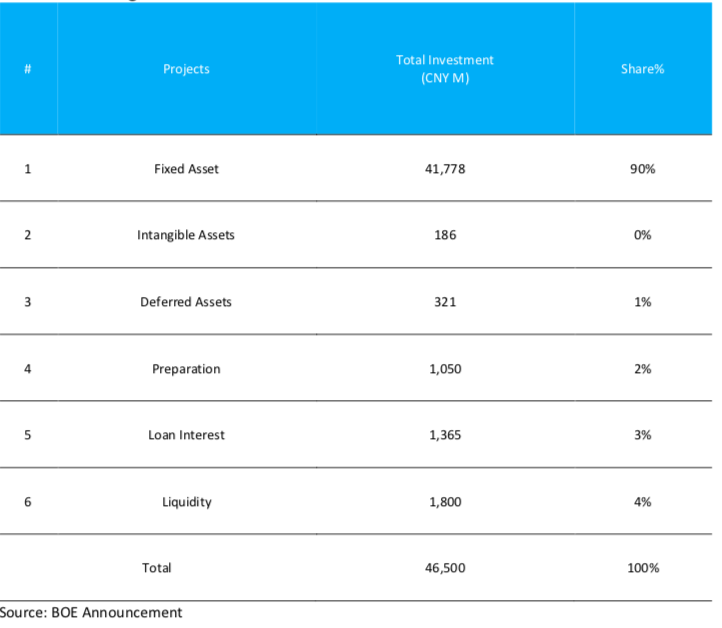 More on BMOT
There are 2 ongoing projects at BMOT, one is an 8" Micro OLED line and the other is a 12" Micro OLED line. The 12" line was announced at the end of 2019 with a total investment of CNY 3.4B ($523M). This project was planned with capacity to produce 5.23M 0.99" and 1.31" Micro OLED panels per year.
In February 2020, it was announced that this project would be separated into 3 phases with all phases completed by the end of 2023. The IRR on this fab is expected to be 16% for 7.5 years including 4 years of construction time.
BOE BMOT 12-inch Funding Profile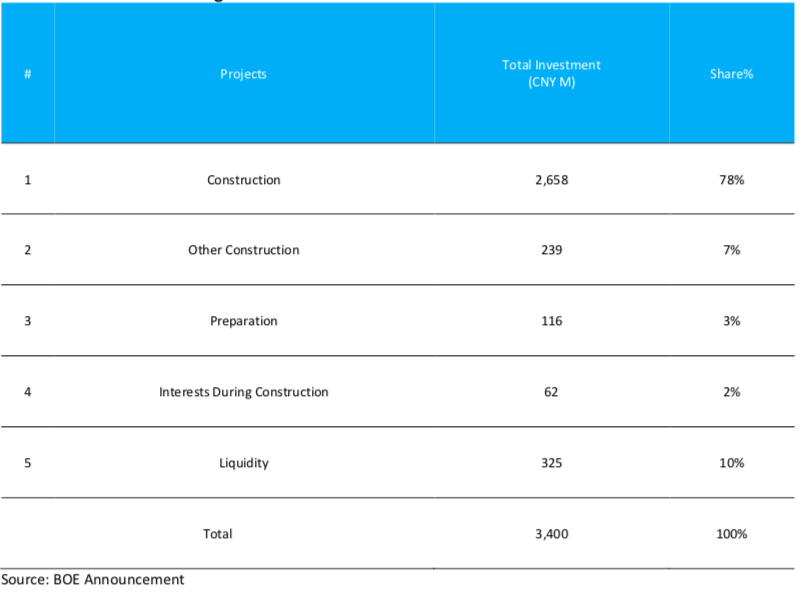 More on B10
B10 was first planned in 2015 with a copper modification occurring in 2016. During the construction, BOE Fuzhou borrowed CNY 10.933B ($1.7B) from the local government with 0% interests Later in 2018, CNY 6.3B ($969M) of the loan amount was waived by the local government leaving CNY 4.633B ($713M) for BOE to pay. In January 2021, BOE planned to raise CNY 3B ($462M) to pay the Fuzhou government loan.
More on B17
In the 2 tables below, we have provided the BOE B17 balance sheet and income statement. As indicated, B17 has lost money through Q3'20 due to the high depreciation costs and lower yields from ramping new capacity. It began ramping in Q1'20. We would expect it to become profitable soon, likely in Q4'20 as prices continued to rise. We also show 19.8B ($3.1B) in total debt for B17.
BOE B17 Income Statement (CNY M)

BOE B17 Balance Sheet (CNY M)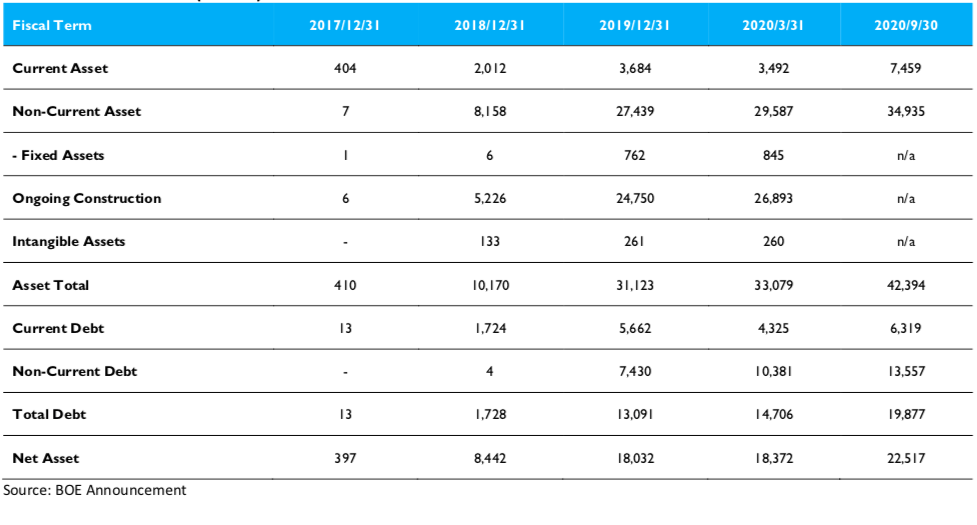 DSCC provides deep insight on each panel suppliers' financials in its Quarterly Display Supply Chain Financial Health Report.