In case you missed it, Panasonic has announced shipping of its a new UHD Blu ray disc player shown in January at CES. The box supports high dynamic range (HDR 10) format and will include Dolby Vision, and what the company calls object-based audio formats such as Dolby Atmos and DTS:X. It can also show 3D Blu-rays, HD Blu-rays, DVDs, and CDs using its HCX video processor (short for Hollywood cinema experience).

All good, but the truth is, home packaged media video formats have already given way to digital streaming so the cutting edge in home media players may be lost on all but the most loyal of home videophiles.
For physical media like Blu-ray discs, the writing was on the wall as early as 2015. In that year, Blu-ray and DVD sales fell in the US by 12% as digital-media sales climbed a healthy 16%, (based on data from the Digital Media Group). 2015 saw digital sales surpassing physical-media purchases, at $8.9 billion vs $8 billion in sales, respectively, helped by video streaming subscriptions boost that jumped 20% to hit $5.7B.
Recent digital media market and forecast to 2023, Source Statista.com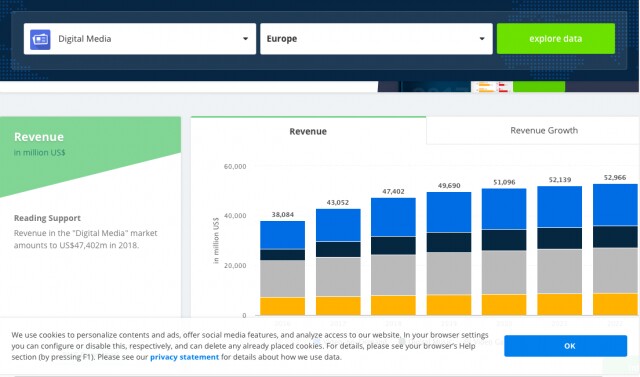 The forecast for Europe. Source Statista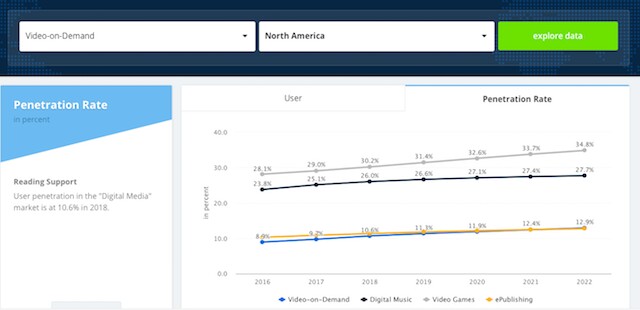 The forecast for North America. Source:Statista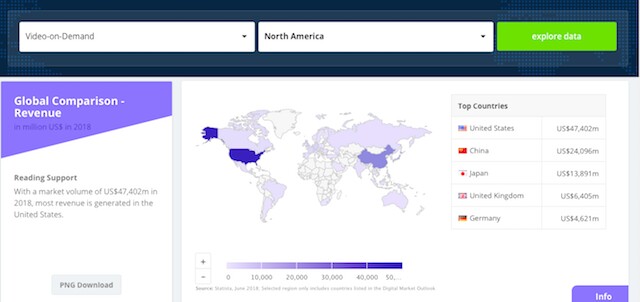 How the market is distributed around the world. Source:Statista
For an excellent review of today's digital media market go to Statista web site for interactive data analysis on the fly. Above, is a sampling of chart details that can be reviewed online.
Part of the equation is the relative ease in delivery of 4K over the top (OTT) video streaming compared to the hurdles and solutions needed to bring a new higher resolution format to fixed (packaged media) devices. Remember, Netflix had UHD streaming going into homes as early as Q2-2014, mainly because it had a streaming software solution. Added to this, the company began producing its own UHD content for streaming, by-passing the often difficult studio negotiations. And in the process Netflix, like HBO and others before them, began circumventing the traditional Hollywood content producers.
Now armed with series-based shows that changed the very landscape of high value content production by offering A-list talent multi-year contracts rather than one-off, hit or miss films. The prime example was Kevin Spacey's 'House of Cards' series produced in UHD and that streamed exclusively on Netflix.
Fast forward three years and the early high priced UHD sets have given way to sub $500 LCD flat screens at Costco, and UHD streaming as close as your $130 Roku box and a low cost Amazon Prime, Vudu (or Netflix) subscription (or even less for the ChromeCast Ultra – Man. Ed.)
As Engadget's Devindra Hardawar put it back in 2016, "Streaming media caters to our increasing desire for on-demand content. It doesn't matter so much that the quality of a 1080p stream doesn't look as good as a 1080p Blu-ray, which offers higher bitrates and less compression." That said, any cinephile will love the UHD images and high quality video coming from Panasonic's latest Blu ray. – Steven Sechrist
Panasonic debuts first UHD Blu-ray player with HDR10+ & Dolby Vision
Pioneer Reveals Its First Ultra HD Blu-ray Disc Player
Oppo UHD Blu-ray Players Now Support Sony Dolby Vision TVs
Sony Adds Dolby Vision Support to Its X700 UHD Blu-ray Player
Redbox Adds Ultra HD Blu-ray Discs in Six US Cities
Panasonic Reveals Another Blu-ray Player with Dolby Vision and HDR10+