BenQ America Corp., an internationally renowned provider of visual display solutions and LED monitor expert, today introduced its specialtySW2700PT photography monitor.
Made specifically for photography enthusiasts, the 27-inch IPS panel features QHD resolution, 99% Adobe RGB color space, and BenQ's Eye-Care and RevolutionEyes™ technologies to provide exceptional visual comfort for any photo hobbyist. When combined with the monitor's calibration settings, black-and-white mode, and the convenience of an external controller, the display ensures complete color accuracy, a simple editing process, and the ability to streamline the photo sharing process.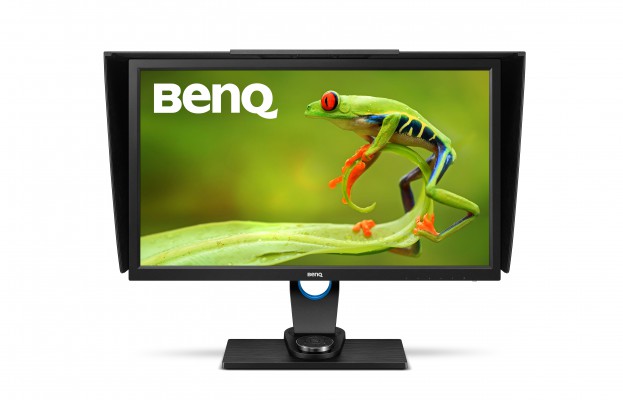 "Our new SW2700PT monitor was designed with the enthusiast photographer in mind," said J.Y. Hu, Vice President, Business Line Management at BenQ America Corp. "Featuring crisp resolution, an elevated pixel count, and the ability to adjust OSD settings on-the-fly, the device greatly simplifies the shoot-edit-share process without compromising quality. Equipped with BenQ's Eye-Care visual comfort performance, the panel also allows users to print out photos or post them online with great ease."
Featuring QHD 2560×1440 resolution, the IPS monitor uses a high pixel count, 10-bit color simulation, and 99% Adobe RGB to reproduce incredibly precise details for any digital photography project. For even crisper pictures, the color management monitor specializes in reproducing color tones with a Delta-E value of less than or equal to two, and features a 14-bit 3D LUT to display the most accurate color mixture for improved RGB color blending. This results in impeccable color and gray tone reproduction.
The monitor also includes BenQ's proprietary Palette Master Element calibration software to ensure the integrity of color performance in addition to enabling easy adjustments to the SW2700PT's hardware calibration settings without changing the unit's graphics card output data.
To make the photo editing process more efficient, the SW2700PT comes equipped with a shading hood as well as an external controller, which puts configuration settings in the palm of the user's hand. Fully customizable, the external device can be tailored to provide speedy click-through for OSD functions such as Adobe RGB, sRGB, or black-and-white modes. To further facilitate the adjustment of photographs, the monitor's black-and-white mode lets users easily edit and view black-and-white photos without losing any detail or tone of the original photograph. To save time, users can also preview color photos in black and white before adding the actual effect.
To increase visual comfort and decrease eye strain during long periods of use, the SW2700PT features BenQ's RevolutionEyes technology, which eliminates flickering at all brightness levels for a healthier user experience. Combined with BenQ's Low Blue Light technology, the ZeroFlicker™ monitor effectively filters visual exposure to the release of blue spectrum light — providing users with a unique value proposition that seeks to maximize eye comfort without any noticeable impact on onscreen imaging or monitor performance.
Available now, the BenQ SW2700PT retails at $629.99. More information on the full line of BenQ products is available at www.BenQ.us