BenQ has come to play with some serious new additions to its projector range, spanning the worlds of gaming, home cinema and anything you can think of in between. Leaders in home cinema projection and renowned for producing high specification office, home and gaming monitors, projectors and business displays, these latest projectors from BenQ set the benchmark for home entertainment.
Home Cinema
TK810 – £1,159
The all-new TK810, a Smart 4K HDR Home Projector, brings with it a wealth of built-in features. Bright, compact and optimised for projection, the TK810 immerses you with Huge Screen Entertainment and utilises True 4K UHD with 3840 x 2160 resolution.
It also features BenQ's Motion Interpolation (MEMC) technology, which uses advanced motion estimation and compensation technology; compensating motion blur and slow-motion effects and making content mode fluid, which is especially effective when watching sports or streaming movies and shows with fast-paced action.
The TK810 has the ability to connect to any device via wired or wireless connectivity, enabling you to cast content from a laptop, tablet, smart phone, Blu-ray player, console, streaming device or flash drive. In addition, it comes with a built-in Aptoide TV and a 5W Chamber Speaker, which can be controlled by a remote control or the Smart Control app on a smart phone.
For more information, visit: https://www.benq.eu/en-uk/projector/home-entertainment/tk810.html
TK850 – £1,479
Home entertainment doesn't get any bigger and better than the BenQ TK850!
A huge 100"+ 4K UHD picture combines with HDR-PRO technology, custom sports audio and image modes to put you right in the middle of the action. You may be watching from home, but with an 8.3 million pixel image, you'll feel like you're right there in the stadium.
But it doesn't stop at sports, the hyper-realistic HDR PRO in 4k comes equipped with enhanced tone mapping, true 4K resolution and superior HDR brightness, allowing you to enjoy any content you wish in spectacular style.
Mountable and adaptable to any room, the TK850 also offers perfect alignment with keystone correction, so you can perfectly project from many places within a room.
For more information, visit: https://www.benq.eu/en-uk/projector/home-entertainment/tk850.html
Gaming
TH685 – £649
Game across any console in Full HD 1080p resolution at a massive 150" with the new TH685.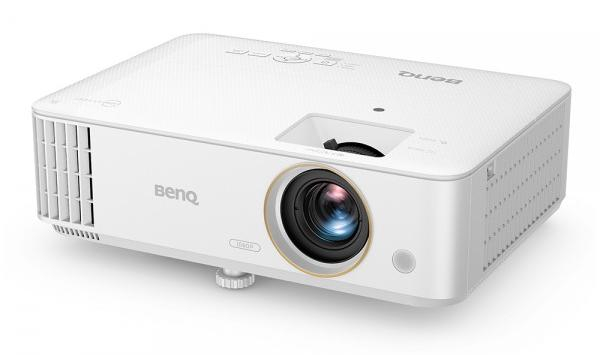 Offering a superior console gaming experience, thanks to a 120hz refresh rate, low input lag of just 8ms response time and 1080p HDR enabled with 4K compatibility, the TH685 sets the benchmark for gaming projectors.
Naturally, the TH685 comes with its own exclusive game mode for superb, crisp images as well as a finely tuned game sound mode, powered by CinemaMaster Audio+2, and a lamp life of 15,000 hours, you'll be enjoying this gaming projector for many years to come.
For more information, visit: https://www.benq.eu/en-uk/projector/home-entertainment/th685.html
TH585 – £559
Ever wondered what it would be like to game on a life size scale? Well with the TH585 you can.
A 100" frameless big screen is matched with 1080P Full HD and enhanced game mode, as well as built in audio and superior colour accuracy, making this an ideal choice for the solo and group gaming experiences.
Lag time is reduced to just 16ms, so you can come through those clutch moments without fear of interruption and an enhanced game mode will give you greater clarity, visual precision and of course… the upper hand.
3500 ANSI Lumens offers the same spectacular gaming experience no matter the light conditions and with flexible throw distances, digital lens shift and vertical correction you can maximise the space available to you and enjoy your gaming experience, no matter what.
For more information, visit: https://www.benq.eu/en-uk/projector/home-entertainment/th585.html