Sanju Khatri of IHS started the second session, which was on the high brightness advertising display market. She started by explaining the use of high brightness and outdoor displays in digital signage applications. She said that the key point is that location-based Digital Out of Home (DOOH) advertising allows micro targeting of consumers at the point of purchase.
For this application you need to be at 2,500 cd/m² for outdoor and 1,000 cd/m² for high ambient indoor. use Typically this is done by boosting the brightness of the backlights. Unfortunately, this does mean higher power consumption. The display also has to be enclosed to be made rugged and water and weather resistant. It also needs to be protected from vandals and has to be reliable with heavy use. Easy servicing is essential as downtime costs 'real money' in advertising revenues.
Looking at all LCD public display panels, the high brightness segment is around 9% in 2015 rising to 15% by 2020, the company believes. Panel makers only offer 18 months warranty on the panels themselves – set makers have to offer three years so there is a gap and a risk for set makers.
Looking at LED walls, Khatri said that there are around 300 companies in the segment in Shenzen, so there is fierce competition and a lot of suppliers with low cost. Revenue growth is just 9% because of cost issues. The area will growth, but it will be tough.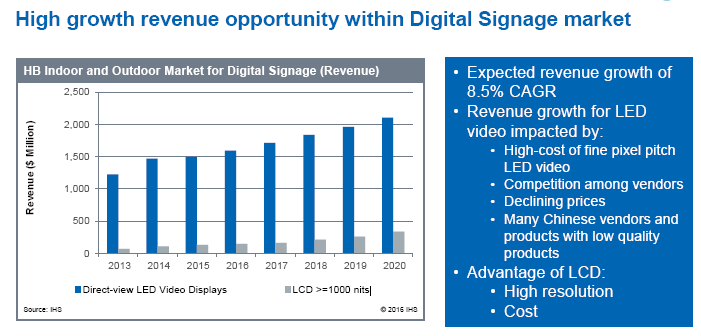 Where is it headed ? LEDs with pixel pitch of less than 5mm are usually indoor, whereas those at 10+ are purely used outdoors.
Small pitch is where the market is going and less than 5mm pitch is 28% of revenue now, rising to 58% share by 2020, although small pitch will grow to just 22% of the total area.
Khatri believes that LCD can compete at under 2mm pitch and LCD will gradually be overtaken by LED in terms of market value – revenues are similar this year. LCD makers have to boost brightness, reduce bezel widths to less than 2mm and better warranties are absolutely needed to solve the time gap between panels and sets. Portrait and landscape operation are essential.
For set makers there are was a list of requirements and she said that LCD & LED will be in a battle for share.