Connected car commerce is the ability to purchase goods and services directly from a connected car. This is made possible by the increasing number of cars that are equipped with internet access. Consumers can purchase goods and services without having to leave their car. This can be especially useful for busy people or those who are traveling long distances.
In theory, connected car commerce can help to reduce distracted driving. By allowing consumers to purchase goods and services without having to take their hands off the wheel or their eyes off the road, connected car commerce can help to make driving safer. In-car commerce services can be tailored to the individual needs of each consumer.
However, connected car commerce is still in its early stages of development but there are some key areas where the development of payment services is being actively pursued by companies like Visa:
Paying for gas at the pump without having to get out of the car
Ordering food from a restaurant and having it delivered to the car
Making reservations at a hotel or parking garage
Purchasing tickets to events
Paying for tolls and parking
But, challenges persist in making connected car commerce systems, such as security to protect consumers from fraud and hacking. Data protection and standards for in-car commerce are still a long way from being developed and finalized for broader adoption. Yet, the market data below suggests that the connected car is ripe for commerce.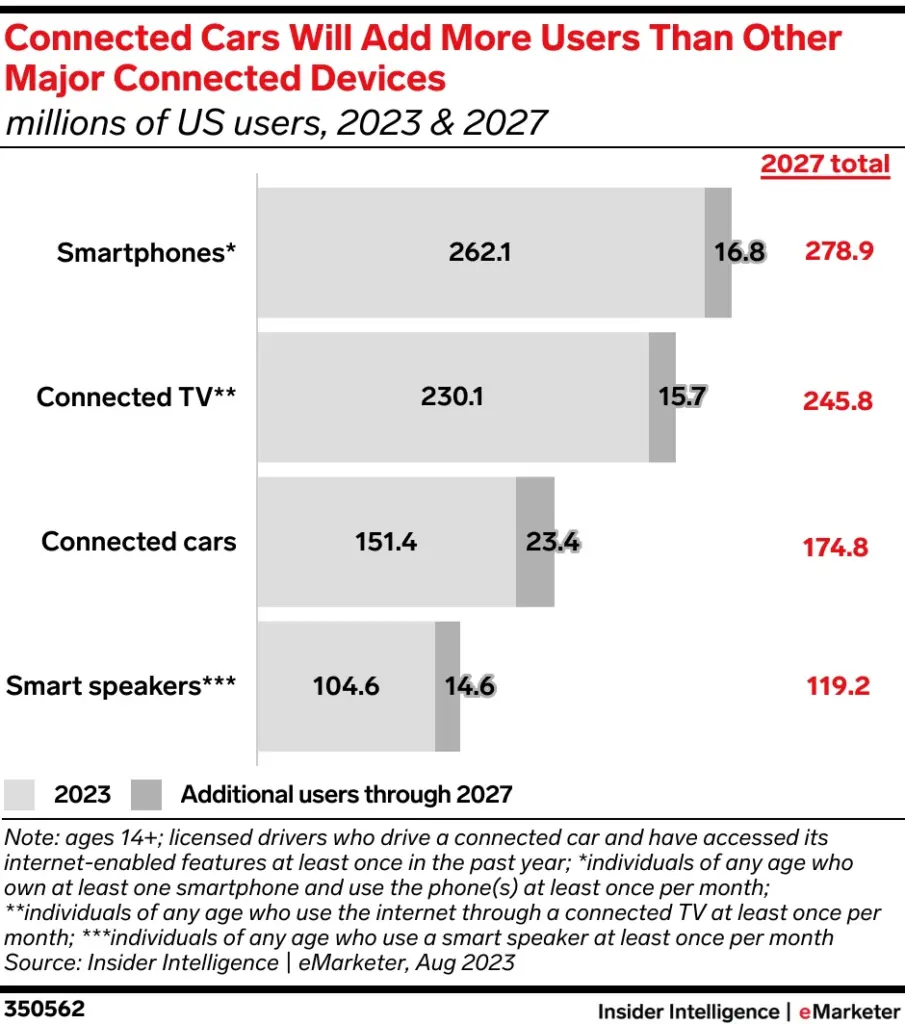 Mercedes-Benz is partnering with Visa on biometric verification for payments, and Parkopedia for parking services. Stripe and BMW are working together to power BMW's ConnectedDrive Store. Apple and Google are working on making their in-car payment services broader by partnering with gas stations, restaurants, and fast-food places. Juniper Research is often quoted for saying that by 2025 in-car payment spend will exceed $86 billion.
While voice assistants will no doubt play an important part in the user experience, displays will be the main interface for browsing products, services, and completing transactions. Their design, responsiveness, and clarity are crucial. More screen real estate in the dashboard will enable more commerce functionality which may become a significant revenue generation opportunity for auto OEMs. It would seem that augmented reality and heads-up displays would gain more traction as a result of in-car commerce activity.
Flexible and curved displays are an option to better fit dash contours and visibility for passengers. Display position, size, and angle need to optimize visibility for the driver without being distracting. Touch capability of displays enables direct interaction. But voice, gestures and other inputs may be less distracting alternatives.
It is early days, but automotive displays will probably be significant sources of opportunity for advertising and media, with a direct link to commerce and payment systems. If the tech world has taught us anything it is that we cannot escape our screens and our apps, no matter where we go.