The iPhone 13 was the most popular device last year. For the first time ever, the company held 8 out of the top 10 slots of best-selling smartphones in 2022.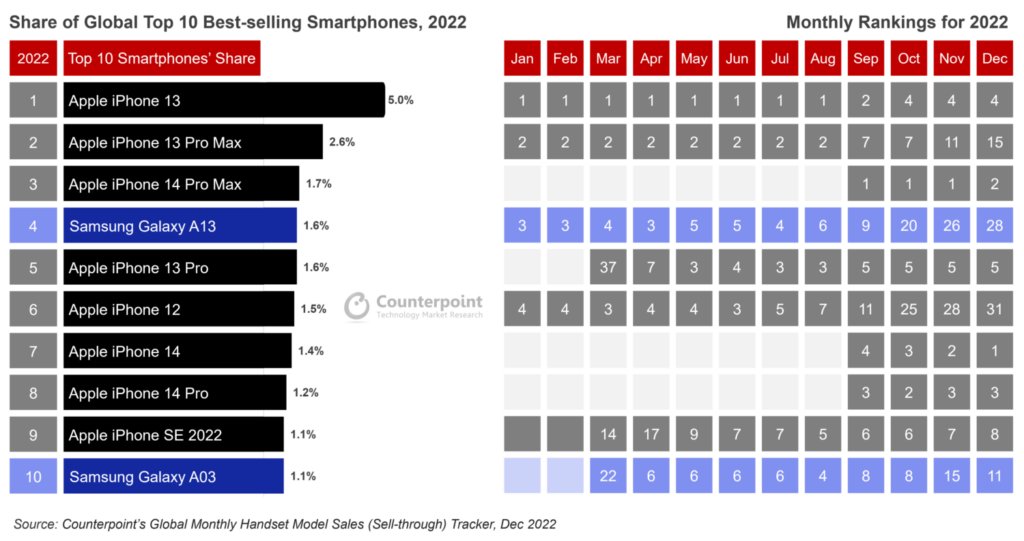 Counterpoint Research's monthly tracking of global smartphone sales is just a depressing sight for anyone making smartphones because other than Samsung getting two spots in the top 10, everything else belongs to Apple. Is Apple recession proof? I guess in some ways it is. I mean, if someone is going to buy a smartphone during a recession, because they just have to, they might as well go for the more reliable brand they know. That's going to be Apple every time.
It also means that despite all the hype and marketing support behind Samsung's phones, no one is switching sides right now. However, before you jump to any conclusions, there are a lot of questions that you should be asking like, how much did supply constraints play a part in keeping Apple on top? I mean, you can get an Apple phone, any of the models listed in the chart above, any time you want. You'll never be left hanging. There's always someone with a stock of Apple products at hand, and if you are lucky to have an Apple store nearby, they will make sure you get one as soon as you ask for one. They will also give you very extensive instructions on how to use them and be a genius with one.
Samsung just doesn't have any of that level of channel control. Do they have enough customer feedback and data, at the granular level that Apple does, to meaningfully compete? So, it would be even more interesting to know how customer sentiment towards Apple correlates to purchasing, and whether that sentiment is moveable to another brand? Otherwise, same old, same old for everyone trying to keep up with Apple, no matter how good the product is.