The country's PC market ended the fourth quarter of 2022 on a depressing note, losing 26% YoY. Desktops shipments declined 34% to 3.7 million units, and laptop shipments were down 22% to 8.5 million units. The one bright spot was tablet shipments which rose by 39% to 7.5 million units.
Recent research from Canalys shows that total PC (desktop, notebook and workstation) shipments in mainland China ended 2022 on a low note, declining 26% year-on-year in Q4. Desktop (including desktop workstation) shipments dropped to 3.7 million units, a 34% decline, while the notebook shipment (including mobile workstations) was down 22% to 8.5 million units. However, tablet shipments in Q4 rose 39% to 7.5 million units, driven by new device launches from major vendors.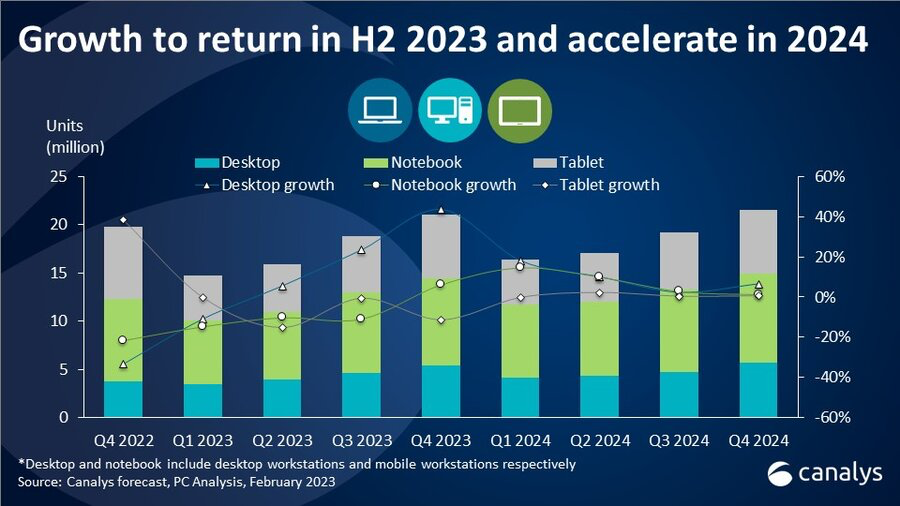 For 2022, total PC shipments reached 48.5 million units, a YoT drop of 15%. Tablet shipments were up by 6% growing to 24.0 million units shipped. Some of the demand can be attributed to lockdowns in China that created a surge in purchases. Even after declines from 2021 sales, laptop and tablet shipments were still higher than pre-pandemic levels, 8% and 22% higher respectively. Research firm Canalys expects shipments to reach 48.3 million units for all PCs in 2023 with a bounce in business spending, despite an expect 9% fall in consumer purchases.
Lenovo, Dell, HP, Asus, and Huawei are then biggest PC brands, while Apple, Huawei, Honor, Xiaomi, and Lenovo are the leaders in tablet sales. The popularity of devices by platform is shown in the chart below. HarmonyOS is Huawei's home grown OS which seems to pay homage, or steal from, the best bits of IOS and Android. It all depends on how you choose to look at.