Apple took to the stage this week at the Steve Jobs Theatre in Cupertino, California to announce its new iPhone range and Apple Watch Series 4. The presentation began with a staff member transporting a very important-looking attaché case across the company's Cupertino headquarters, Mission Impossible-style, complete with the famous movie's iconic theme tune. Eventually reaching her destination and delivering the precious cargo to CEO Tim Cook, it turned out to be none other than Cook's famous clicker. With that all-important clicker in hand, Cook appeared on stage to unveil the newest Apple products.
He kicked off with a brief history of the company and the strides it has made in the technology industry, from the Apple 2 computer, through to the iPod, iPhone, iPad and Apple Watch, as well as its Apple Store retail locations, which Cook says welcome 500 million visitors every year. Not only that, but Apple is about to ship its two-billionth iOS device, a major milestone for the firm.
The new Apple Watch Series 4 is undoubtedly the biggest departure from the Apple Watch as we've known it since its first iteration back in 2015. Williams touched upon the Watch's connectivity, activity monitor and health features, hailing the device as "an intelligent guardian for your health". Then a short video played, confirming the recent image leak on 9to5 Mac to be absolutely on the money.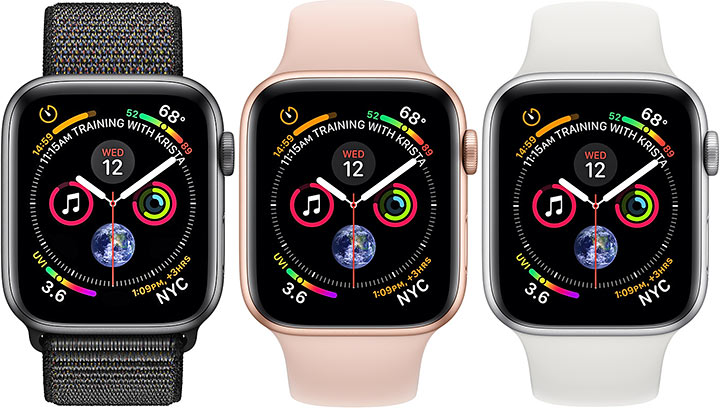 The newly redesigned and reengineered Apple Watch indeed features a curved, edge-to-edge display with a power-saving LTPO backplane. The device comes in two new sizes, 40mm and 44mm. The 40mm model features a screen 35% larger than the 38mm Series 3, while the 44mm version's display is 32% larger than the 42mm Series 3 Watch. Both devices are thinner than their predecessors, so overall volume is actually less, in spite of their increased size.
The Apple Watch Series 4 also features a redesigned UI, taking advantage of the extra display real estate. Brand new watch faces will be available, featuring up to eight customisable complications. New add-ons include real-time sports scores, boarding information for air travel and tracking nutritional information with every meal. The Breathe app is also now available as a watch face, guiding users through breathing exercises with on-screen visuals.
The Digital Crown has also been reengineered to include haptic feedback for a more responsive, mechanical feel. The speaker has been redesigned and is 50% louder than its predecessor, while the microphone has been moved to the opposite side of the device, to reduce echo and feedback when making and receiving calls. The back of the Series 4 Watch is made from black ceramic and sapphire crystal. These new materials allow radio waves to travel through the back of the Watch as well as the front, for improved cellular reception.
The Series 4 Watch is powered by Apple's fourth-generation silicon package, named S4. This chipset incorporates a 64-bit dual-core CPU, plus a new GPU, which the company claims delivers twice the performance of the Series 3. The combination of a new accelerometer and gyroscope offers twice the dynamic range, up to 32 g-forces and samples motion data eight times faster.
The new Watch also analyses risk trajectory and impact acceleration to detect falls. If a fall is detected, the Watch will ask the user if they would like to make an SOS call. However, if the user is immobile for more than a minute after a fall is detected, the call will be made automatically and the user's location will be transmitted to the emergency services.
A new optical heart sensor enables two new features within the Watch's Heart app. A low heart rate can now be detected, in addition to the existing high-heart-rate detection feature, as well as the ability to detect atrial fibrillation, an irregularity in the heartbeat linked to various heart conditions.
Additionally, a new, Apple-designed electrical heart sensor built into the sapphire crystal back allows users to conduct a self-electrocardiogram (ECG) in conjunction with the new Digital Crown. The user places their finger on the crown, which creates a closed circuit and sends electrical impulse information to the S4 chip to be converted via a special algorithm, providing a detailed ECG that can be exported as a PDF to share with the user's doctor if required. These new features have received FDA clearance.
The Apple Watch Series 4 is swim-proof and its outdoor activity tracking time has been increased to six hours. It has the same 18-hour battery life as its predecessor and is available in three aluminium finishes (Silver, Gold and Space Grey) as well as three stainless steel finishes (Polished, Gold and Space Black). All current watch bands are compatible with the Series 4, which is available to order from September 14th, to ship on the 21st, priced at $399 for the GPS model and $499 for the cellular version. WatchOS 5 also lands on September 17th.
And Finally…. the new iPhones
And then, the star of the show appeared: the new iPhone range. As analysts correctly predicted some time ago, this year's iPhone line-up features three new models; two with OLED displays and one with an LCD screen. Cook told the audience, "Today, we're going to take iPhone X to the next level. I'm going to show you the most advanced iPhone we have ever created".
The first of the trio to be unveiled was the iPhone XS (pronounced "ten S", not "excess"), the successor to last year's iPhone X, with which it bears the most similarity. Again, we have a 5.8″ edge-to-edge OLED Super Retina display, with a 2436 × 1125 resolution, 2.7 million pixels and 458 ppi. It is IP68 dust and waterproofed, able to withstand depths of up to two metres for 30 minutes. The display is covered in what Apple calls "the most durable glass every seen in a smartphone". The XS supports HDR10 and Dolby Vision HDR formats and takes HDR photos with 60% greater dynamic range than the iPhone X. It will be made available in Silver, Gold and Space Grey.
Before getting to what's under the hood of the new iPhone, Apple wasted no time in revealing its larger sibling, the iPhone XS Max. This "Plus" version of the iPhone XS features a 6.5″ edge-to-edge OLED Super Retina display, with a 2688 × 1242 resolution, 3.3 million pixels and 458 ppi. In terms of the handset itself, it is the same size as the iPhone 8 Plus, but with a screen one inch larger diagonally. Several apps have also been redesigned to take advantage of this extra space, with split-window features similar to the iPad.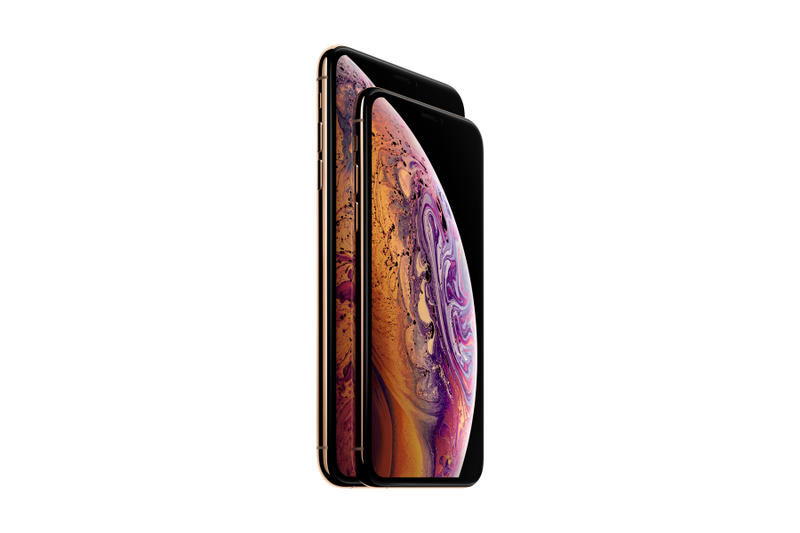 Both devices' True Tone displays feature 120Hz touch-sensing, 1,000,000:1 contrast ratio, wide colour support and what Apple calls the best colour accuracy of any iPhone, as well as wider stereo sound. Face ID has been made quicker, thanks to faster algorithms and Secure Enclave technology. The TrueDepth camera system — featuring an infrared camera, ambient light sensor, proximity sensor, flood illuminator, speaker, microphone and dot projector — and the phone's internal camera are contained within the screen's notch cut-out.
Underneath the surface, the new iPhones are powered by Apple's new proprietary A12 Bionic 7nm chipset, featuring 6.9 billion transistors, a six-core CPU, a four-core GPU and an eight-core neural engine. The CPU features two performance cores, providing a 15% boost in power while using 40% less power, while the four performance cores reduce power consumption by another 50%. The GPU is 50% faster, incorporating tessellation and multilayer rendering, as well as lossless memory compression. The neural engine enables dedicated machine learning, multi-precision support and the device's smart compute system.
While the chipset's predecessor, the A11, was able to compute 600 billion operators per second, the A12 Bionic can perform 5 trillion, the company said. The combination of the new chipset and iOS 12 enables apps to open 30% faster, while real-time machine learning supports new features like Siri Shortcuts, where users can create app shortcuts with multiple steps and reminders to streamline their day-to-day activities. Core ML is now nine times faster, while using 1/10th of the energy it did previously, Apple said.
The cameras of the new iPhones have been calibrated for augmented reality and ARKit 2 brings new features and upgrades, including enhanced surfaced and object detection, persistent experiences, multiple users and a new Measure app. Meanwhile, AR Quick Look allows users to grab 3D objects right out of a search engine via Safari and place them into their real-world environment.
Three developers joined in with the event to talk about their apps and how they use the upgraded hardware and software features of the new iPhone range. Bethesda game director Todd Howard introduced The Elder Scrolls: Blades, a console-quality first-person RPG, scheduled for release in the autumn. David Lee, CEO of Next Team, showed off Homecourt, a basketball app that tracks player performance by simply pointing the iPhone at the court. The app's new "shot science" feature tracks six metrics with every shot attempt, including release time, height and angle. Directive Games then appeared to demonstrate a multiplayer game of Galaga AR, showing effects made possible by the iPhone XS' new GPU.
The iPhone XS features a dual-lens camera, with a 12MP wide-angle f1.8-aperture lens, plus a 12MP telephoto f2.4-aperture lens, with optical image stabilisation, true-tone flash and 2x optical zoom. The internal RGB camera is 7MP with a f2.2.-aperture lens and a new, faster sensor. The image signal processor can set exposure, white balance and focus, reduce noise, highlight details and fuse multiple images together. The neural engine can detect faces and facial landmarks, while Portrait Mode now features improved segmentation. The iPhone XS performs 1 trillion operations per photo.
Smart HDR creates zero shutter-lag and a four-frame buffer, with secondary inter-frames taken at different exposure levels to highlight details and shadows, analysing and matching the best parts of each image to create the best picture possible. New bokeh effects include adjustable depth-of-field software, enabling users to adjust the DoF from f1.4-aperture up to f16 — after the photograph has been taken. The camera can also capture Ultra HD video with autofocus and exposure, with enhanced colour rendering and tone mapping, while the internal camera can shoot video in up to 1080p60.
In terms of battery life, the XS is said to have 30 minutes longer battery life than the iPhone X, while the XS Max boosts that to 90 minutes longer. Both devices feature gigabit-class LTE connectivity, enhanced worldwide roaming and dual-SIM capabilities, allowing for the use of two phone plans simultaneously, using the eSIM technology currently found in cellular iPads and Apple Watches. A special version of the iPhone XS and XS Max will be released in China, where the use of eSIM technology is prohibited, allowing users to install two physical SIM cards instead.
After a brief presentation about Apple's conservation efforts, the company revealed a third iPhone: the iPhone XR. Available in a range of bright colours including red, yellow and blue, as well as the classic black and white, the XR does away with the OLED display in favour of a 6.1″ LCD "Liquid Retina" display, featuring a 1792 × 828 resolution, 1.4 million pixels and 326 ppi, while retaining the XS and XS Max's notch design. The screen is larger than the iPhone 8 Plus, yet the handset itself is smaller.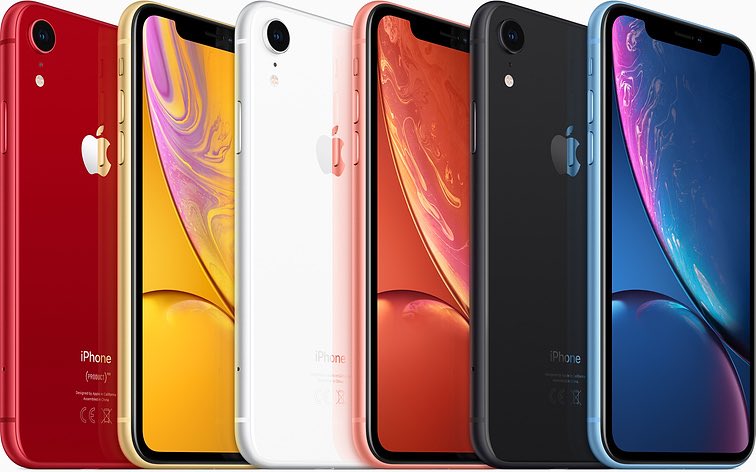 Aside from the display, the iPhone XR seems to retain almost all of the hardware used in its more expensive counterparts, including the new CPU and GPU combo, TrueDepth camera system and machine learning features. One point of difference is the primary camera, which is reduced to a 12MP single-camera set-up with a wide-angle f1.8-aperture lens. However, optical image stabilisation, Smart HDR and the impressive bokeh effects, including dynamic depth-of-field adjustment, are all present and correct. Battery life on the XR is said to be 90 minutes longer than the iPhone 8 Plus and it features IP67 water and dust protection.
The iPhone XS is available in three storage sizes: 64GB, priced at $999; 256GB, priced at $1,149; and 512GB, priced at $1,349. Meanwhile, the XS Max comes in the same three sizes: 64GB, priced at $1,099; 256GB, priced at $1,249; and 512GB, priced at $1,449. Both devices are available to order from September 14th, with handsets shipping from the 21st.
The XR also comes in three sizes: 64GB for $749, 128GB for $799 or 256GB for $899. Orders for the XR open on October 19th, with devices shipping from the 26th.
Apple wrapped up the presentation with a few other announcements. Firstly, iOS 12 will release on September 17th. However, the company chose not to go into the details of what the new operating system upgrade will bring during the presentation. Additionally, HomePod speakers will be getting new features as part of AirPlay 2, such as speaker-pairing to create a stereo effect, using Siri to search for songs, make and receive phone calls and ping users' iOS devices if they get lost in the house, plus integration with Siri Shortcuts.
Dolby Atmos sound support was announced for Apple TV (also available from September 17th) which we covered in a separate article earlier today, and MacOS Mojave will be released a week after on September 24th, bringing new features, including Dark Mode, enhanced privacy and security features, plus a redesigned App Store.
Analyst Comment
Well, this was all very much as predicted. I liked the comment from the BBC that the XS might stand for 'Ten Subtle' as there were so few changes compared to last year. The big question, though, is whether the company will be able to continue to extract the high price levels that it has set over the last year.
We have heard some users complaining that Apple has withdrawn the smallest iPhones in the range, now. (BR)