Mobile Display – The newest Apple iPhone6 marks a shift back to a focus on display quality for the company, so says DisplayMate.com founder and resident expert Dr. Ray Soneira in his latest Shoot-out round of lab tests.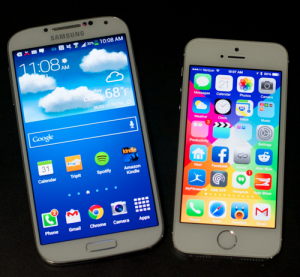 The findings confirm the Apple iPhone6 marketing, touting its focus on technical display enhancements that include photo aligned IPS (in plane switching), dual domain pixels, and improved polarizers really do deliver the goods for these 4.7 " and 5.5″ LTPS based AMLCDs. In part, when assessing the new Apple iPhone6 viewing angle, Soneira asserts, "The High Tech Display Enhancements that Apple mentions really show up here… iPhone 6 and 6 Plus have significantly better Viewing Angle performance than the iPhone 5 or any other LCD that we have ever tested. Particularly important and noticeable are the much higher Contrast Ratios and the lower Brightness Decrease with Viewing Angle. The Color Shifts with Viewing Angle are also very small", Soneira wrote.
On Friday last, (Sept 19) Apple delivered a 4.7″ and 5.5″ phone and phablet respectively to waiting crowds looking to upgrade to the next gateway device into the Apple-verse (OK Ecosystem) of ever expanding products and services. These now include five key areas, so see our extended coverage on the Display-Central web site or Meko.co.uk. To Apple's credit, the company was one of the first to focus on displays as a product differentiator, in smartphones. Soneira reminds us that Apple was first to launch 100% sRGB Color in its high performance IPS LCDs, full 24-bit color and Job's now famous "Retina-class" displays that offer pixel density beyond human visual acuity. Apple even used this new display focus in phones, to make its case to a California jury, that eventually granted Apple a record $1B plus infringement settlement against rival Samsung.
But in subsequent years, Apple has faltered in pioneering the display technology frontier, even back-pedaling on some of its own high standards. Some would even make the case that its new Apple Watch in a bulky/chunky me-too form factor, would never have seen the light of day under a Steve Jobs run Apple. Wearables are an application class crying out for a thin flexible display, and like the iPhone before it, the next mass market frontier of wearable devices will be defined by the display. In short, Apple Watch is a device made by committee-think, not pioneering vision, but that's another story.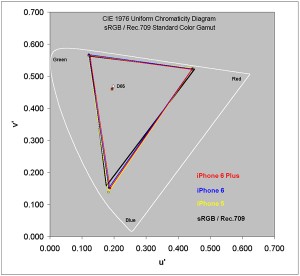 Meanwhile, the Koreans have had the last laugh (OK at least in display image quality) as Samsung has marched ever forward with its emissive OLED technology, claiming the mobile device display quality high ground. Most recently in March this year, Samsung announced its flagship Galaxy S5 that set new benchmark standards with DisplayMate's Soneira's shoot-out testing concluding it was "the best smartphone display he had ever tested". Now enter Samsung's new 5.7″ Galaxy Note 4 "phablet," a 2560 x 1440 pixels (QHD), with a whopping 518 ppi and the company has even "bested its own high standard", writes noted display Analyst, Ken Werner in his coverage of the new Galaxy Shoot-out.
So Apple has done some real work improving its LCD based Smartphone flagship devices, with an earnest effort that pushes the LCD envelope out even further. In fact the Display performance was so good in both Apple iPhone6 products, they most likely represent the state of the art in what LCD technology can deliver from mass production-class displays, to date. That said, it only serves to underscore what some display experts have asserted all along, the inherent display benefits of rival emissive OLED technology will one day overwhelm LCDs and some may rightly claim, that day has come. – Steve Sechrist
Measured Color Gamuts for the iPhone 6, iPhone 6 Plus, and iPhone 5.along with the Standard sRGB / Rec.709 Color Gamut in black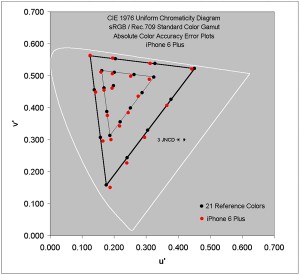 Show the measured on-screen colors of the sRGB/Rec.709 Reference Colors for the iPhone6 Plus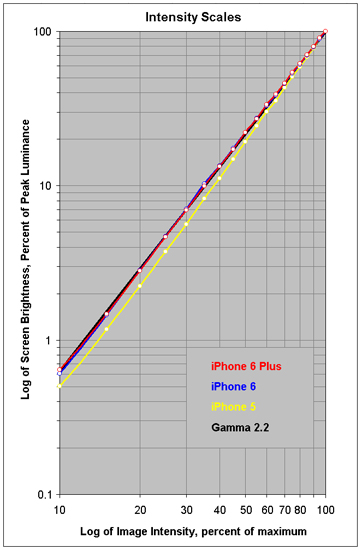 Shows the measured Intensity Scales for the iPhones alongside the industry standard Gamma of 2.2, which is the straight black line