Apple's iPhone 14 Pro Max took the lead as the highest shipped smartphone globally in the first half of this year, with a total of 26.5 million units, as per Omdia's recent smartphone research. This model, the priciest in the iPhone 14 series, launched last September, and has a price range of $1,099 to $1,599. The iPhone 14 Pro secured the second spot with the iPhone 14 following in third place. This marks three models from the iPhone 14 series entering the top 10 rankings for the quarter.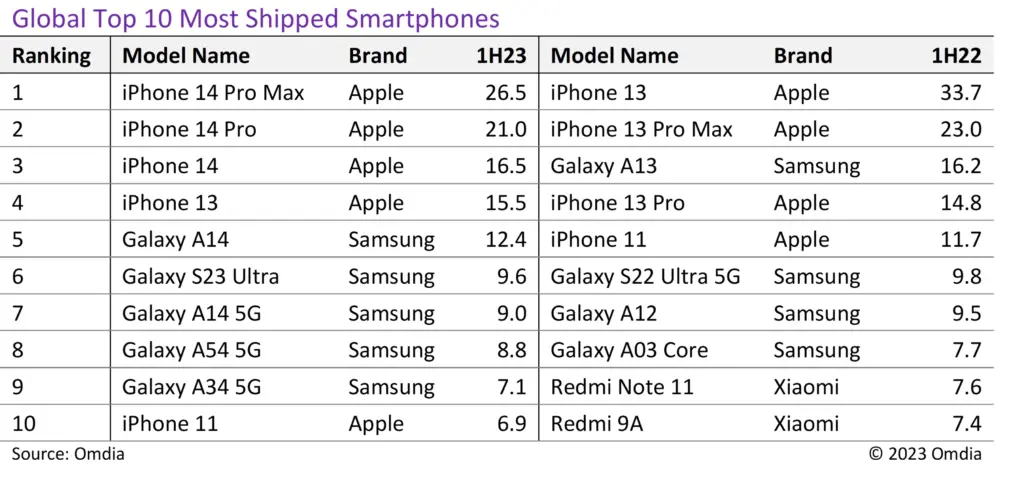 In a year-over-year (YoY) comparison, the iPhone 14 Pro Max shipments saw a reduction by 7.2 million units from the previous year's top-seller, the iPhone 13, which had 33.7 million units shipped. The iPhone 14 Pro Max, however, outperformed its predecessor, the 13 Pro Max, by 3.5 million units, while the 14 Pro out-shipped the 13 Pro by 6.2 million units. Yet, the iPhone 14 saw a decline in shipments by 17.2 million units in contrast to the iPhone 13.
Amidst an economic downturn and an expanding second-hand smartphone market leading to a decrease in the mid- to low-end market, the premium smartphone market is showing consistent growth. Apple's premium models continue to be in high demand, especially in emerging markets, pushing the sales volume of high-end models like the Pro and Max in the iPhone series.
Five spots in the top 10 were occupied by Apple models, with the remaining held by Samsung smartphones. Samsung's Galaxy A14 achieved the fifth position with 12.4 million units. In comparison, last year's Galaxy A13 was in the third spot with 16.2 million units. Samsung's flagship, the Galaxy S23 Ultra, secured the sixth spot, mirroring last year's position of the Galaxy S22 Ultra 5G, albeit with a slight decrease in shipments by 0.2 million units. Samsung's Galaxy A14 5G, A54 5G, and A34 5G took the seventh to ninth spots.
Two models from Xiaomi's Redmi series that were in the top 10 last year didn't make the cut this year. This shift is attributed to the ongoing decline in shipments from Chinese smartphone manufacturers since 2022, particularly in the mid- to low-end segment.
Omdia forecasts a decline in global smartphone shipments. Jusy Hong, Senior Research Manager at Omdia, highlighted that the mid- to low-end market downturn will persist, especially with the anticipated launch of the iPhone 15 series later this year. Android-based smartphone OEMs, predominantly catering to the mid- to low-priced segment, will likely face more reductions. In contrast, while Apple's Pro and Pro Max shipments might witness an uptick due to strong demand, the overall iPhone shipments could remain on par with last year or observe a minor decrease.