LG Electronics' first dual-screen phone — the LG V50 ThinQ Dual Screen introduced in the first half of 2019 — featured a mechanical configuration the company has since used on two subsequent dual-screen phones. The basic platform is a largely conventional single-screen phone. The second screen is part of a hinged elastomer cover that stretches around the basic phone. (In some markets the second display and case are optional extras; in others, everything is sold together.)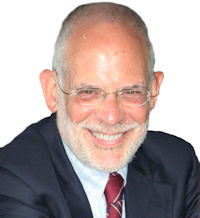 Okay. Stretchy elastomer was one of polymer chemistry's exciting achievements but it's commonplace today. A tougher challenge was the electrical connection between the phone and the second display. LGE could have adopted a conventional mechanical connector, but it would have to be bendable, reliable, and transparent to the user as he or she connected and disconnected the second display. That seemed like a tall order, so LGE partnered with a company named Keyssa (Campbell, California) for a solution. Keyssa had developed a "wireless connector" based on what it calls Kiss Connectivity.
To find out more, I interviewed Keyssa Marketing VP Steve Venuti. For the interview we used a social distancing technology called email. The interview has been edited for length.
KW: What is Keyssa's technology?
SV: Keyssa designs, markets and sells what we call a wireless connector. Wireless, in that it uses RF to transmit and receive data between two devices, but a connector in that it is designed for near-field, device-to-device applications where a mechanical connector may not be the most effective method for connecting two devices. Our products, the KSS104M and the KSS104U, operate in the 60GHz portion of the spectrum. We are therefore a mmWave technology. The line-of-sight limitation of mmWaves is an advantage for us since we want to have a near-field, device-to-device connection. Line of sight is built into our use case. With mmWave's high bandwidth and low latency, the technology effectively addresses many of the limitations that mechanical connectors inflict upon product designers. (60 Ghz: Ready For Prime Time (finally)?)
KW: What are the basic characteristics of Keyssa's technology?
SV: Although the technology uses wireless, everything about it is designed to emulate the characteristics and properties of a wire. We have the luxury of going a very short distance so our power is much lower than traditional wireless. And mmWave technology gives us high data rates and low latency. Perhaps most important, of all, just as copper wires do not need drivers or firmware to connect, neither does Keyssa. Keyssa is a physical layer solution: no drivers, software, or firmware required.
The KSS104M and 104U are 3 x 3 mm chips and include an integrated antenna. They are capable of 6 Gigabits per second of data throughput per device and the technology is protocol agnostic so it can run USB, PCIe, HDMI, DisplayPort, UART, and many others. Latency is only 500 piccoseconds, and power is 70-100 milliwatts per device in active mode. Power in idle mode is in the microwatts.
The spec calls for a Z distance between devices of 0.5mm; X and Y tolerances are +/- 1.5mm. We can add bandwidth by co-locating Keyssa devices for extra lanes; each lane increases the bandwidth by another 6Gbps. We have designs that run uncompressed 8K signals at 96Gbps by adding Keyssa chips to increase bandwidth.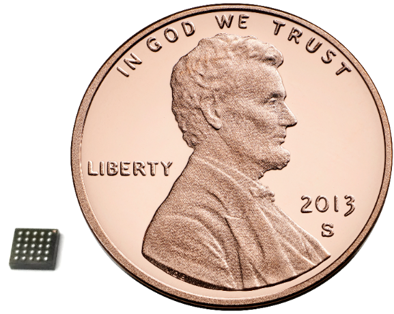 A Kiss for your thoughts? Keyssa's wireless "Kiss Connectivity" connector chip is much smaller than a penny. (Photo: Keyssa)
KW: How did you get the idea that there was a problem for which this was a solution?
SV: The impetus for Keyssa came from the telecom world, and the fragility of backplane connectors. Since those early days we have identified four major reasons why connectors fail product designers and consumers:
1. Mechanical connectors are prone to wear and tear, including everyday hazards such as water, dust, and lint.
2. Metal radiates energy and is a major cause of RFI/EMI in product design. Many current high-speed connectors transmit signals in the same part of the spectrum as Wi-Fi and Bluetooth. This poses difficult challenges for product designers, both inside a device and externally when connecting to other devices.
3. As products become sleeker, thinner, and more elegant, the connector often limits the way a product can be designed.
4. Mechanical connectors require labor-intensive assembly in manufacturing and test. We didn't consider this use case at first; it came from our customers and is clearly a very big pain point. It is not about product design or customer frustrations, but is based on operational efficiencies on the production line. Connectors are used on production lines for software uploads as well as for a series of product tests. I This can be inefficient as multiple people on a product line can be connecting products by hand. In more automated factories, products might be on a pallet and stop at a test station, be brought into alignment using expensive and time-consuming actuators, and connect via pogo pins or a probe to perform a number of tests — and can happen at multiple stations. Keyssa can be embedded inside products and used as a "virtual connector" used solely in test and diagnostics.
KW: I'm guessing LG regarded the LG V50 ThinQ Dual Screen as a success since they subsequently introduced two other dual-screen phones.
SV: It was a great success – the folio case sold at a much higher rate than expected. The V60 was a cost-down model so Keyssa was one of the components that was taken out of the design – and replaced with a rather clumsy mechanical connector-to-connector — functional but not elegant. The V50 was proof positive that Keyssa's product is ready for prime time. LG continues to be a major Keyssa customer.
KW: Are you in any other products now on sale or in development?
SV: The other large win in 2019 (actually, January of 2020) was a line of Fujitsu docking tablets used in educational and commercial markets, where the pogo pins were failing due to many everyday hazards. Fujitsu launched their first Keyssa-enabled tablets and has signed a multi-year deal to embed Keyssa in a number of their commercial tablets and docks.
In the display market, Keyssa has signed a strategic relationship with NovaStar. NovaStar has greater than 50% market share in the video distribution infrastructure than enables LED video walls. (CES 2020 Round-Up Part 2) Traditional video walls are made up of a large number of LED display modules that are connected to a backplane, and "cabinets," which are frames that connect 4 or 6 LED display modules to a fixed backplane, and these cabinets are connected to each other via RJ45 cables in the back running ethernet. The number of connections in a video wall is very high and the number one pain point for integrators is the reliability of the RJ45 connector, which was never designed to do what it is asked to do in video wall applications. We will see, in 2020, multiple video wall manufacturers using Keyssa to connect cabinets and LED display modules.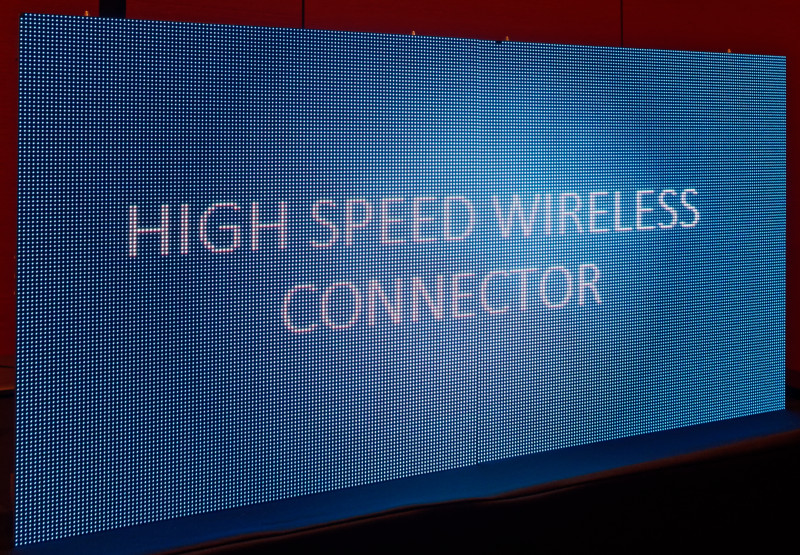 Keyssa showed its connector between LED modules at CES. Image:Meko
KW: How has Covid 19 affected your sales?
SV: I am proud to say that Keyssa has not lost even one design win because of COVID-19. Having said that, we have seen delays in product launches, product designs, and other areas that impact everyone in the electronics device business. Time frames have been extended, but business goes on.
KW: Do you have any final words for our readers?
SV: Yes, and thank you for asking. The fundamental design of connectors has not changed in 100 years. Keyssa aims to bring advanced technology to one of the most taken-for-granted components in electronic products.
Ken Werner is Principal of Nutmeg Consultants, specializing in the display industry, manufacturing, technology, and applications, including mobile devices, automotive, and television. He consults for attorneys, investment analysts, and companies re-positioning themselves within the display industry or using displays in their products. He is the 2017 recipient of the Society for Information Display's Lewis and Beatrice Winner Award. You can reach him at [email protected] or www.nutmegconsultants.com.