Alcatel One Touch announced its Idol 3 smartphone that comes either as a 4.7″ or 5.5″ model. While the 4.7″ has an 1280 x 720 IPS display, the 5.5″ model has a FullHD IPS display. Both are LTE devices that also differ in their other specs, with the 4.7″ version having a quadcore Snapdragon 410 processor and 1GB of RAM, while the 5.5″ model has an octacore Snapdragon 615 processor and 2 GB of RAM. Both come with 16GB of storage. The company claims that the device is completely reversible end to end (although some physical buttons are, of course, fixed) and that the user interface adjusts to the user automatically. However, if you want to use the camera, the lens is always on one end of the phone. Acaltel pushes its JBL audio technology as an outstanding feature.
Alcatel also showed the Pixi 3, a lower end 5.5″ smartphone that comes in a variety of colors. The display has HD+ resolution with 960 x 540 pixels.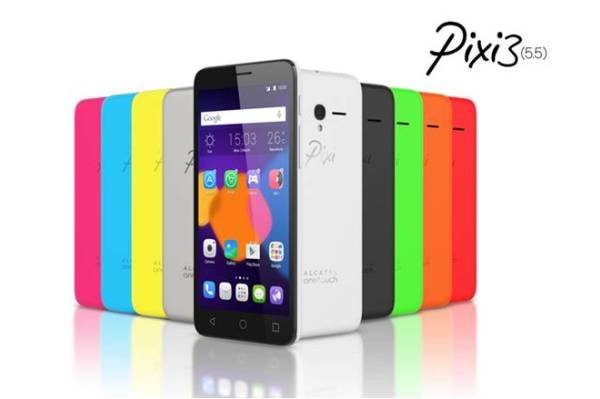 As with the Pixi 3, the Alcatel OneTouch Watch was previously announced at CES but was shown in Europe for the first time at MWC. The smartwatch will be available in the USA this spring at a price around $150, according to some blogs. The company did say that the watch will be available in Europe in April of this year for a price of €129. The display is 1.22″ and has a round shape. The pixel count is reported by Alcatel as 262k. Since the layout is not square it is tough to say what pixel density this equates to. This also applies also to other smartwatches with a round layout.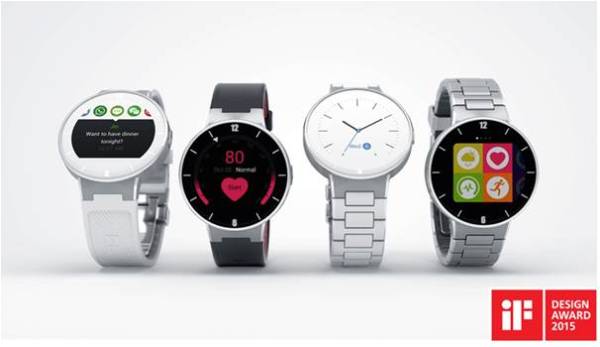 The smartwatch has a unique feature as the battery can be charged via the band which includes a charge connector. According to the spec sheet they achieve 2 to 5 days of operation with one charge. The watch also has a heart rate sensor and NFC for communication. It supports Android 4.3/iOS 7 and above. Compared to some watches, the device is rather thin with a thickness of 10.5 mm (less than half an inch).