Acer moved its annual IFA press event this year and had more space, so we actually got a seat! Having said that, as it was a global press event (the audio seemed loud enough to get around the world!), it was also due to be streamed live, so there had been a temptation to stay back in the hotel and watch from the comfort of a desk! However, we got ourselves down to the event, the first in this year's two days of press events before IFA opened to the public.
The event was kicked off by Jason Chen who started by checking where press came from. Chen really enjoys these events, it seems and is in his element in front of a crowd.
Chen started by listing seven firsts for Acer in the market in the last year (including the relatively bizarre '1st metal fan in a notebook' but also including 'the slimmest notebook'). He said the theme of this year's event is to minimize (e.g. size and effort) and maximise (e.g. experience and performance)
VR and MR Remain a Topic
At Siggraph, StarVR announced the One headset (StarVR is owned by Acer these days) and Chen showed a video highlighting the performance of the new headset (StarVR Headset is Immersive). Emmanuel Marquez, the CTO of StarVR, came on to talk about the headset and its field of view. Chen said that Acer would promote Location-Based Entertainment (LBE) as well as enterprise customers with the headset. Chen said that StarVR maximises the vision, but minimises the boundaries.
Chen started with StarVR and Emmanuel Marquez. Image:Meko
Acer has also been working on mixed reality technology and new was the OJO500 headset which has adjustable inter-pupillary distance (IPD) that can be adapted to the user (like the StarVR), but the OJO500 headset doesn't include gaze recognition. It has an integrated soundpipe and includes audio facilities, rather than using an external headphone set and that allows, among other things, mixing of the audio and the environment. It has dual 2.89″ 1440 x 1440 LCD displays (which makes it one of the higher resolution versions of the Windows Mixed Reality with an overall resolution of 2880 x 1440 and refresh of 90Hz.
The OJO500 has a modular design that allows different optics to be mounted on different head mounts. Applications include VR sports, where the optics can be swapped from user to user. This helps with hygiene as the straps/head mounts can be cleaned more easily. Separately, the company said that it has done a deal with VZFit to work together on sports equipment to be used with the OJO500 and convert static gym equipment into a VR experience.
It will be available in November, from $399 in the US and €499 in Europe.
PCs and AIOs
The Aspire Z24 AIO has a new 23.8″ touch monitor with three side borderless design. It has a Liquid Loop cooling system, so it is silent (the fanless AIO concept is another of Chen's first claims). The system has four microphones and supports distant audio with Alexa and Cortana. The aim is to minimise effort and maximise convenience.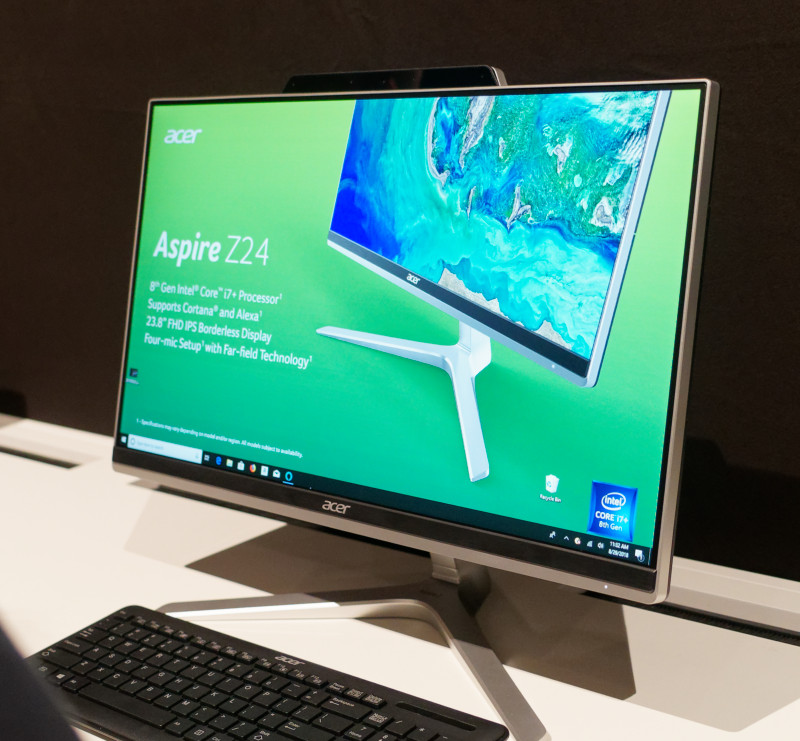 The new AIO is fanless. Image:Meko
The Aspire 7 is a 'daily use' mainstream notebook with an 8th gen Intel Core i7, a Radeon RX Vega M GL graphic engine in a 1.5kg metal design, down in weight 25% on the last generation. The UltraHD display has a narrow bezel.
In the thin and light area, Acer has often pushed to be the thinnest and the lightest. The company has been refining its materials and the new Swift 5 has a 5.87mm bezel on the sides of the display and has up to 10 hours of battery life. The Swift 5 keeps the same vertical height, but has a 15.6″ display, rather than the previous 14″ and is claimed to be the lightest 15″ notebook in the market. It is said to be 4X more durable than the previous model.
The Swift 5 has a Magnesium Lithium back and Magnesium aluminium on the front. The display is a 15.6″ FullHD IPS device and weight is 990 gms.
Intel Joins In
Steve Long from Intel is GM of Sales and Marketing for the client business of Intel. Returning to a common theme for Intel in recent years, Long said that 450 million notebooks in the market are over five years old and that remains a big opportunity. Chen said that Acer aims to be always the fastest to bring Intel technology to market. Gigabit Wi-fi is a big advantage compared to older machines, Chen said.
New Products
Swift 5 has been the thinnest PC in the world for two generations, Chen claimed, and has not been beaten.
The Swift 7 is less than 1cm thick and under a kg. The new unit is 15% smaller than the older version and much of that has come from narrower bezels which go down to 4.27mm and that means a 92% screen to bezel ratio, Chen said.
Chen then turned, with a yelp, to gaming. Chen brought on a specialist from Acer's gaming group and Chen said that Acer believes it is the top gaming supplier in 33 countries, globally.
In the Orion family, Acer will be putting new GeForce RTX GPUs into the units. The units will support Predator Pulse coloured LEDs and fans. Orion's chassis are compliant with EMI standards even with transparent chassis.
Chen then moved onto the Predator X which is a heavy duty desktop with dual Xeon CPUs and up to 12 ECC DIMM slots and is aimed both at content creators and also high end game play. It is designed from the ground up for multi-tasking.
Acer devotes a lot of time to thermal issues and the company has 297 patents on thermal technology, The firm has an Aeroblade fan technology which 'took inspiration from the owl'. The fans are designed to mimic the tips of the wings of owls, to reduce turbulence. The company claims 30% or more performance improvement over generic fans.
There is a new Predator Triton 900 which is a notebook with a swivelling display and dual fans. The display is an UltraHD touch display with G-Sync. The display can be rotated to show content to others. The keyboard is a mechanical design with a trackpad and numeric keypad. Retuning to his theme, Chen said that the Triton 900 maximises the experience for gamers. (The unit shown on stage seems to have been a design mock-up with no samples being available to try.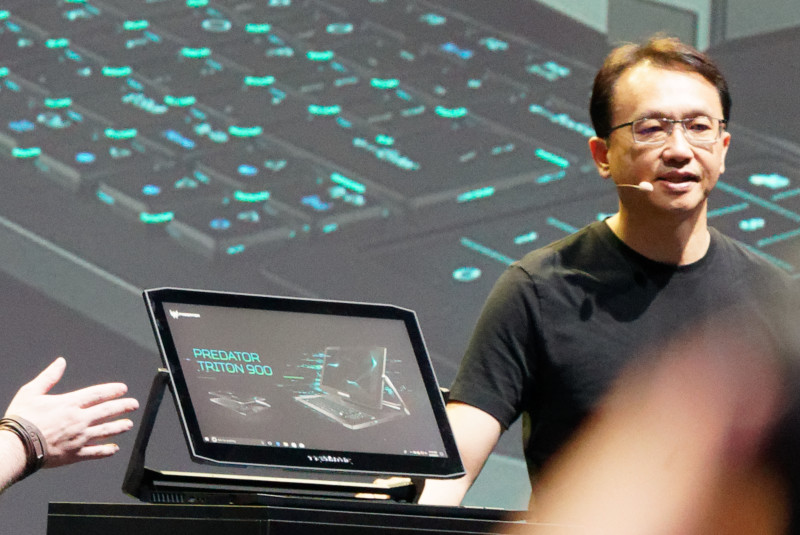 The Predator Triton has an unusual form factor, but is just a concept at the moment. Image:Meko
Predator Thronos is a a motorised cockpit with a control arch and supporting up to three 27″ curved monitors with a 'deep impact' vibration function. It can recline by up to 140 deg. The unit is massive and no price or delivery date is yet available, but those that tried it (we didn't) report that it adds to the immersion of gaming. Surprisingly, the unit as it is doesn't have any audio which will need to be supplied via headphones or speakers.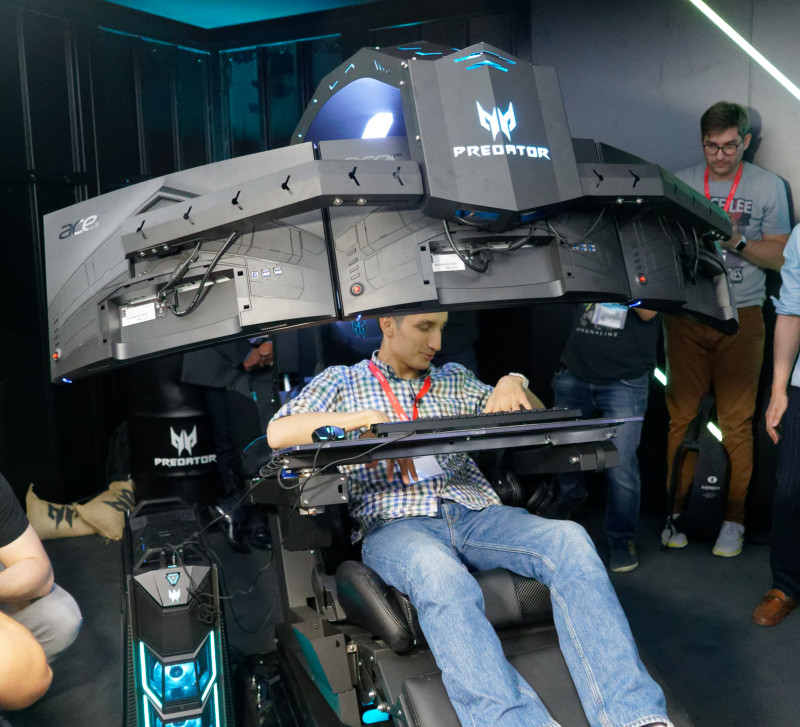 The Thronos is for very serious gamers! Image:Meko
Separately, Acer announced three new projectors and we got a brief look at some of those units in the back of Acer's booth, although they were not working.
The PL Series PL6610 (1920 x 1200) and PL6510 (1920 x 1080) and and SL Series SL6610 (1920 x 1200) and SL6510 (1920 x 1080) use laser phosphor light sources to provide 5,000 Ansi lumens and 75% of NTSC colour support. Both Series have 1.6:1 zoom lenses with a normal range (PL Series) and Short Throw (SL Series). Dual 10W speakers are integrated.
The PL6610 has HDBaseT integrated.
Pricing and shipping dates are to be released by region.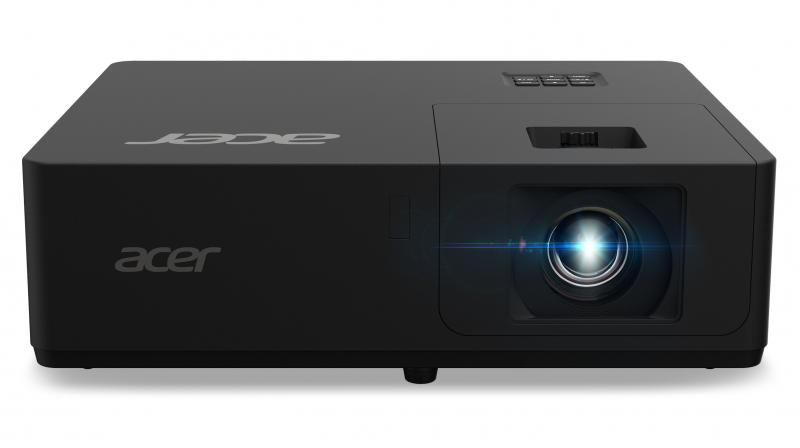 Acers's PL and SL Projectors have laser phosphor light sources.
In the Predator series, new was the PB273LK which supports G-Sync and has an UltraHD IPS panel with DisplayHDR 400 certification and support for 90% of DCI P3. The monitor is supplied with the kind of shielding hood that is typically used for colour correction, but which is intended to promote immersion.
Other new monitors at the show included the Nitro XV273K gaming monitor which has a 27″ UltraHD IPS panel with 144Hz refresh, enabled by FreeSync support. It meets the DisplayHDR 400 specification and is expected to sell in Europe at €1,049 ($899).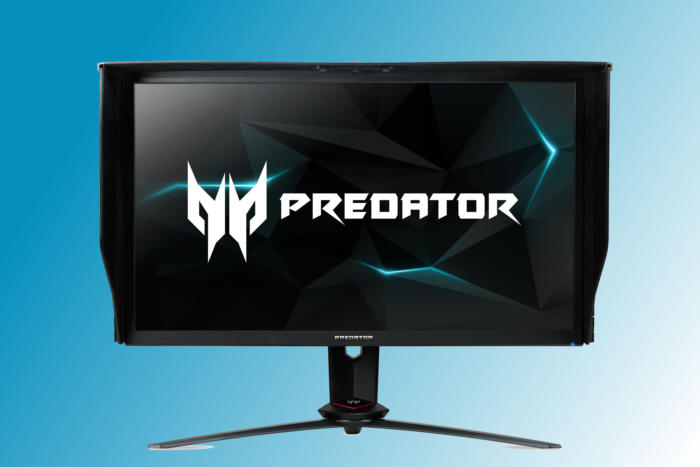 The Acer Predator XB273K has a shield for higher immersion
The Nitro XV272 (IPS) and Nitro XF272U (TN) both have QuadHD 2560 x 1440 resolution again with FreeSync and 144Hz and all three monitors have wide colour gamut at 90% for the XV273K and XF272U and 95% for the XV272U. The XV272 will sell for €599 ($499) and the XF272U for €529 ($449).
In recent years, the company has tended to just have a private area for reseller customers, but this time did have an area for the public to try its gaming PCs. However, along with other companies at the event, there was no sign of Nvidia RTX technology.
Analyst Comment
Chen told Taiwanese media at the event that he plans for the company to become a real 'group' organisation based on companies including StarVR which are intended to eventually go public, although Acer will retain control. (BR)