Merck KGaA Darmstadt Germany and its North American branch, EMD Performance Materials, showed off their new logos and design language at SID Display Week for the first time. The look, startlingly, is more "Age of Aquarius" than "Serious Germanic Chemicals Company," and that's precisely the point. In addition to using the redesign as an opportunity to consolidate some of the Merck Group's plethora of brands, Merck/EMD is emphasizing accessibility and character as a dynamic developer and purveyor of advanced technical materials for displays and other applications.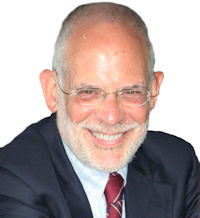 Merck executives delivered on their booth's graphic promise of openness, with one calling others over to give me the best answers to my questions.
Merck/EMD's new logo says 'We're dynamic and accessible,' – and that's the point. (Photo: Ken Werner)One technology not shown in the booth is the polymer wall LCD material announced in a paper at SID Display Week 2015 and previously reported in Display Daily. The material allows the fabrication of polymer LCDs with internal reinforcing walls to maintain cell gap when the LCD is flexed. Robert Miller, Senior Business Manager, LC and Advanced Technologies at EMD, told me development continues asnd there is substantial customer interest. There is even customer interest in using the material for non-flexible displays, because the stronger structure could make it possible to use thinner substrates. Miller hopes to see the material in customer products by 2018.
In a company suite, Merck/EMD showed the use of its materials in various products made by customers, some of which were small. Miller said that Merck/EMD was partnering with promising small companies help them become successful customers.
One of those companies is Kent Display, maker of the popular Boogie Board note-taking products, which use Merck surface-stabilized polymer cholesteric liquid-crystal materials. In the suite was a white-board-sized Boogie Board Sync. This is not intended as a commercial product, but two of them will be installed in Merck's innovation center.
Other applications were impressive exterior smart windows using guest-host liquid crystals and an adjustable beam-shaping radio element that can be controlled by a smart-phone app.
One goal of the corporate rebranding, which was implemented late last year, is to increased the group's visibility. According to one executive, Merck/EMD is a highly profitable but seriously undervalued company, and the group would like to correct that.
Merck/EMD apparently intends this to be a new dawning of the Age of Aquarius. – Ken Werner
Analyst Comment
I wrote a white paper on digital interfacing for Samsung some fifteen years ago with the title "The Perfect Pixel". Perhaps I should have trademarked it!
If you are still at DisplayWeek, check this article for a recommendation from the OLED Association's Barry Young, in preparation for a Display Daily from him. Quantum Dots OverHyped? Check at DisplayWeek (BR)