After nearly two decades of providing sustainment support, Collins Aerospace Systems has received a 10-year extension from the U.S. Air Force (USAF) to provide services critical to maintaining the training system for the E-8C Joint Surveillance Target Attack Radar System (JSTARS) aircraft.
The system includes full flight simulators and navigator training terminals located at Robins Air Force Base. Collins Aerospace is a unit of United Technologies Corp.
With a track record of 99-percent uptime over the life of the contract, Collins Aerospace will continue to help the USAF overcome obsolescence of the training system by providing cybersecurity updates, hardware upkeep as required and provide onsite logistics to assure maximum uptime.
"With the missions having anywhere from four to 15 aircrew involved, training system uptime is crucial for an effective rotation to maintain readiness," said Nick Gibbs, vice president and general manager, Simulation and Training Solutions for Collins Aerospace. "We are proud to support the critical JSTARS mission by providing sustainable training readiness."
The JSTARS training system is made up of two Collins Aerospace full-flight simulators as well as two navigator training stations that provide simultaneous training for both pilots and crew. Beyond the E-8C JSTARS, Collins Aerospace has been providing broad-scope, complex simulation and training systems for other platforms that include the E-2D Advanced Hawkeye, B-52 Stratofortress and E-6B Mercury for over 15 years.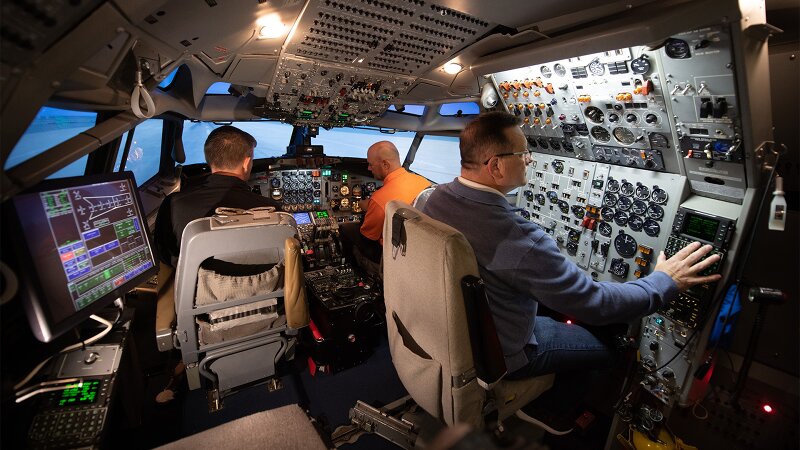 About Collins Aerospace
Collins Aerospace Systems, a unit of United Technologies Corp. (NYSE: UTX), is a leader in technologically advanced and intelligent solutions for the global aerospace and defense industry. Created in 2018 by bringing together UTC Aerospace Systems and Rockwell Collins, Collins Aerospace has the capabilities, comprehensive portfolio and expertise to solve customers' toughest challenges and to meet the demands of a rapidly evolving global market. For more information, visit CollinsAerospace.com.
About United Technologies Corporation
United Technologies Corp., based in Farmington, Connecticut, provides high-technology systems and services to the building and aerospace industries. By combining a passion for science with precision engineering, the company is creating smart, sustainable solutions the world needs. For more information about the company, visit our website at www.utc.com or follow us on Twitter: @UTC.