Projectors – Home Entertainment – At the recent CEDIA Expo 2014, September 10 – 13 in Denver, Colorado, Epson introduced two new projector series for home cinema. One series is laser phosphor and the other uses a conventional lamp.
Epson R-HTPS device
The first series includes the Pro Cinema LS9600e or LS10000 projector. These projectors are similar to each other and are based on a laser-phosphor light source with a 30,000 hour life and three reflective LCD panels with LC on Quartz technology. Epson puts an HTPS layer on the quartz to pattern into the transistors for pixel drive. Note these imagers are not the same liquid crystal on silicon (LCoS) technology as more traditional reflective LC, since they are based on quartz wafers rather than silicon wafers. The LS9600e produces 1300 lumens and the LS10000 produces 1500 lumens. The lumen output is the same whether measured by the ANSI white light procedure or the newer Color Light Output (CLO) measurement procedure specified by SID. Having these two values (ANSI and CLO Lumens) the same is desirable in projector applications where the accuracy of color rendition is important, which, of course, includes home cinema applications.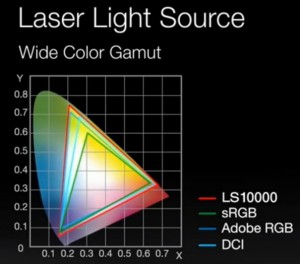 Epson Laser Phosphor Color Gamut
The Epson LS9600e and LS10000 both use a laser light source as shown in the picture. Note that there are two banks of blue lasers. One generates blue light for the blue reflective LCD while the other illuminates a yellow phosphor. The light from the yellow phosphor is then split into green and red light to illuminate the green and red reflective LCDs. Epson has posted a video showing off this projector series, which is also embedded below. This video especially shows the laser light source and its large color gamut, which is larger than the DCI color gamut used by digital cinema.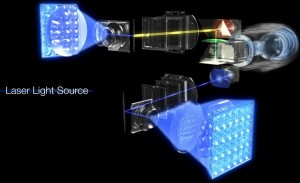 The Epson LS9600e and LS10000 both use a laser light source.
The LS9600e has wireless connectivity for up to five HDMI sources. The LS10000 does not offer wireless connectivity but offers something else – 4K resolution. This is not true native 4K resolution because both the LS9600e and the LS10000 use panels with FHD (1920 x 1080) resolution. The LS10000 achieves this resolution enhancement using an optical pixel shift technology. This technology shifts all pixels ½ pixel on the diagonal between alternate fields. The two fields taken together create effective 4K horizontal and vertical resolution, with some pixel overlap. In many ways, this pixel overlap is desirable because it makes the pixels on the screen invisible, no matter how close you come to the screen. While I haven't seen this projector, this technique, coupled with good upconversion of FHD content from a source such as a Blu-Ray player, can produce very good pictures.
In 3D mode, this upscaling is turned off. The alternate fields are used to show the left and right eye images instead of two portions of a 4K image.
As I mentioned over a year ago, there is really very little need of native 4K or UHD content at the consumer level – upscaled 2K or FHD content, when done correctly, looks just as good on a 4K display as native 4K or UHD content does. This Epson projector, like many other so called "4K" displays, does not have the same number of pixels as a true native 4K display. The Epson LS10000 has 2x the number of pixels as FHD and ½ the number of pixels as UHD. Epson describes the system as "4K Enhanced" rather than as true 4K. As Chris Chinnock pointed out in a recent article, this becomes a marketing, testing and certification problem more than an image quality problem.
The Epson PowerLite Pro Cinema LS10000 and LS9600e will be available through CEDIA and specialty dealers in the fall time frame for less than $8,000. Each projector comes with Epson's three-year limited warranty, service and support, including toll-free access to Epson's PrivateLine priority technical support and free two-business day exchange with Extra Care Home Service.
Epson also introduced the PowerLite Home Cinema 3000 series at CEDIA, including three projectors, the 3600e, the 3500, and the 3000. These use more conventional technology and all have 1080p 3LCD design with transmissive LCDs. The 3000 produces 2300 lumens in normal mode while the 3500 and 3600e produce 2500 lumens. Like all Epson projectors, these values apply to both ANSI and CLO measurements. All are powered by a 250W UHE lamp with a life of 3500 hours in normal mode and 5000 hours in ECO mode. I got to see one of these projectors at an Epson event last summer and it looked very good.

Epson PowerLite Home Cinema 3600e
The Epson PowerLite Home Cinema 3600e, 3500 and 3000 have MSRPs of $1,999, $1,699 and $1,299 respectively. The projectors are now available through select retailers nationwide and the Epson online store. The projectors have two-year limited warranties and a 90-day limited lamp warranty. Like the LS10000, customers have toll-free access to Epson's PrivateLine priority technical support and free two-business day exchange with Extra Care Home Service. –Matthew Brennesholtz